Χώρα παραγωγής:

Mexico
Suerte (meaning 'luck' in Spanish) is a 100% agave tequila traditionally made in the Highlands' Los Altos region using brick ovens, Tahona wheel shredding and double stainless steel pot still distillation. Suerte Blanco is rested for a minimum of 2 months in stainless steel tanks prior to bottling.
Inspired by the Mexican legend of the 400 rabbits, the imagery behind the Suerte brand was designed by Tattoo Artist Adam Jackson. Aztec mythology as it that Mayahuel, the goddess of the agave plant and of fertility, gave birth to Patecatl's (also a pulque god) children – all 400 of them. Legend has it that Mayahuel suckled the Centzon Totochtin (400 Rabbits) from her numerous tequila-filled breasts.

Αξιολόγηση
Η γευσιγνωσία έγινε στις 01/09/2013
Μύτη:
Pungent, fresh straw, salty and dusty with faint dried citrus zest, green apple and cinnamon.
Στόμα:
Slight sweet, grassy roast agave and cherry chocolate with cinnamon and white pepper spice.
Επίγευση:
Dusty white pepper with cherry and pine / eucalyptus freshness.
Product Information
Barcode UPC: 8 51738 00400 2
Bottle Size: 700 ml
Closure: Synthetic stopper

Περισσότερα για το Suerte Blanco
Οι κατηγοριοποιήσεις και τα είδη της τεκίλας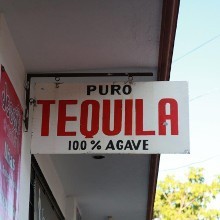 Οι βασικές κατηγοριοποιήσεις της τεκίλας είναι δύο: Οι mixto και οι 100% agave. Αυτές οι δύο