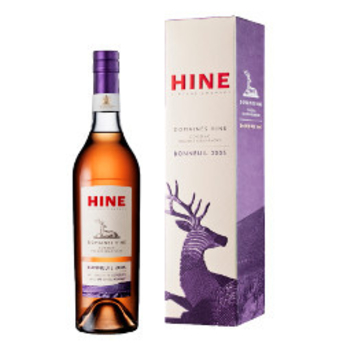 Χώρα παραγωγής:

France
In 2004, Thomas Hine & Co., acquired Domaines Hine, a 120 hectare (296 acres) estate in Bonneuil which lies within Grande Champagne. This 2005 vintage, bottled in September 2014, is the first single-estate release made using grapes from this vineyard and was blended from only 18 casks.
Αξιολόγηση
Η γευσιγνωσία έγινε στις 27/12/2015
Όψη:
(sample cask No. 18) Clear, deep golden amber.
Μύτη:
Wonderfully floral with passion fruit, pineapple, raisons, honey, gingerbread, burnt biscuit and Christmassy white pepper spice.
Στόμα:
Fruity, creamy-of-soda vanilla, figs, raspberry jam and Jammie Dodgers biscuit, honey, nutmeg, faint clove and mild white pepper spice.
Επίγευση:
Long fruity finish. Floral flavours linger with enlivening clove and black pepper spice.
Συνολική αίσθηση:
Floral, fruity and spicy with a light-bodied freshness – this is delightfully characterful, young and zippy, rather than being heavy and woody.