The 1693 Day Negroni
Words by Denny Kallivoka, Eleni Nikoloulia
Photography by SugarGreece, Kintsugi Project
A talented bartender, an aged Negroni, a tasting table and twelve professionals
Walking up the arcade towards 42 that evening, we felt a sense of awe. It was really heartwarming to think that Christos Chouseas, 42's owner and bartender, was about to share something so uniquely personal, exclusively with Difford's Guide. It's also exhilarating to taste a 4.5 year aged Negroni.
We had a head full of questions. What makes a bartender who's just opened his business, in May 2011, fill his house with cocktails (yes you heard right, it's not just the Negroni) and then let them age for almost five years? He's obviously a bit of an eccentric. On the other hand, modern bartending is all about recognising cocktails as distinguished spirits and this is exactly what he's doing. He felt the need to test its boundaries, to try modern techniques and make time the third parameter in cocktail tasting. He's also trying to create a legacy with the knowledge and skills he's amassed and he clearly likes experimenting and playing. Most definitely playing; playing with time, cocktails, techniques and the Negroni.
Τhis is an icon, love it or loathe it. If the Negroni were a car, it would be a vintage Mercedes convertible; a SL 280 or a Gullwing. In this context, the aging process makes more sense. If you're a lover of all things vintage, a spirit or wine would probably come to mind. Yet here we are, sat around a table, patiently waiting for Christos to serve a carafe of his precious 1693-day Negroni. The one that had stayed in a glass container sealed with a cork, in an indoor space without any natural light. This is an aging experiment, a Negroni made with Cocchi Americano, a London dry gin blend (Greenall's, Martin Miller's, Fifty Pounds, Gordon's) and Campari.
Christos chose this type of container because he wanted both to eliminate the dangers associated with barrel aging and because he didn't want the barrel influencing the end result. If he had chosen the barrel route with the passing of this much time, there would have been no character left to speak of. The cocktail was sealed with half a centimetre of air, with a nozzle with an internal diameter smaller than three centimetres. When it was opened, on the 30th of November 2015, the 'angels' share' was about 4% in volume. The initial alcohol percentage of 27.2% fell to 25.38% after opening. Accordingly, and due to liquid concentration, the initial brix level (a way of measuring sweetness) was 23.6, only to become 24.5 with aging (the drop in volume in conjunction with the same sugar levels allow for a more concentrated final result).
Here was first sight and taste of it, at room temperature without ice. The difference is evident to the naked eye. The aged colour is less vibrant and darker and you can barely taste the gin.
"It's kind of sherry like", said a blissed out Denny. "I would even say cherry like" added Kimon Fragakis. "It's most definitely different" Eleni interjected.
And that was just the beginning of the commentary. People kept throwing in their different opinions, comparing a fresh and an aged Negroni blend. "It has a rich and multi-layered palate. At the same time more intensely bitter but also sweeter. To be more precise you initially get a sweeter flavour and then a bitter aftertaste which balance each other out".
All the attendees took turns in fleshing out the drink in a ritualistic fashion. In their own style and according to their personal tastes, they described their experience. Some in a more poetic fashion, some in a more practical manner.
Thodoris Pyrillos, bartender at A for Athens, who is always to the point, remarked: "It feels like Christos has treated time as yet another ingredient. The aged version is softer, with its kinks ironed out so the sweetness comes to fore while the gin takes a back seat. The three tier sensation you get with a fresh Negroni is no longer there, what we have here is a totally different drink. My opinion is that even if the base were different and we had a more rounded off spirit, you would still get distinct differences between the fresh and aged versions. The vermouth has changed a lot, it's oxidised. It feels like more of a fortified bitter aperitivo than a Negroni. I personally like the taste of gin in a Negroni and I can't find it here".
Elias Marinakis, a bartender at 42, was enthusiastic. "I like the fact that the gin interacts differently to what it would in a fresh Negroni. The aging has made it ideal for those who don't like drinking gin. I would recommend it as a different, more overwhelming Negroni. The aged version is creamier and it just warms your cockles with a buttery quality reminiscent of sherry. I can't detect any oxidisation in this drink which I would call an anarchic Negroni".
Alexandros Gkikopoulos (bartender at Underdog) had already started fantasizing about how he would serve it. "I'm not detecting any oxidized elements either. In fact I would call it a rounder drink, more feminine if you like. I would also recommend the aged version to someone who wants to be initiated into the world of Negroni. I would really like to see it accompanied with some sort of dessert".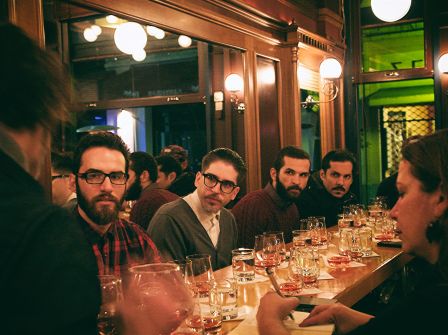 Stefanos Draganidakis (bartender at the Trap and co-owner of the Kintsugi Project) said that it were as if the vermouth and Campari had conspired against the gin while Yiannis Samaras (also bartender at the Trap and co-owner of the Kintsugi Project) said that when you taste both, what you really notice is the substantially lower alcohol in the aged Negroni. He also detected a distinct difference in colour and noted that if this were a blind tasting, he might have come away thinking that this was a different kind of vermouth.
Known for breaking the norm and being very descriptive, Kimon Fragakis (journalist, owner and director of Andro.gr) said: "Even though I'm neither a necrophiliac nor a negrono-philiac, I would say this was a more advanced, an altogether better Negroni. It's mature but not in a boring way. It's an easy to drink, rich cocktail without having lost those bitter Campari notes. It reminds me of those liqueurs people use to have in those old classy drinks' cabinets". He also agreed on the existence of a vermouth/Campari conspiracy against gin.
Galatia Laskaraki (editor of Marie Claire) felt that the fresh Negroni was more feminine but she was taken in by the story behind the aging process. "Let me be clear. I'm here representing all those girls who want to have a good cocktail on a Friday night but who know when to listen to the experts like the bar gods, award winning sommeliers and connoisseur journalists all around me. As a lover of all things Italian, I adore a solidly cosmopolitan Negroni (which is far from just being a drink, it's a whole lifestyle choice) and I can live without tasting the gin. That's what I actually liked about the aged one: the fact that I couldn't taste the gin. The bittersweet notes won and I was transported to a Roman terrace with the colours of the sunset matching my aperitivo. I know you'll scold me but I also added some ice".
Last but by no means least Nikolas Yiannopoulos, a sommelier who was awarded the title of 'best in Greece' in 2011 and 2014 had his say. He'd kept deadly silent throughout the tasting and gave nothing away. "Are you all finished? This is an amazing, thoroughly enjoyable drink. It moves away from the Negroni type and could be characterised as an outstanding aged spirit". He talked about incredible colours and an impressive development. He said he was anxious to try the finished article, whenever Christos felt it had reached its optimum status, but he felt it was already near on perfect. "An aged Negroni will appeal to a restless palate, someone who likes to have new experiences. I would recommend it as an after-dinner drink, as a digestif that would go perfectly with a pear tart or a cigar". He was able to picture it as part of an old school champagne cocktail that would fully showcase its aromas.
What did we think? One of us tasted pleasant oxidized notes and felt this drink was a complete experience. The other didn't just want to stop at the taste itself. It was an amazing drink but that wasn't quite enough. Through its 1693 days and the three sips she'd enjoyed, she could see the wood for the trees.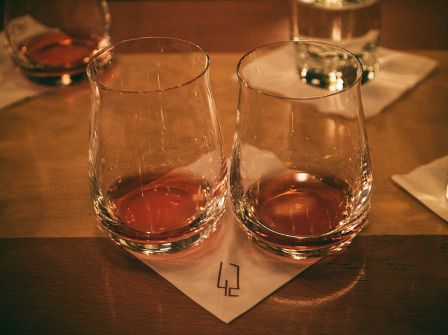 The heart of the matter
The crux of the matter is that a bartender took it upon himself to age a cocktail for as long as he had, in the right conditions by measuring certain elements (alcohol, brix) and carefully monitoring its development. What's also important is that 12 professionals from different fields sat around a tasting table and spent time discussing the results, a sign that these are exciting times. Bar professionals are now interested in their legacy and they can only achieve that if they treat their work as a form of art. Art requires experimentation, fearlessness and talent. It means showcasing your work as if you were the curator of your own exhibition and being interested in receiving feedback, whatever that may be. The artist in this case would be the first to admit that "the way you do anything is the way you do everything". In this case, his 'anything' took time and attention, a little bit of anxiety but no fear. It's therefore easy to understand that 'everything', the bar world as a whole, is definitely changing.
The last word had to be by Christos Chouseas himself:
"This was the kind of experiment that filled me with joy. It's always daunting when you do something not knowing how it's going to turn out but it's also really exciting when you're about to taste it for the first time. It becomes part of something bigger, a new way to create maybe or even a building block towards your future legacy. Experiments are valuable whether they're successful or not.
Keep in mind that I wasn't following a trodden path or previous experiments. I was prepared for any and every outcome. It could have been a complete disaster. What's been great is that what I ended up with was interesting. It was worth the wait and it's definitely worth me doing it again. It had a sherry like nose while the oxidization on the mouth was pleasant. Sherry is after all one of the best ways to achieve multiple layers. In conclusion, I feel I took something and turned it into something else; some kind of spirit, like an oxidised or fortified wine. I actually feel that this experiment and its result is a distilled product, a spirit in its own right".