Martini Grand Prix 2016 Edition Global Final
Martini Grand Prix 2016 Edition Global Final
Words by Simon Difford
Photography by courtesy of Martini
The rise in Greek bartending and bar culture is further evidenced by Manolis Lykiardopolous beating bartenders from across Europe to win the 46th Global Martini Grand Prix final with his Ameritino aperitivo cocktail.
Held over two days, the first day, over eight hours of competition, whittled down the three competitors from each country to six national finalists who were invited to serve their signature modern aperitif cocktails at the Martini Williams Racing event at the Formula One Monza Grand Prix. A mixture of VIPs, media, mechanics and indeed drivers Felipe Massa and Valtteri Bottas were invited to sample and vote for the aperitivo they preferred.

Day two of the final saw the six finalists who emerged from the first day go on to compete head-to-head in front of expert judges and an audience of supporters and media. The venue for this Global Final was the Martini Terrazza, a landmark of Milan since it opened in April 1958. Occupying the top floor and roof of the Piazza Diaz skyscraper, the terrace gave all of us there to witness the final, panoramic views over the spires of the Duomo and the roofs of the old city.
The event was hosted by the fabulous Elena Delmagno from Martini and Bruno Vanzan, the famous Italian bartender and international flair champion. He, along with Daniele Dalla Pola, Tales of Cocktail Best International Bartender of the Year 2016, entertained us all during the interval by building a daring high pyramid of Americano cocktails.

The finalists from France, Greece, Italy, Netherlands, Portugal and Spain were challenged to present an aperitivo cocktail specifically designed to complement an original dish by the Italian-Armenian chef, Misha Sukyas. As a further illustration of the food pairing element of "Modern Martini Aperitivo" (introduced to this competition in 2015), the competitors were given a fixed budget at the Carrefour Gourmet Market in Viale Bezzi to buy ingredients to create finger food, either hot or cold, to serve with their cocktails.

The jury for both this final and the previous day's knockout round were Beppe Musso, Martini Master Blender; Walter Gosso, Martini Grand Prix 2015 Winner, Davide Oldani, Michelin starred chef; Anistatia Miller, Drinks Historian; and president of the Jury & Bacardi's Global Advocacy Director, Jacob Briars.

Before announcing the winner, Paolo Perego, Bacardi Group Regional President for Europe, reminded us all of the historical importance of the Martini Grand Prix and the many famous bartenders who have won the prestigious trophy over its almost 50-years. He then opened the envelope and proclaimed Manolis Lykiardopolous the winner.
Finalists and their recipes
I positioned myself at the end of the judge's table for the final so was fortunate enough to sample each of the competitor's cocktails. So follows each competitors recipe with my own notes on their presentation (in the order they appeared).
Rafael Silva
Bovino Steakhouse, Almancil, Algarve, Portugal

This was Rafael's second ever cocktail competition and the first time he has appeared in a global final. He was unlucky to be the first to present and break the ice for the other competitors. The pressure showed as he struggled to overcome his nerves but went to present his spicy aperitivo well, saying, "Monik [his drink] is inspired by a sweet women with a touch of spice." I scored Rafael's Monik 4/5.

Monik
Glass: Small wine glass
Garnish: Lemon zest twist
Method: STIR all ingredients with ice and strain into glass over a single ice ball.
40 ml Martini Bianco
10 ml Martini Extra Dry
5 ml Ancho Reyes
5 ml Ginger beer reduction
Rosemary
Matteo Pedico
Collage Bar, Barcelona
Originally from Milan, Matteo now works at the Collage Bar in Barcelona so was representing Spain in this global final. He aptly described his drink as being a "Tiki version of a French 75" which he said was inspired by the homemade ginger beer served at the first bar he worked in. I scored Matteo's Ginger Ruby 4.5/5.

Ginger Ruby
Glass: Flute
Garnish: Lime zest twist & mint sprig on rim
Method: SHAKE all ingredients with ice and strain into chilled glass.
50 ml Martini Rubino
15 ml Bank's 5 Island Blend rum
15 ml Freshly squeezed lime juice
5 Fresh Mint leaves
50 ml Ginger beer

Roxanne Remmery
Chessy, Disneyland Paris, France

Inspired by the Negroni which she said was created during the Belle Epoque period [strictly speaking it was probably soon after] the wonderfully smiley Roxaine used Earl Grey Tea to complement the bergamot in Star of Bombay Gin, explaining that her drink's "feminine colour is because I'm the only girl", adding that "simplicity is the key to true elegance" when presenting her drink. Roxanne's presentation was superbly engaging and the allotted seven minutes flew by. I scored Roxanne's La Belle Epoque 4/5.

La Belle Epoque
Glass: Wine
Garnish: Dehydrated orange wheel & 2 raspberries
Method: STIR all ingredients with ice and strain into chilled glass. TOP with tonic water. SRAY with a Martini Bitter mist.
40 ml Rubino
20 ml Star of Bombay
30 ml Earl Grey Tea
40 ml Schweppes Tonic water
2 spray Martini Bitter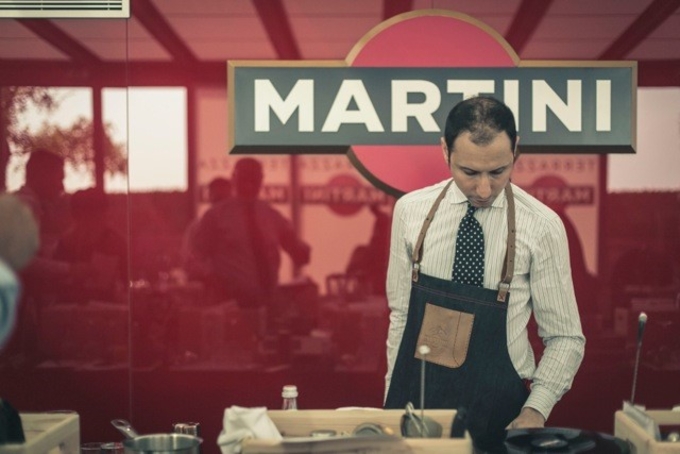 Francesco Cione
Octavius Bar, Milan, Italy

Francesco's presentation is best described as an exuberant performance. He proved quite the showman as he revealed his version of the classic Milano-Torino cocktail. Classically inspired, this was the perfect drink for the competitor from Milan to honour the famous vermouth from Turin. Proudly Italian he made a point of mentioning that the orange he used to zest his cocktail was a Sicilian orange. I scored Francesco's Torino-Milano Raffinato 5/5.

Torino-Milano Raffinato
Glass: Coupe
Garnish: Sicilian orange zest twist
Method: SHAKE all ingredients with ice and strain into chilled glass.
45 ml Martini Rubino
45 ml Martini Bitter
10 ml Barolo chinato
10 drops Bob's Orange & Mandarin bitters

Manolis Lykiardopolous (Winner)
Odori Vermuteria di Atene, Athens

Immaculately dressed, Manolis gave an equally slick presentation with a bartending master class which included double stirring and straining. He not only represented Greece but displayed his patriotism by using Greek products such as mastiha liqueur and Three Cents tonic water. The expresso coffee in Manolis' drink brilliantly accentuated the Rubino vermouth, producing a brilliant cocktail with a mocha coffee flavour. I scored Manolis' Ameritino 5/5.

Ameritino (Winning drink)
Glass: Tumbler
Garnish: Lemon zest twist & fresh marjoram
Method: STIR all ingredients with ice and strain into ice-filled glass.
50 ml Martini Rubino
15 ml Martini Bitter
10 ml Espresso coffee
10 ml Skinos mastiha
Top with Three Cents tonic water
Danil Nevsky
Tales and Spirits, Amsterdam, Netherlands

The 'wild card' Brit representing the Netherlands presented his drink with a very assured performance. His drink is inspired by the Italian mathematician known as Fibonacci. In mathematics, the Fibonacci sequence are a series of numbers where each number is the sum of the two preceding numbers.

Danil told the story of Fibonacci and his formula as well as the highs and lows of his own love life, along the way giving us some memorable quotes such as, "In Italy there is no such thing as too bitter" but "With an Italian girl you have to be a little sweet, but not too much."

Danil's recipe cleverly follows a Fibonacci sequence (20, 30, 50) and he explained Fibonacci sequences are often found in nature, including in the wormwood plant used to flavour Martini vermouths. I scored Danil's Fibonacci 4.5/5.

Fibonacci
Glass: Highball
Garnish: Lemon zest twist (discarded) & cucumber slice
Method: POUR all ingredients into ice-filled glass and gently stir.
50 ml Martini Ambrato
20 ml Gonzalez Byass Nectar Pedro Ximenez Sherry
5 ml Fernet
1 pinch Salt
30 ml Tonic water