Cocktails in bags
Words by Ian Cameron
Photography by Addie Chinn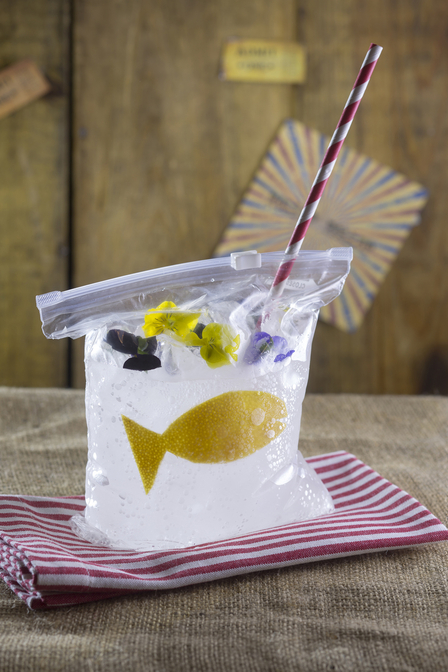 Goldfish in a bag: the traditional prize of choice given out at fairground attractions, re-imagined for the world of cocktails as part of a trend for serving drinks in bags.

The approach is, let's face it, a gimmicky novelty. It's not a vessel that's going to keep your drink cold for long, it's difficult to put down, and you can't exactly clink glasses during a toast. But it saves on washing up and certainly provides a visual wow factor across a crowded bar.
Goldfish in a bag
Sporting a Ronseal-type name, this drink is served at the six Drake & Morgan venues around the City of London - The Anthologist, The Drift, The Happenstance, The Folly, The Parlour and The Refinery.
Goldfish in a bag
Glass: Plastic ziplock bag
Garnish: Pink grapefruit zest cut in shape of fish and edible lily pads
Method: Build in bag, then add a few cubes of ice and a straw and lock.
40ml Little Bird Gin
10ml Hangar One Mandarin Vodka
6 dashes Rhubarb bitters
200ml Small bottle Tonic water
Punch Drunk
Tristan Stephenson's Goldfish House Punch is a clarified version of the 18th century Fish House Punch, the celebrated creation of the State in Schuylkill Fishing Corporation, a club formed by high society types in 1732. To make a clear punch, Tristan uses an all-filtered (to remove colour) list of spirits, liqueurs and juices, then adds in a single large ice block and several fish-shaped ice cubes. When ready to serve, ladle portions into plastic bags along with a couple of ice fish and add a pinch of homemade 'fish food' flakes of dehydrated, ground-up tarragon. This drink was served at Purl in Marylebone for a while but appeared in Tristan's recently published book. (Click here to read a review.)
Goldfish House Punch
Glass: Plastic bag
Garnish: Dehydrated tarragon
Method: Simply pour all ingredients into a punch bowl filled with a large ice block and goldfish ice cubes.
400ml Pampero Anejo Blanco rum
200ml Godet Antacrtica Folle Blanche Cognac
100ml Filtered lemon juice
Swim 'n' Tonic
This simple gin and tonic serve comes courtesy of Zak Whalley, a bartender who now works for Diageo Reserve Brands, who recommends building the drink by placing the bag inside a Boston tin until it has been tied off. He warns against using more than two ice cubes as the drink will then mist over and you won't be able to see the fish. It was served during the summer at Butlers Wharf and Pont de la Tour.
Swim 'n' Tonic
Glass: Plastic bag
Garnish: Novelty plastic fish
Method: Build in bag within Boston tin then tie off.
50ml Tanqueray Gin
Squeeze lime juice
Tonic Water
Evidence Bag Cocktail
Stand back: crime scene. This bagged and tagged cocktail, a twist on a Paloma, is on the menu at London Cocktail Club's Oxford Circus site (click here).
Evidence Bag Cocktail
Glass: Highball
Garnish: Lime wedge, vanilla salt, evidence bag and a tequila-filled water pistol
Method: Build in glass
45ml El Jimador Blanco tequila
15ml Maraschino Liqueur
2 squeezed Lime wedges
100ml Ting/grapefruit soda
Rye 'n' Air
We're much bigger fans of Gareth Evan's cocktail than its namesake no-frills airline. Head upstairs to Blind Pig bar at Social Eating House. The 'air' in the name refers to the carbonation, while the bag is purportedly a customs-stamped bag for taking liquids through customs. Definitely better than anything you can order on board your flight to Fuerteventura.
See more drinks from Gareth and his team by clicking here.
Rye 'n' Air
Glass: Rocks glass
Garnish: Grapefruit zest
Method: Freeze for one hour, put through three carbonation cycles using a soda siphon, then bottle, label and bag.
25ml Rye whiskey
35ml Blind Pig vermouth
15ml Kamm & Sons
10ml Peach brandy
2 dashes Absinthe
30ml Filtered water