Camille Ralph Vidal
Words by Theodora Sutcliffe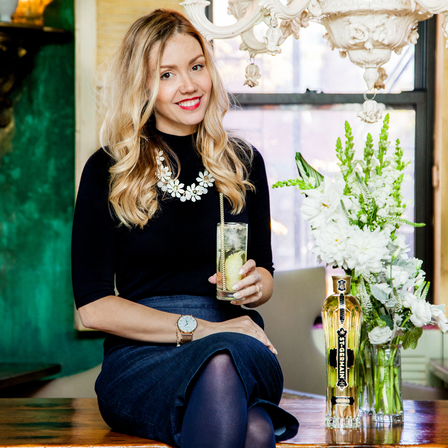 First name(s): Camille
Last/Family name: Vidal
Originally from: Montpellier, France
Profession: Brand Ambassador
At: New York City
"I've always wanted to live in New York because I think it's so different from anywhere in the world," says Camille Ralph Vidal, the global ambassador for St-Germain liqueur, from her apartment in Brooklyn's leafy Park Slope. "I could be based in pretty much any big city like Paris, London or New York, but I don't know that I would have moved here if my husband wasn't here."
Vidal's husband, Struan Grant Ralph, is also an ambassador, for Glenfiddich, which makes diary management quite the challenge. Vidal is on the road at least 60% of the time, and when she turned 30 recently, Ralph was stuck in the UK doing paperwork. "So he flew me to London and we went to Bath for a day, and then we went to Cornwall, which was beautiful," she says.
Effortlessly elegant and charmingly accented, Vidal could hardly be more French if she was pedalling a bicycle while holding a string of garlic and a baguette. It's difficult to imagine a better ambassador for the quintessentially French liqueur, which is clearly what the brand's creator Rob Cooper thought when he met her in Australia.
"I was an up-and-coming bartender, and I'd just won a cocktail competition for a brand owned by the same distributor as St-Germain, and I ended up sitting with Rob Cooper," she says. "He was hilarious, a visionary, with all the craziness it takes to be a visionary and a genius. After a couple of hours talking, he asked if I was interested in working for St-Germain. I was like 'Hahaha, no more drinks for this gentleman!'"
But the offer was for real. And, with her work visa for Australia about to expire, Vidal made her way to London to the Experimental Cocktail Club and an ambassador's role with St-Germain.
Vidal seems to have led a charmed and unplanned life. She grew up in an artistic, creative family in Nîmes, in wine-growing country in the South of France, the kind of home where her mother would sip an aperitif on the sunny patio as the family discussed their day and friends from the theatre were forever dropping by. "It was an amazing environment: comedians, makeup artists, costume designers, artists and singers," she recalls. "It was a fun, fun world to grow up in."
Perhaps unsurprisingly, Vidal's first stop after home was art school. After a couple of years, she realised she was more interested in the business side of art than the creative side, so switched to studying communications, event management, marketing and PR, working for a couple of companies which funded her degree.
Then the travel bug, nurtured by her mother when she was younger, bit. "At that time my English was... – terrible would be an understatement – it was a disaster," she says. "I wanted to go travel and learn English, so because London was right next door, I decided to go a bit further and moved to Melbourne. I arrived in Melbourne by myself with my little backpack, took a chance."
Vidal had taken part-time hospitality jobs on and off since the age of 14 so, since it was impossible to work in communications when she didn't speak the language, she somehow managed to secure a job in a nightclub called Spice Market.
"The guy said, cool, come back at 7.30 tomorrow for a trial, but I didn't even understand that! I looked up on the internet when they opened, came there at 4 as they opened at 6, and a girl tried to explain to me what to do," she recalls. "After an hour of talking to me while I didn't understand a thing, she said, 'You're just going to stand here and say hello.'"
English mastered, the next step was to learn about cocktails, so she moved to Golden Monkey, where she found her passion for bartending. "I remember saying to my dad, 'I've always been trying to find a way to express my creativity and I've found it now, I've found my element,'" she says.
But after a year and a half of working in bars, Vidal started to look for her next move. "I started thinking what I wanted to do, what came next for me," she says. "The perfect next step to combine everything I love – photography, the artistic, creative side, my studies in PR and communications, my passion for the cocktail scene – if you blend that together then brand ambassador is the perfect job for me."
Vidal had, she says, already decided to target St-Germain before that chance encounter with Rob Cooper. And within the year Bacardi had acquired the brand. "Rob called me and asked me 'What do you want to do?'" she says. "I'd learned so much working for a small company on a beautiful brand, I wasn't ready to let it go."
Under Bacardi, she progressed rapidly from European ambassador to global ambassador, finding the change from a small company to a giant multinational overwhelmingly positive. "It allowed me to have a better structure: Bacardi had distribution in all the markets, and an amazing, amazing advocacy team all around the world," she says. "But St-Germain is still a very small team, a small brand in a big company."
Today, as Madame St-Germain, Vidal travels constantly. She's visited Tokyo, Beijing, Shanghai, Hong Kong, Mexico City, Copenhagen, London, Paris, Brussels, Lisbon, Seattle, San Francisco, Los Angeles, Chicago, Boston, New York, Miami, New Orleans and more in 2016 – and has a long-delayed honeymoon in Costa Rica coming up.
Fortunately, travel and the learning that goes with it is her favourite part of the job. "I'm so passionate about travelling and I love learning about new cultures – even in Europe, all the countries are different," she says. "The better I understand the culture and the tradition, the more I understand how we can market St-Germain, the occasions we should go after, and so on."
Yet she also enjoys the variety of the role. "I go from sitting and working on the marketing side to doing PR and going on TV," she says. "I do photoshoots, training, advocacy and all the events, and still create a lot of recipes with St-Germain... I'm always intellectually challenged and learning new things, which I love." Her first book – How to Drink French Fluently – is coming out soon.
And, of course, there's Les Femmes du Bar, a networking group for women in the drinks industry that she started five years ago. "I wanted to support women in this industry, create a platform for them to meet each other, and learn and be inspired and have fun, build their career, build their network, and so on," she says. "It makes me so happy to see more and more women behind the bar."
It seems there's not much in life that doesn't make Madame St-Germain happy.