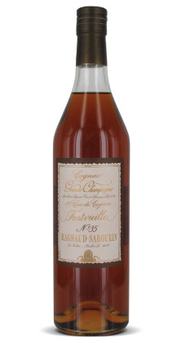 Envelhecimento: Sem declaração de idade
Produzido por:

France

An XO equivalent Cognac with an average age of 35 years from the tiny and respected Fontvielle area by Ragnaud-Sabourin, a family owned Cognac house established in 1850.
Avaliação e degustação
Experimentado em 08/04/2015
Aparência:
Clear, golden amber with a faint green tinge.
Aroma:
Blackened fruit cake, liquorice, roasted nuts, vanilla and honeysuckle.
Sabor:
Full-bodied and velvety mouth feel. Boiled sweet (hard candy) fruit, cigar leaf, honeysuckle and moist fruit cake.
Aftertaste:
Long. Floral and incredibly fruity.
No geral:
A huge cognac with incredible fineness.