Produzido por:

Brazil
Rested in inert stainless-steel tanks for one year to mellow without impacting its flavour, Novo Fogo say their unaged cachaça "is the purest representation of organic sugarcane from Southern Brazil" and that "this silver cachaça proves that terroir matters."
Avaliação e degustação
Experimentado em 26/08/2019
Aparência:
Crystal clear.
Aroma:
Comparatively subdued. Fresh sugar cane juice with faint floral scents, tropical fruit, green bamboo and a hint of freshly washed baby with aloe vera.
Sabor:
Clean with dry sugary flavours and sweet red pepper with faint salt and white pepper.
Aftertaste:
Red pepper, cinnamon and white pepper.
No geral:
More subtle and refined than many other cachaças, Novo Fogo Silver is characterised by delicate sweet red pepper flavours and a light salinity.
Product Information
Closure: Screw / Stelvin cap

Mais sobre Novo Fogo Silver
Cachaça cocktail recipes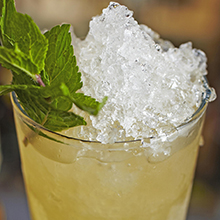 View 91 Cachaça recipes on Difford's Guide