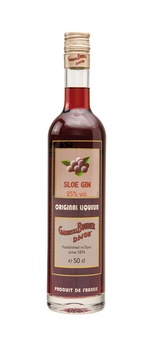 Produzido por:

France
Gabriel Boudier macerate whole slow berries picked from trees growing locally in limestone soil in gin previously distilled by themselves. A relatively small amount of sugar compared to some other sloe gin liqueurs is added.
Avaliação e degustação
Experimentado em 14/07/2013
Aparência:
Clear, burgundy red.
Aroma:
Pungent, sloe berry fruit and raspberry jam with conifer foliage, cracked black pepper spice and faint almond.
Sabor:
Tart, mouth drying berry fruit with an admirably low sugar content struggling to pacify. Rich berry fruit with cracked black pepper and orange zest oils.
Aftertaste:
Tart berry finish with more lingering black pepper.