Buy direct from
The Whisky Exchange
Bottle size: 70cl

Produzido por:

Brazil
Avuá Cachaça is made at a family owned distillery established in 1923 in a small town in a valley four hours north of Rio de Janeiro. It is distilled from first pressed fermented sugar cane juice.
In 2009, two New York entrepreneurs, Nate Whitehouse and, discovered just how good Brazil's native spirit could be and set about finding a distiller to supply them high quality cachaça and creating a brand name and packaging to convey that quality, the result being Avuá Cachaça.

Avaliação e degustação
Experimentado em 17/07/2013
Aparência:
Crystal clear.
Aroma:
Wonderfully aromatic and floral with dried grass, spirit overripe blackened banana and dried banana chips.
Sabor:
Dry but with delicate sweetness. The banana notes from the nose continue with flavours of raw sugar cane juice.
Aftertaste:
Long, with more banana, sweet barley and gentle spice.
Buy direct from
The Whisky Exchange
Bottle size: 70cl

Product Information
Closure: Synthetic stopper

Mais sobre Avuá Prata Cachaça
Cachaça cocktail recipes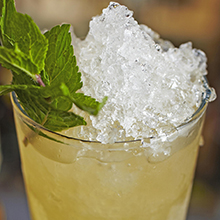 View 87 Cachaça recipes on Difford's Guide