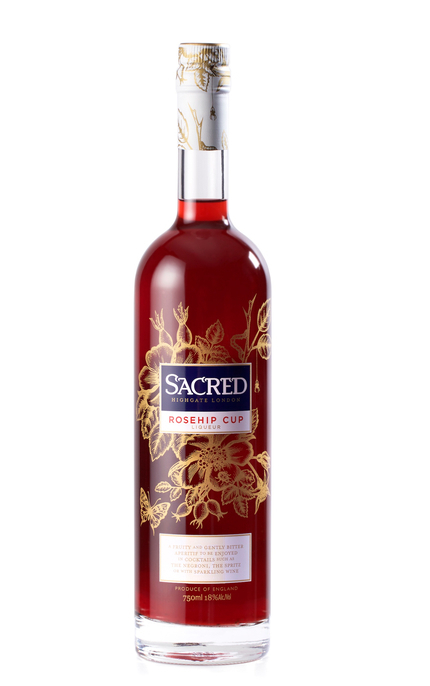 Produzido por:

United Kingdom
Sacred Rosehip Cup is produced in London and is an all-natural gently bitter aperitif made with 27 botanicals, including English rosehips, sweet Spanish oranges, organic Peruvian ginger. It has no artificial colouring with its bright red colour coming from red grapes and English rhubarb."
Sacred Rosehip Cup is best appreciated in a Negroni or an English Spritz: 3 parts sparkling wine, 2 parts Rosehip Cup topped with 1 part soda.
Avaliação e degustação
Experimentado em 10/09/2013
Aparência:
(sample bottle No. 14/0179) Clear, crimson red.
Aroma:
Stewed vegetables, raw rhubarb, cranberry-like red berry fruit, raw pastry dough, earthy and barky, Christmassy herbal spice and floral geranium.
Sabor:
Earthy, bittersweet, lightly syrupy raspberry fruit, bark and rooty bitterness. Very fruity compared to Campari and with equal or even greater complexity.
Aftertaste:
Moderately bitter, tart fruity finish with lingering spice, berry fruit and bitter barky vegetal notes.
No geral:
Best described as an English fruit cup crossed with an Italian bitter red aperitivo. Dilute with ginger beer or lemonade on a sunny afternoon then finish the bottle making Negroni's in the evening. Also works well served 1:3 with sparkling wine (as recommended by its makers). Our only criticism is the low alc./vol..
Product Information
Barcode UPC: 5 060221 000147 >
Bottle Size: 700 ml
Closure: Natural cork stopper

Mais sobre Sacred Rosehip Cup