Serra Limpa Orgânica Cachaça
Produzido por:

Brazil
Produced by Fazenda Imaculada Conceição, a small farm distillery whose name fabulously literally translates as Immaculate Conception Farm. Their cachaça is presented in 355ml brown bottles with crown caps – basically beer bottles.


Avaliação e degustação
Experimentado em 02/04/2017
Aparência:
Crystal clear.
Aroma:
Pungent tutti frutti, banana, brown bread, green grapes and apple skin with nutmeg and white pepper spice.
Sabor:
Grassy with faint sweetness and enlivening spice.
Aftertaste:
Several day old grass cuttings and lingering spice.
No geral:
Grassy with fruity esters this farm produced organic cachaça has a wonderful character and faint natural sweetness.
Product Information
Barcode UPC: 7 898163 670030
Bottle Size: 700 ml
Closure: Crown cap

Mais sobre Serra Limpa Orgânica Cachaça
Cachaça cocktail recipes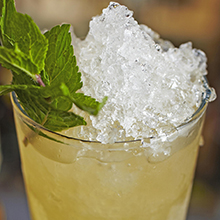 View 87 Cachaça recipes on Difford's Guide