Gretchen Distilled Dry Gin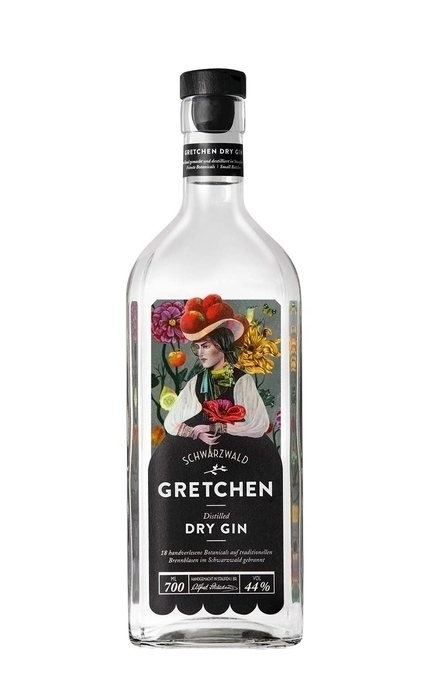 Produzido por:

Germany


A gin created by Alfred Schladerer, who in 1919 inherited a distillery and his parents' passion for fruit brandy, a passion only surpassed by his love for Greta Trötschler, whom he affectionately called Gretchen. Alfred married Gretchen and created this gin recipe for her.
Sadly, Alfred died in 1956 and Gretchen took over the running of their business. However, we had to wait for their grandchild, Philipp Schladerer, to use his grandfather's handwritten recipe from 1947 and brig this gin to life.

Distilled with 18 botanicals including fresh berries, flowers and herbs in traditional stills, Gretchen dry gin is presented in a very distinctive bottle with colourful illustrations by Olaf Hajek. The bottle depicts a young woman in traditional costume from Germany's Black Forest region backed by flora and fauna.
Avaliação e degustação
Experimentado em 30/11/2018
Aparência:
(sample bottle batch #01) Crystal clear.
Aroma:
Pine and camphor juniper, ginger, zesty lemon, sage, coriander, nutty angelica and wonderfully aromatic florals.
Sabor:
Dry and juniper forward with well judged and balanced floral notes. Wonderfully clean and crisp with generous botanicals.
Aftertaste:
Complex floral notes continue throughout the long dry juniper dominant finish.
No geral:
Gretchen may be a floral gin but those floral notes are subtle and complex lays of character interleaved within a classically juniper forward and London dry style gin.
Difford's Guide Certification


Product Information
Barcode UPC: 4047300017112
Bottle Size: 700 ml
Closure: Synthetic stopper

Mais sobre Gretchen Distilled Dry Gin