International Mountain Day
International Mountain Day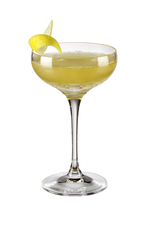 So we are drinking a...
Sometimes it feels as though the UN has a day for everything. And, lo and behold, today is Mountain Day, established by the UN General Assembly in 2003 to encourage sustainable development in mountains. It's a chance for us all to contemplate the role of mountains in our lives, from pristine climbing peaks and powder-rich ski resorts to rolling, forested hills.
Mountain forests provide the watersheds for freshwater for more than half the world's people and help protect against climate change. Sadly, they are disappearing, thanks to human action, almost as fast as the glaciers. Depressing stuff, especially during the season of office party hell. We do apologise.
May we recommend you lift your spirits with a Monte Cassino, a cocktail named for an Italian slab of rock topped with an apparently impenetrable monastery?
Bernie Madoff was arrested this day
On this day in 2008, the biggest Ponzi scheme ever came to light, as the previously well-respected financial genius, Bernie Madoff, was arrested in his multimillion-dollar Upper East Side, Manhattan apartment.
Madoff had built up a financial trading business based almost entirely on hot air, and defrauded investors of billions of dollars, using the classic Ponzi scheme method of taking new investors' money to pay the revenue due to old investors. And, despite one financial investigator chasing him for ten years, and the fact that no large Wall Street firm would trade with him as they were convinced he was a fraud, Madoff had kept his scheme in business for decades.
We're toasting not the man but his chutzpah - because, lord, it takes some balls to run a $65 billion fraud - with the Million Dollar Cocktail, a lesser-known invention of the Singapore Sling creator, Ngiam Tong Boon.