Produzido por:

Brazil
Beija-Flor Cachaça is made using sugar cane grown in on the distillery's own estate and this 'Pura' is aged for one year.
Avaliação e degustação
Experimentado em 04/02/2014
Aparência:
Crystal clear.
Aroma:
Cream soda, aloe vera and ground black pepper.
Sabor:
Sweet entry to a clean palate. Very grassy in character with honey blossom, vanilla and pear.
Aftertaste:
Creamy, slightly sweet with notes of mascarpone cheese and white pepper spice.
Product Information
Barcode UPC: No barcode
Bottle Size: 700 ml
Closure: Screw / Stelvin cap

Mais sobre Beija-Flor Pura Cachaca
Cachaça cocktail recipes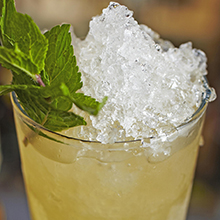 View 91 Cachaça recipes on Difford's Guide