Production
The Alexandrion Group's flagship product, or at least the product that has Alexandrion on the label, is best described as being Metaxa-like. Available as 5-Star and 7-Star versions, indeed Alexandrion was originally made in Greece but, in common with most of the Alexandrion Group's other products, it is now made in Romania.
But as Allan Anderson, Alexandrion's master distiller explained to me, there's a lot to be said for distilling in Romania.
Allan Anderson lives in Glasgow but (before the pandemic) spends two weeks in Bucharest, a week in New York, then a week back home every month. In something of an understatement, he says "I travel quite extensively."
Allan started as a shift technician at Loch Lomond Distillers and over 20 years rose to be the distillery/ engineering manager taking production from 12 million litres of alcohol up to 19 million. He then took a job as a production manager at Whyte & Mackay, Invergordon but says, "to be honest the Highlands wasn't for me. It's a different lifestyle up there." Allan then became a consultant at Ireland's newly established Slane Distillery where he met John Teeling who "was in a wee bit of trouble with his project, so I was there for three years sorting that, and trained all the staff, put procedures in place, put a laboratory in place, I think the first year we made six million litres." From Ireland Allan moved to Aberargie Distillery in Perthshire. Then, through an Irish contact, he met Nawaf, the founder and CEO of the Alexandrion Group.
As you can see from his career above, Allan likes the challenge of establishing new distilleries and developments at Alexandrion Group have and are keeping him busy, both in Romania and Upstate New York.
Romania
The core of the products the Alexandian Group presently make, such as the Alexandrion 7-Star are made by blending products sourced from third parties with the help of a French brandy consultant. Cognac, and brandy in general, is the main drink in Romania and Alexandrion 7-Star and Alexandrion's other products suit this domestic market and are incredibly popular. But as Allan says, "that part of the world is becoming more and more interested in single malt whisky and young people are quite educated in whisky." Hence, Allan is challenged with making the first Romanian single malt whisky and he is doing it in a former grappa distillery.
Like all malt whisky distilleries, production starts with malted barley and this is 100% Romanian grown. Thanks to a large domestic brewing industry, Romania grows a lot of barley and has a good malting company called Soufflet. And, as Allan says, barley in Romania is cheap, "roughly half the price."
The barley is brought into the distillery in one-tonne bags where it is roller milled and then mashed in a conventional mash tonne - one one-and-a-half tonne mash a day. The mash goes into six 25,000 litre stainless steel fermenters. After fermentation they distil the wash to produce low wines which are stored and then distilled a second time in a spirit run (with the foreshots and faints from the previous spirit run).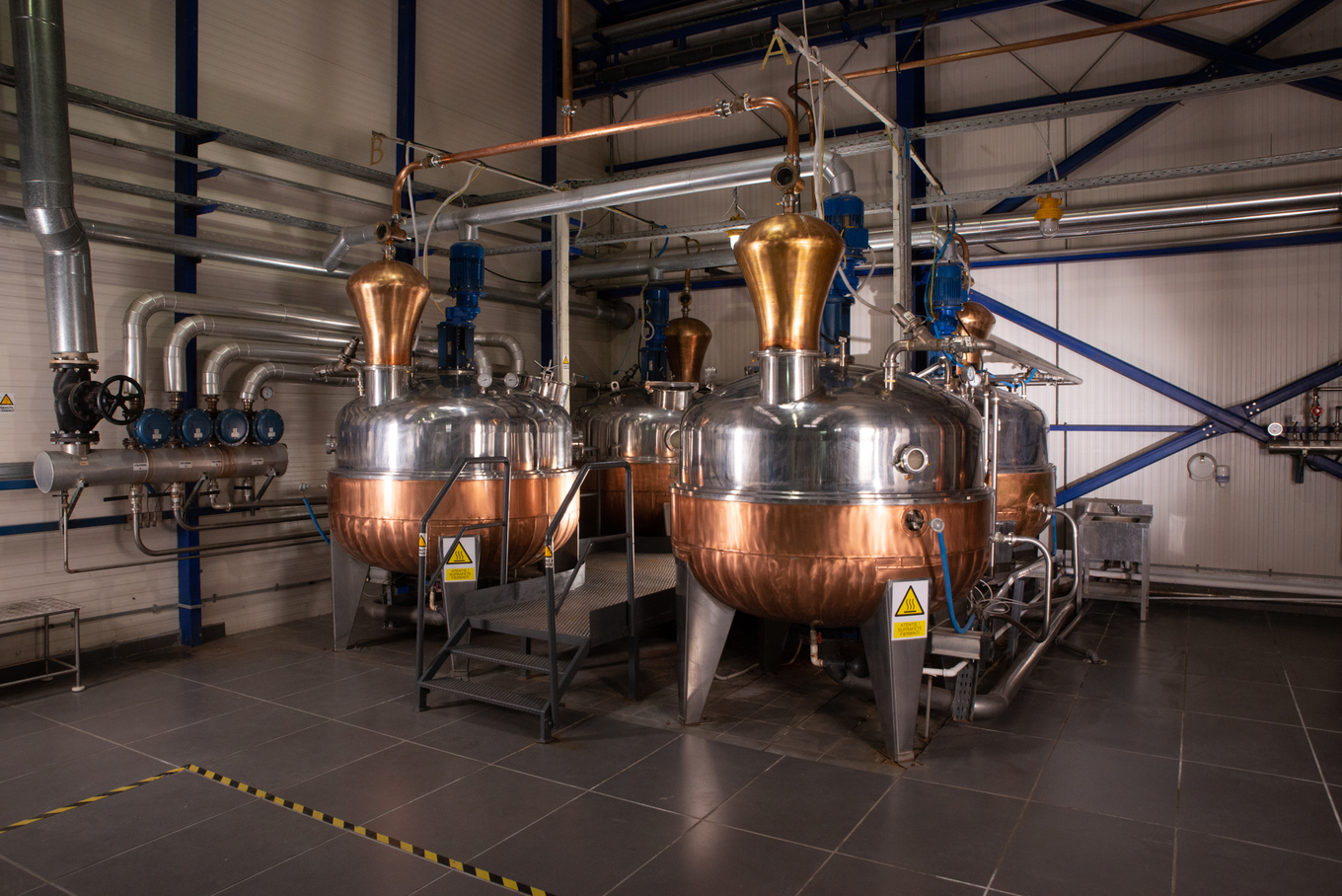 The four stainless steel 2,000 litre stainless-steel pot stills previously used to make grappa have been converted with their heads replaced with copper whisky heads with added copper tube cuttings to give increased copper contact. As many a whisky distiller has told me, "copper conversation with the spirit vapour is crucial to good whisky." Presently there is one distillation a day but there is a plan to install two Scotch-style classic onion shape pot stills and increase production to three mashes a day to produce just under a million litres a year.
So far, they have produced and laid down 2,000 casks to age. The spirit, which is reduced to 63.5% alc./vol. for casking, is first aged in Kentucky ex-bourbon barrels first for some two-and-half years before being transferred to a combination of French oak cognac, port, madeira, Spanish oloroso sherry, and perhaps most notably, Romanian Pinot Noir and Fetească Neagră wine casks. The casks are aged in a cellar under the distillery in classic Scotch Dunnage style with wooden runners, four casks high.
The Pinot Noir and Fetească Neagră wine casks come from a sister company in the Alexandrion Group called The Iconic Estate and the vineyards are in the hills above the distillery. Allan says the Fetească Neagră is a very fruity wine and the casks seasoned with this wine are producing some great whisky. Production of single malt September 2017, so Allan says "there's probably a couple of hundred casks we can actually call whisky." However, he is keen to delay bottling, saying, "as you know whisky matures over longer, and it tastes better."
Romania whisky distilled from Romanian barley and finished in Romanian wine casks does sound interesting and promises to be exceptionally good.
New York State, USA

Simulation of the USA Alexandrion distillery
Allan's other project is "quite a complex distillery" in Carmel, upstate New York overlooking a lake and set in a forest. There are fantastic views, and the plan is for pot stills to face the lake through a large window. It's a very ambitious project as the distillery will produce light bourbon, heavy bourbon, grain neutral spirit, gin, brandy, single malt whisky, and grain whisky.
Hearing this, I mentioned Midleton, the only other distillery I know with such diverse production and Allan told me, "It's not unlike Midleton actually, not the same scale though, it's about 10 million litres per year. It will be very advanced in energy saving with lots of technology, and we've spent a lot of money on a very advanced waste plant."
The Carmel Distillery is a little over an hour's drive from Manhattan and in years to come this is sure to be a drive undertaken by many whisky enthusiasts.