Beretta
Photography by diffordsguide.com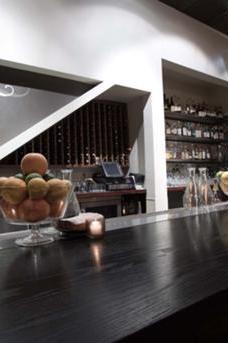 Address: 1199 Valencia Street, (at 23rd Street), San Francisco, California, CA 94110, United States
Tel: +1 415 695 1199
Website: View bar's website
Hours: Weekdays 5:30pm-1am; Sat 11am-1am; Sun 11am-12am
Door: Make reservation
Style: Restaurant bar
Recommended for: Food
Price guide: Middling
Food: Full menu

Review
Beretta's got its finger on the pulse. It's all about cocktails and pizza, where the emphasis for both is on fresh, seasonal and locally sourced ingredients, served in a young, buzzing and unpretentious environment. There are filament bulbs above the bar, and modern chandeliers lighting the 15 tables. At the back there's an open kitchen with food being efficiently whisked in and out of the wood stone oven.
The drinks don't contain hundreds of complicated ingredients, but a few well-chosen flavours. The Mumbai Mule is simply saffron vodka, lime, ginger and mint, while the Nuestra Palomo combines tequila, elderflower, Cointreau and grapefruit bitters.
Beretta is a great place to enjoy dinner and drinks with friends. There's a big wine selection and a different meat-based main course every day of the week. The only small glitch with Beretta is as a result of its popularity – the size of the bar and its furniture means that there's not much room to manoeuvre, so once you've got a seat, stay put!