 Product of:

United Kingdom
A limited release of 300 bottles made available in January 2012, exclusively to members of The Balvenie's online club. Two European oak sherry butts of Balvenie 15 year old single malt (casks 10142 and 17949) where used to create The Cooper.
Review and Tasting
Sampled on 19/01/2012
Appearance:
Clear, cark copper amber with bronze highlights.
Aroma:
Nutty (walnut) nose with warm sherry notes, lightly spiced oak and hessian sacking.
Taste:
Wonderfully harmonious sherried palate with dry spicy oak garnish.
Aftertaste:
Long finish with sherry, dry nuts and lingering delicate smoke.
Product Information
Closure: Natural cork stopper

More about The Balvenie The Cooper
Whisky - Speyside single malt Scotch whisky cocktail recipes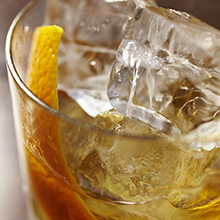 View 22 Whisky - Speyside single malt Scotch whisky recipes on Difford's Guide