Product of:

United Kingdom
Distilled in 1962, The Balvenie Fifty was released in September 2012 to commemorate the 50th anniversary of Balvenie's Malt Master, David Stewart. Just 88 bottles were released with 6 reserved for the UK and a recommended retail price of GB£20,000 (US$31,825) per bottle.
David Stewart began working at The Balvenie Distillery in 1962 and served a 12 year apprenticeship before taking on the title of malt master. In recognition to his devotion to the brand, The Balvenie Fifty was launched exactly 50 years to the day that David joined distillery as a 17 year old apprentice. Incredibly the company's files have the notes from that job interview – some less than flattering. Still the boy done good.

The Balvenie Fifty was matured in a European oak sherry hogshead filled in 1962. Commenting on the release, David said: "Cask 5576 and I have shared the last five decades together at distillery."

The hand-blown bottle is presented in a luxurious wooden tube carved from 49 rings of seven different Scottish grown timbers including Elm from grounds of The Balvenie Distillery with the 50th ring marking David's half century at the distillery is a brass closure.

Review and Tasting
Sampled on 13/09/2012
Appearance:
Clear, golden amber.
Aroma:
Honey rubbed old leather with delicate floral and citrus notes.
Taste:
Remarkably fruity and honeyed for its advanced years with delicately cinnamon and nutmeg spiced oak providing back bone rather than dominating.
Aftertaste:
Long, satisfying velvety finish extends the complex and balanced palate. A super premium collectable with a flavour to match its price point - it tastes like a million dollars.
Product Information
Closure: Natural cork stopper

More about The Balvenie Fifty
Whisk(e)y - Speyside single malt Scotch whisky cocktail recipes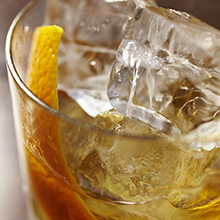 View 23 Whisk(e)y - Speyside single malt Scotch whisky recipes on Difford's Guide