Octomore Scottish Barley 06.1 Aged 5 Years
Product of:

United Kingdom
Distilled at Bruichladdich Distillery using only Scottish Barley. Bruichladdich is usually an unpeated brand of single malt but in contrast, at 167ppm, its Octomore alter ego is said to be the world's most heavily peated whisky. Aged 5 years at Bruichladdich's, this is the sixth edition of Octomore.
Review and Tasting
Sampled on 10/11/2013
Appearance:
Clear, mid golden amber.
Aroma:
mouldering embers, vegetal peat, baked apple and smoked streaky bacon.
Taste:
Honeyed smoky sweetness – strangely reminiscent of mezcal. Vanilla, toasted rye bread, dry nuttiness and poached pear fruitiness with nutmeg and curry leaf spice.
Aftertaste:
Salty seaweed, streaky bacon and vanilla with lingering oaky nutmeg spice.
Product Information
Barcode UPC: 0 518105 004064
Bottle Size: 700 ml
Closure: Natural cork stopper

More about Octomore Scottish Barley 06.1 Aged 5 Years
Whisky - Peated Scotch whisky cocktail recipes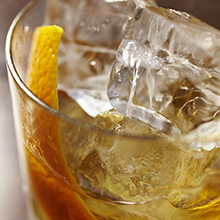 View 76 Whisky - Peated Scotch whisky recipes on Difford's Guide