John Walker & Sons Private Collection 2015 Edition
Product of:

United Kingdom
This 2015 Edition is the second in the JOHN WALKER & SONS Private Collection, designed to showcase innovative maturation experiments and the craft behind Johnnie Walker scotch whiskies. Master Blender, Jim Beveridge selected rare and experimental casks to create a blend with a fruity character.
Revealed on 9th December 2014 for release in 2015, the John Walker & Sons Private Collection 2015 Edition was blended from 29 bespoke and experimental casks and is limited to 8,888 individually numbered deep red glass decanters worldwide. It does not carry an age statement.

Jim Beveridge has described the Private Collection as "a series of flavour studies" and unlike Johnnie Walker blends where the blenders are restricted by a need for future continuity, this series will be blended from irreplaceable finite stocks, including from Diageo's Calculus trial.

Back in the early 80s, Calculus was established to test the effects of maturation with hundreds of experimental casks laid down with five casks representing each permutation of wood and style of distillate available from the company's large number of distilleries. Although the trial quickly showed results which affect Diageo's cask management policies to this day, the casks were left forgotten for years. Over 30 years on the Calculus casks contain some of the most exceptional whiskies held by Diageo.

Talking about the 2015 release, Jim said "The 2015 Edition is a unique blend of mature expressions of fruit character from the heart of Scotland. The wonderful lightness of fresh and exotic Speyside fruits deepens into the warm, autumnal fruits of Highland malts, finishing with a lift from the spicy, West Highland fruit character."
Review and Tasting
Sampled on 09/12/2014
Appearance:
Clear, golden amber.
Aroma:
Werther's Original caramel, green apple, overripe pineapple, kiwi fruit and tinned peach slices with light toastiness, coconut and bees wax.
Taste:
Wonderfully rich and fruity with faint smoke. Brûléed pineapple, green apple and light toasty notes with buttery fudge.
Aftertaste:
Medium length fruity finish with faint lingering smoke. Overall: Fruit and incredibly complex. A great example of the blender's art.
Product Information
Closure: Natural cork stopper

More about John Walker & Sons Private Collection 2015 Edition
Whisky - Scotch whisky (blended) cocktail recipes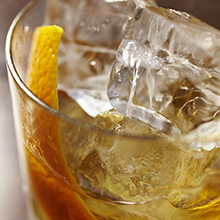 View 186 Whisky - Scotch whisky (blended) recipes on Difford's Guide