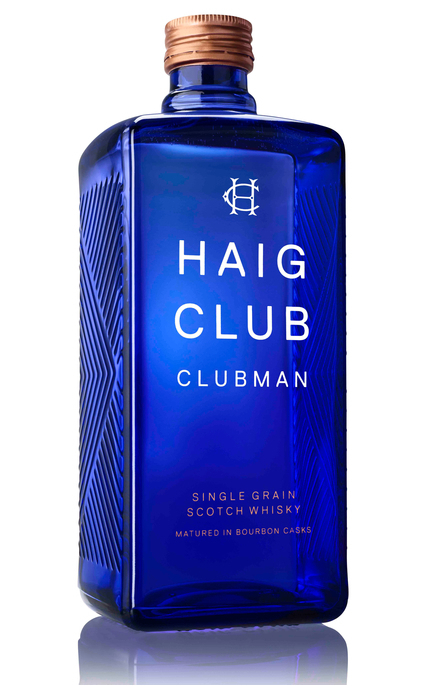 Buy direct from
The Whisky Exchange
Bottle size: 70cl

Product of:

United Kingdom
Distilled in Cameronbridge, Clubman is a single grain Scotch whisky matured exclusively in American oak ex-bourbon casks. Released 3rd August 2016, Clubman is the second iteration of Haig Club, a brand Diageo launched in 2014 in partnership with David Beckham and British entrepreneur Simon Fuller.
Apparently, the inspiration for the name came not from the Mini Cooper Clubman but 1920s advertising materials in which Haig was advertised as "The Clubman's Whisky".

Commenting on the release, Ronan Beirne, Global Marketing Director for Haig Club, said "Clubman aligns with our long-term ambition to offer a stable of Haig Club expressions at various price points to match different occasions and consumer tastes." With its £25 UK price point, as opposed to a recommended retail price of £45 for the original Haig Club, we translate this as being a more realistically priced grain whisky that has a chance of achieving volume beyond travel retail.
Review and Tasting
Sampled on 03/08/2016
Appearance:
Clear, pale golden amber.
Aroma:
Vanilla fudge, butterscotch and toffee with light white pepper and faint desiccated and toasted coconut.
Taste:
Surprisingly full-bodied mouthfeel with lightly spiced dry pencil shaving oak balancing rich vanilla fudge, butterscotch and sweet desiccated coconut. Enlivened by cracked black pepper spice.
Aftertaste:
Dry and spicy with pencil shaving oak, butterscotch and toffee.
Overall:
There are other grain Scotch whiskies that we prefer, but none offer such a combination of packaging, price and liquid. Clubman is a masterclass in product, packaging and branding by Diageo. We await the marketing campaign with interest. Clubman is a very different whisky to the comparatively sweet, silky original Haig Club – it's dry, woody and spicy. Try mixing the two together 50/50 and you'll have a whisky that's sweet on the palate and finishes dry and woody. Why were we drawn to try this mix? Because we love the original Haig Club for daring to be so un-whisky-like and find the woody notes in the Clubman a tad too muscular. However, for whisky drinkers – Clubman is much more a traditionally styled Scotch whisky.
Buy direct from
The Whisky Exchange
Bottle size: 70cl

Product Information
Barcode UPC: 5 000281 045627
Bottle Size: 700 ml
Closure: Screw / Stelvin cap

More about Haig Club Clubman