Bruichladdich Laddie Classic Edition 01 Product of:

United Kingdom
Bruichladdich predominantly use Islay grown barley using several varieties and different peating levels. The whisky is matured in warehousing close to the Atlantic and is bottled on Islay using local water to reduce from cask to bottling strength, without chill-filtration or added caramel colouring.
Review and Tasting
Sampled on 07/02/2011
Appearance:
Pale golden apple with hints of amber.
Aroma:
Light oily nose with golden syrup, apple, ginger, cinnamon and salty buttery pasty.
Taste:
Delicately smoked easy going, yet rewarding palate has just enough of everything you'd want in your malt: ginger, spice, salt, biscuit, heather and oil.
Aftertaste:
Starts sweet and quickly dries as salty notes emerge.
Product Information
Closure: Natural cork stopper

More about Bruichladdich Laddie Classic Edition 01
Whisky - Peated Scotch whisky cocktail recipes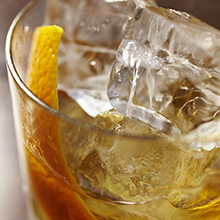 View 76 Whisky - Peated Scotch whisky recipes on Difford's Guide