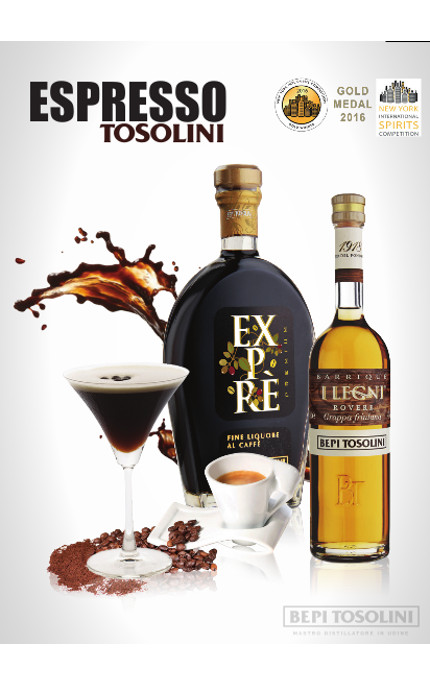 Χώρα παραγωγής:

Italy

Exprè is based on a blend of "Arabica coffee beans, toasted in the traditional artisanal Italian way", infused and then distilled with alcohol. The back of the bottle also declares the ingredients as being "sugar, alcohol, coffee extract (25%) and natural flavours."
Exprè Liqueur is produced by the family owned and run Tosolini Distillery, better known for their excellent 'Most' grappa. The distillery was established by Bepi Tosolini soon after the Second World War and is now run by his three grandchildren Giuseppe, Bruno and the gorgeous Lisa.

The folk at Tosolini know a thing or two about making coffee liqueurs as they made the original (and excellent) Illy Espresso liqueur, the version packaged in the Spiro Radomirovic designed oval, helter-skelter necked bottle.
Αξιολόγηση
Η γευσιγνωσία έγινε στις 27/10/2015
Όψη:
Clear, but such deep mahogany brown that almost opaque.
Μύτη:
Heavily roasted coffee beans and dark high percentage cacao chocolate.
Στόμα:
Initially sweet before dry heavily roasted espresso coffee and bitter chocolate flavours quickly balance the richly flavoured palate.
Επίγευση:
Long lingering dry espresso, mocha coffee and vanilla flavours. Fades with coffee beans.
Συνολική αίσθηση:
Dry espresso with more burnt-bitterness and without the sweet chocolate notes of lesser 'easier' coffee liqueurs
Difford's Guide Certification

Product Information
Barcode UPC: 8009440009217
Bottle Size: 700 ml
Closure: Synthetic stopper
Product Reference Code: TOS021
Commodity Code: 2208701000

Περισσότερα για το Expre Coffee Liqueur