Mastering Low & No Cocktails with Nick Tesar
Mastering Low & No Cocktails with Nick Tesar
Words by Jane Ryan & Nick Tesar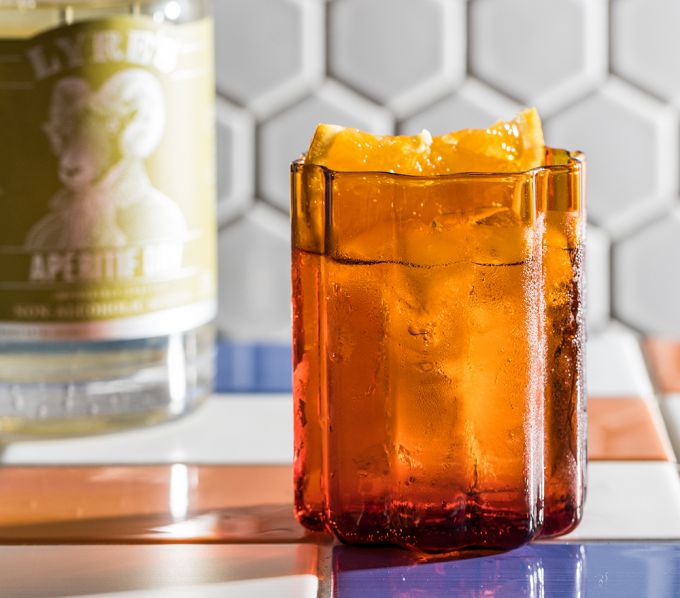 Nearly all cocktails we'd consider classics rely on some punchy alcohol for their structure and flavour. Which means a lot of what we learn as home bartenders can't automatically be transferred to booze-free or low-alcohol drinks. With that in mind we turned to one of Melbourne's greats, Nick Tesar, to learn more about creating flavour without booze.
NT: We have gone from a time of mocktails being a non alcoholic mojito or juice with mint on top to what is now an essential consideration for both a business offering and for our customer.
At Bar Liberty, we approach non alcoholic drinks the same as the cocktails. Simple, clean and flavour driven. For me the biggest thing with non alcoholic drinks is that it's not just juice and sugar syrups, but a considered flavour profile, that works with the food offering too. Here are some of my tips for low and no drinks.

How to Create Texture
There are three different elements we can manipulate in the non-alcoholic drink to ensure it isn't thin or watery. They are:
Sugar - different sugars change the feel of a drink, whether you're using cordials, syrups or natural products such as honey or agave.
Fat - incorporating a nut or coconut element will coat the mouth when consumed.
Different acids - using different sources of acid and different acids broadens the pallet. Your acidity could come from a classic source like citrus, or a milder product like verjus or even powdered options such a malic and citric acid.
My go-to ingredients when creating non-alc drinks include verjus, honey, agave, maple syrup, fresh and seasonal fruit, nut milks, coconut water or coconut milk and teas.
Using Non-Alcoholic Spirits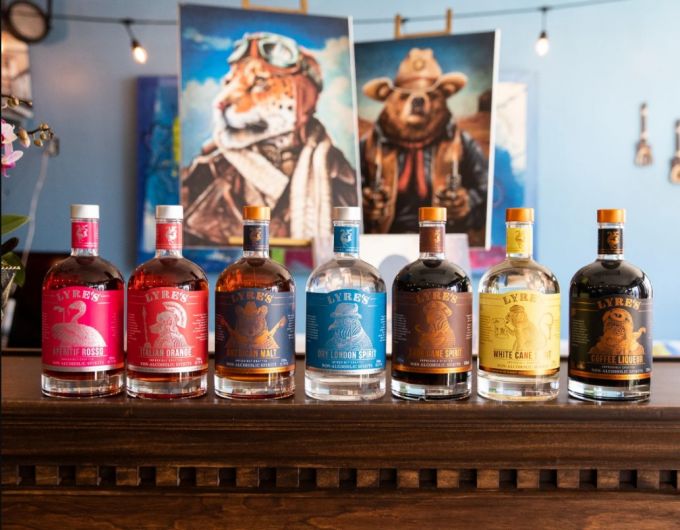 When using non-alc spirits in simple drinks like a gin and tonic, you can do a straight swap, but when it comes to cocktails I think there should be a slight adjustment. I like to use them to carry other flavours and incorporate some form of acid. As we prebatch all drinks at Bar Liberty, I usually use non-alc spirits with either an acidulated cordial or shrub, so that we can just add sparkling water to serve.
This can be replicated at home by creating your own shurb - which is much easier than you might think. Try a simple berry one - we've got a raspberry shurb recipe at the end of this article which would be delicious with Lyre's Non-Alc White Cane Spirit or their Dry London Spirit and sparkling water.
Low-Alcohol Options
We prebatch all of our cocktails at bar liberty and don't use any fast perishing items. So fortified wines are always key. We most often have a variation of a vermouth spritz on the menu, adjusted seasonally to incorporate interesting ingredients. I use liqueurs (I'm slightly biased due to my involvement in Marionette Liqueurs), to adjust flavours and sugar levels. We prebatch and top with sparkling water to serve.
However, non-alcoholic spirits still have a place in low-abv drinks. Incorporating them can add a savoury edge to a spritz, or something like Lyre's Rosso gives a bitter touch, without adding heat. This allows you created room to play with fortified wines or liqueurs, when building the rest of the flavours.
If your low-abv drink is feeling thin I often find building the flavour in a drink, then adding a little fortification / weight with the appropriate spirit in a 10ml addition as the final ingredient helps. Or use things like fino and vermouth to bring texture to the drink.
Watch-Outs
When working without booze I avoid lavender and other light flowers as they can quite quickly taste soapy. There's also certain tropical flavours and coconut oil drinks that don't work without booze as they often have a sunscreen finish.
Easy Raspberry Shrub Non-Alc Serve
You'll need 500g of ripe berries, 500g of caster sugar and 500g of cider vinegar and this needs to be started at least 5 days before you intend to serve. Gently crush the berries in a bowl to extract the juices, pour the sugar over and stir. Cover the bowl with cling film and place in the fridge for two days, stirring every 12 hours or so, ensuring all of your sugar is dissolved.
After 48 hours the fruit should be swimming in a glistening syrup. Drain the syrup and pass through a muslin cloth or a very fine sieve into a sterilised jar or bottle. Stir the vinegar into the syrup and cover/seal your jar, leaving it at least 72 hours before tasting.
Serve long over ice with Lyre's Non-Alc White Cane Spirit or their Dry London Spirit, your shrub and sparkling water.
Nick Tesar's Pre-Batch Blood Plum and Cardamom Verjus
This recipe will yield 500ml, or 5 drinks.

1kg Blood Plum (haled and pips removed)
500ml Versus (I use Andrew Thomas Semilon Versus)
5g Cardamom
50g Caster Sugar
2g Salt
Combine all ingredients and vac bag. Leave in the fridge for 3 days. Strain and bottle for use. To serve, pour 100ml over ice.
Nick Tesar's Red Currant Cooler
10ml Lyre's Agave Reserva Spirit
40ml Melbourne Sake
10ml Marionette Groseille
60ml StrangeLove Grapefruit Soda
Combine all ingredients over ice. Garnish with a Mint Sprig.