Six Cocktails We're Drooling Over This ACM
Six Cocktails We're Drooling Over This ACM
May, which was once the most boring month of the year, notable only for bookending Autumn, has now been transformed into Australian Cocktail Month for the second year. Talk about a glow up. There's good things to drink all across our cities, but here's six we're most keen to get our chops around.
P.S. you can grab your tickets to Australian Cocktail Month here. This gets access to all the ACM cocktail specials across the country.
Smoked and Salted Voyage at Next Door, Adelaide
Everything about this smoky sour has our tastebuds' attention. The team at Next Door have combined Malfy Limone and Prohibition Navy gins with tangy pineapple and a touch of paprika and smoked salt. It's giving us Hawaiian Stone Sour vibes, with a botanical and spiced twist.
Need to convince your mates to come along? With two more delicious ACM drinks on the menu, that won't be a problem. First up is the Clandestine Club, described as light and bright with sweet raspberries, lemon zest, Regal Rogue Lively White Vermouth and Prohibition Original Gin. Going no or low? Opt for the Walk the Plank, delivering Caribbean vibes without the booze - think summery flavours of apple, guava and lime balanced with Lyre's rum inspired Dark Cane and Lyre's Orange Sec.
Peaches n' Cream Negroni at Mechanic's Institute, Perth
It's very challenging for us to go past a good milk punch on a menu - they bring great texture and large yet rounded flavours to drinks. So let's not go past this one. This Peaches n' Cream Negroni uses the classic milk punch technique to clarify and add body, fruit and silkiness to a classic Negroni. We're told the result is a smooth and light digestif style drink. Get it in our hands asap.
Need to convince your mates to come along? Also on the menu for ACM at Mechanic's Institute is the delicious-sounding A Pear of Scots with Benriach 10, acidified pear syrup and local honey. Not drinking booze? Try the Practically a Salad, a Paloma twist, with Lyre's Agave Blanco Spirit, Monin red grapefruit puree and Fever-Tree Mediterranean Tonic.
Fernando at Union Electric, Melbourne
Every ingredient in this drink is a dream for us. Savoury Four Pillars Olive Leaf Gin? Yes please. Tart yet sweet rhubarb jam? Hell yes. Medium dry sherry? Only our favourite fortified wine. How does it all come together? Union Electric describe it as refreshing yet punchy, and whilst we have yet to try it, it's right up there in drinks we need to test out. Named after the line, "Can you hear the drums, Fernando?" Apparently we'll be singing all night long with this cocktail.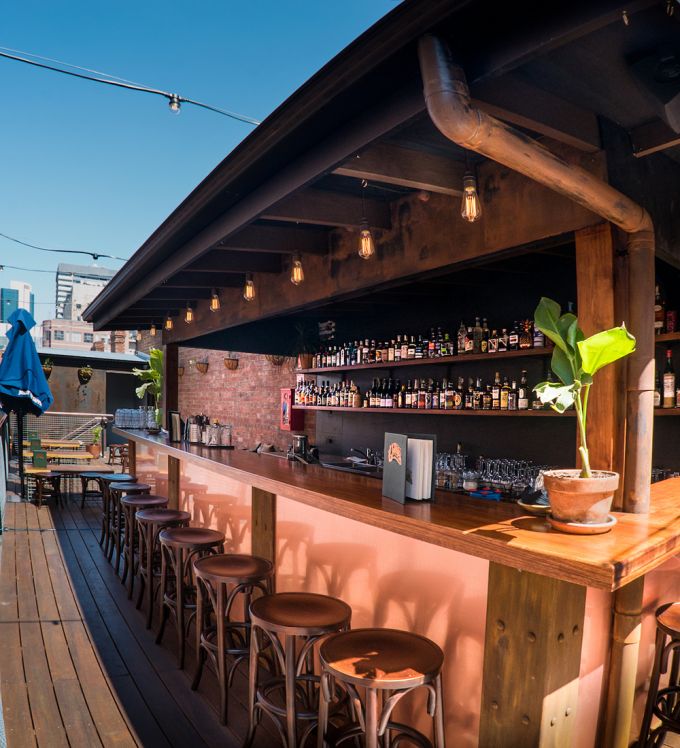 Need to convince your mates to come along? Also on the menu at Union Electric this Australian Cocktail Month is Reminiscing - as the song goes "Friday night, it was late, I was walking you home, we got down to the gate and I was dreaming of the night…" With nashi pears and kiwi fruits, fresh lemon myrtle and moreish Peddlers Gin. For those interested in a non-alc serve they've also got Radio Ga Ga. Packed with flavour, freshness and a light bitterness to finish off and leave you salivating - featuring Lyre's Italian Spritz and Fever-Tree Mediterranean Tonic Water.
The Texan Mule at Jolene's, Sydney
Some like it hot, and by some, we mean us. Incorporating spice into cocktails that go beyond the Bloody Mary or a chilli-rimmed Margy is something we like to keep an eye out for and this Texan Mule reads spicy, balanced and fun. The name refers to the birthplace of Tito's vodka in Austin, Texas, which serves as the base. Added to this is a delicate chilli demerara syrup and Fever-Tree Ginger Beer.
Need to convince your mates to come along? Jolene's has three more ACM drinks on offer. Try the Nashville Smashville, a fruity whiskey smash with Buffalo Trace and tropical fruit blended syrup, or the fizzy Right in the Feels with Aussie Feels botanical "Eau De Vie Spirit" that really highlights rose and plum. For those looking no and low, there's a Lyres Old Fashioned using Lyres American Malt (non-alcoholic) with the inclusion of bitters, orange peel and touch of sugar.
That's Amore at High Jinks, Canberra
This very delicate Gimlet riff promises to be a great savoury drink - a rarer flavour in the world of mixed drinks and cocktails. High Jinks's bar team describe it as a little sweet, a little tart, and plentiful savoury vegetal notes. To boot it's also pretty and pink, based off Hendricks Gin.
Need to convince your mates to come along? High Jinks has a few more Australian Cocktail Month serves up its sleeve. There's the long, dry and effervescent Punch Journalist with a nutty, zesty coffee aroma featuring Morris Whisky, or the Paloma, Pants on Fire, a low-abv option that's a bittersweet Paloma riff, with an aromatic spicy kick at the back, using Lyre's Agave Blanco Spirit and Fever-Tree Grapefruit soda.
Midnight Tonic at Frog's Hollow, Brisbane
Coffee in cocktails that definitely DO NOT resemble the Espresso Martini is another category of drinks that gets us super excited. Good ones are rare to find, but we think this could be one. Midnight Tonic is made with Mr Black Coffee Liqueur, Fever Tree Mediterranean Tonic, and Monin Popcorn Syrup, resulting in a mix of sweet coffee, tempered quinine and nostalgic popcorn.
Need to convince your mates to come along? Order them the Rob Roy twist Soft Rock with Balvenie 12, Dubonnet and plum or the non-alc Ginger Spice with Lyre's Amaretti, ginger, lemon and pineapple.
Grab your tickets to Australian Cocktail Month here. This gets access to all the ACM cocktail specials across the country.