Nega Fulo Original Cachaca Envelhecimento: Sem declaração de idade
Produzido por:

Brazil
Nêga Fulô translates as 'Black Flower', named after a legendary mixed race beauty of the 19th century who is purported to have sold the finest Cachaça in Brazil. Nêga Fulô, which is sold in bottles covered in hand woven straw, is distilled twice, the second time in a copper pot still.
Avaliação e degustação
Amostra não recebida, por isso não foi avaliado.
Product Information
Closure: Screw / Stelvin cap

Mais sobre Nega Fulo Original Cachaca
Cachaça cocktail recipes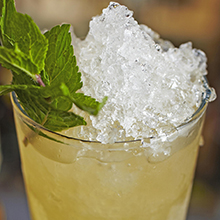 View 87 Cachaça recipes on Difford's Guide