Produzido por:

Brazil
Ypióca Empalhada is aged two years in balsam wood casks. Empalhada which confusingly translates from Portuguese as stuffed is distinguished from Ypióca's 'standard' cachaça by having extra year of aging and Empalhada bottles being wrapped in hand-woven straw.
Avaliação e degustação
Experimentado em 21/01/2016
Aparência:
Clear, golden amber.
Aroma:
Brown bread, buttery oak, green grapes, green apple and white pepper.
Sabor:
Green apple, brown bread and black pepper spice with subtle clove notes.
Aftertaste:
Clove and black pepper spice with faint green grapes.
No geral:
Assertive cracked black pepper spice slightly masks attractive brown bread and green apple flavours.
Product Information
Barcode UPC: 7 896383 700414 >
Bottle Size: 700 ml
Closure: Screw / Stelvin cap

Mais sobre Ypioca Empalhada Ouro
Cachaça cocktail recipes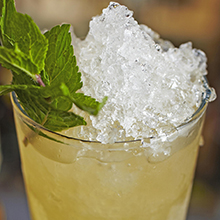 View 87 Cachaça recipes on Difford's Guide