Envelhecimento: Sem declaração de idade
Produzido por:

United Kingdom
Launched in 1998, 'Three Wood' is a reference to this expression being made from whisky aged in a mix of ex-bourbon, ex-Oloroso sherry and ex-Pedro Ximinex casks. Three Wood has spent ten years in bourbon casks, up to two years in Oloroso butts and as many as two years in Pedro Ximénez butts.
Three Wood typically has a combined age of 12-14 years but carries no age statement.
Avaliação e degustação
Experimentado em 16/06/2010
Aparência:
Clear, honey brown.
Aroma:
Sweet honeyed nose with whiffs of buttered pancakes served with crispy bacon, maple syrup and burnt Christmas cake.
Sabor:
Starts rich and heather honeyed with grippy, smoky tannins quickly overriding any sweetness. Notes of blackened Christmas cake with dry espresso coffee and apricot marmalade.
Aftertaste:
Finishes malty with creamy butterscotch and roasted hazelnuts.
Product Information
Closure: Natural cork stopper

Mais sobre Auchentoshan Three Wood
A regiões produtoras de Scotch whisky
Os uísques escoceses single malt são agrupados por região, cada uma abraçando certas características. Elas são: Highlands (Terras Altas, incluindo
Whisky - Lowland single malt scotch whisky cocktail recipes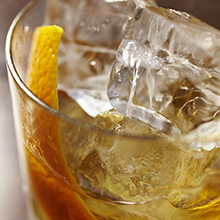 View 2 Whisky - Lowland single malt scotch whisky recipes on Difford's Guide