Clynelish Select Reserve 2015 release
Product of:

United Kingdom
Following the success of the Clynelish Select Reserve release in 2014, Dr Jim Beveridge (Johnnie Walker's Master Blender) was asked to blend this release using individually selected casks from some of the distillery's oldest reserves. All the casks used were aged for at least 15 years and were...
selected to particularly emphasis the distillery's waxy character.

This release was drawn from 24 casks of four different ages across six date fills, mostly American oak but with a combination of five different cask types: first-fill American bourbon, first-fill European oak Madeira, first-fill rejuvenated American oak, refill European and refill American oak.

Part of Diageo's 2015 Special Releases.
Review and Tasting
Sampled on 23/09/2015
Appearance:
Clear, mid golden amber.
Aroma:
Elegant spice with faint crystallised lemon and faint waxiness. Water releases lemon drops and candied pink grapefruit.
Taste:
Cleansing clove spice with crystallised lemon and vanilla. Water reveals sweet vanilla with tangerine, grapefruit and chocolate orange.
Aftertaste:
Clove spice and vanilla with candied lemon peel, flamed orange zest and chocolate.
Overall:
Elegantly spicy with citrus fruit, light waxiness and subtle chocolate orange.
Product Information
Closure: Natural cork stopper

More about Clynelish Select Reserve 2015 release
Whisky - Highland single malt Scotch whisky cocktail recipes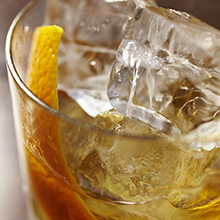 View 1 Whisky - Highland single malt Scotch whisky recipes on Difford's Guide