UK Final
UK Final
The world's 2nd oldest cocktail competition, the Havana Club Grand Prix was established by Club de Cantineros (the world's oldest bartending association) to further Cuban bartending. This is one of the most prestigious international bartending competitions so there was a lot to compete for in the recent UK final, including a trip to Cuba.
Now in its 24th year and held biannually, 120 UK bartenders submitted cocktail recipes for the first stage of the 2018 competition and these were of such high quality that the judges finally decided on 12 finalists, rather than the anticipated ten, to go forward to the UK final of the Havana Club Cocktail Grand Prix held at London's excellent Sager + Wilde on 3rd April 2018.
The final consisted of two rounds judged by myself, Havana Club's Global Ambassador, Meimi Sanchez and previous winner, Jake O'Brien Murphy – both of whom gave a very informative presentation on Cuba, the global final and what the winner should expect and be prepared for. The competition was hosted by Max Warner, Brand Ambassador – Havana Club Icónica Collection.
Round 1
Each bartender presented the cocktail they had submitted inspired by this year's Cuba Moderna theme and judged out of 85 points – 15 for technical skill and presentation, 50 for taste, aroma and appearance, and 5 according to delivery against the competition brief. Deductions were also made for exceeding the time limit, using more than 5 ingredients and naming a cocktail after a public figure.
Round 2
This brilliantly conceived test of bartending abilities was designed to find the bartender who could best utilise the very limited availability of ingredients in a Cuban market by challenging each contestant to hero one of a choice of 17 ingredients three different ways. Some managed to use their chosen ingredient as many as six different ways with methods ranging from infusions, hydrosols, syrups, shrubs, cordials and sorbets. This proved as challenging a round for us judges to score as it was for the contestants to make a cocktail using one ingredient three ways, so we judged each contestant out of 20 points – 10 points for how their recipe was conceived and another 10 for execution.
The Winner
Andrea Benvegna deservedly took first place, with Davide Leanza second and Mark Low third. In the interests of transparency, I have included my score for each round under each of the competitors' drinks (presented in the running order on the day). As with most competitions, going over time cost some competitors dearly in the first round.
Calum Macgregor
The Botanist, Leeds, England
Round 1 - Martini Moderna
Glass: Martini
Garnish: Lime zest & red chilli slices on pick
Method: Muddle chilli in base of shaker. Add other ingredients, shake with ice and fine strain into chilled glass.
    30 ml Havana Club Añejo 7 años
    slices Red chilli
    22.5 ml Fresh lime juice
    15 ml Aperol
    50 ml Pineapple juice
Difford's score: 62/85
Round 2 – Thai Basil
Hero ingredient: Thai basil
3 ways: Thai Basil simple syrup, shrub and hydrosol
Method: Build over crushed ice and swizzle.
Garnish: Candied Thai basil leaves garnish
Difford's score: 12/20
Andrea Benvegna
Waeska, London, England
Round 1 - Havana Squared
Glass: Wooden cup
Garnish: Square lemon zest twist
Method: Stir all ingredients with ice and strain into wooden cup.
    45 ml Havana Club Añejo 7 años
    20 ml Home-made Havana 7 syrup (reduce to half volume then 1:1 sugar)
    4 ml Sherry vinegar
    4 ml Vanilla salt solution (80% water : 20% salt)
Difford's score:: 76/85
Round 2 – Banana Havana
Hero ingredient: Banana
3 ways: Banana saline solution, sweetened & roasted banana shrub, banana water
Method: Swizzle with crushed ice.
Garnish: Banana leaf and grated banana parmesan (frozen & grated)
Difford's score: 15/20
Giacomo Bucciarelli
Connaught Bar at The Connaught, London, England
Giraldilla Cocktail
Glass: Coupe
Garnish: Pomelo, lime dust & orange leaves essence spray
Method: Throw all ingredients with ice and strain into dusted coupe.
    50 ml Havana Club Selección de Maestros
    35 ml Lillet blanc
    30 ml Pomelo sherbet
    5 ml Coconut vinegar
Difford's score: 74/85
Round 2 – Havana Honey
Hero ingredient: Honey
3 ways: Honey water with citric acid, burnt honey molasses, honey soda water
Method: Shake and top with honey soda water.
Garnish: Salt rim
Difford's score: 20/20
Mark Low
Freestyler, Edinburgh, Scotland
Frambuesita
Glass: Nick & Nora
Garnish: Sherbet rim & raspberry fruit leather
Method: Shake all ingredients and fine strain into sherbet rimmed glass.
    45 ml Havana 3 Años
    20 ml Lemon juice
    15 ml Raspberry syrup (1 part raspberry : 1 part water : 2 part sugar)
    10 ml Fino sherry
    2 dash Saline solution (30g salt : 100ml water)
Difford's score:: 71/85
Round 2 – Man Goes Overboard
Hero ingredient: Mango
3 ways: Mango shrub with cider vinegar, mango syrup and citric acid, fermented mango juice, mango sherbet, mango infused olive oil and dehydrated mango, mango sorbet
Method: Shake and strain into tumbler
Garnish: Dehydrated mango & mango sorbet
Difford's score: 17/20
Séan Rocks
The Merchant Hotel, Belfast, Northern Ireland
Mr Fangio
Glass: Nick & Nora
Garnish: Orange zest twist
Method: Stir first 4 ingredients with ice and strain over a chunk of block ice into glass rinsed with Fernet Branca.
    50 ml Havana Club Añejo 7 años
    50 ml Spiced cold brew coffee syrup
    7.5 ml Homemade coffee liqueur
    7.5 ml PX sherry
    5 ml Fernet Branca
Difford's score: 74/85
Round 2 – Riff on Daisy
Hero ingredient: Pineapple
3 ways: Roast pineapple and rum sous-vide, pineapple shrub, pineapple juice, sweet pineapple molasses
Method: Shake all ingredients and strain into Nick & Nora glass.
Garnish: Scored lime wedge on rim
Difford's score: 19/20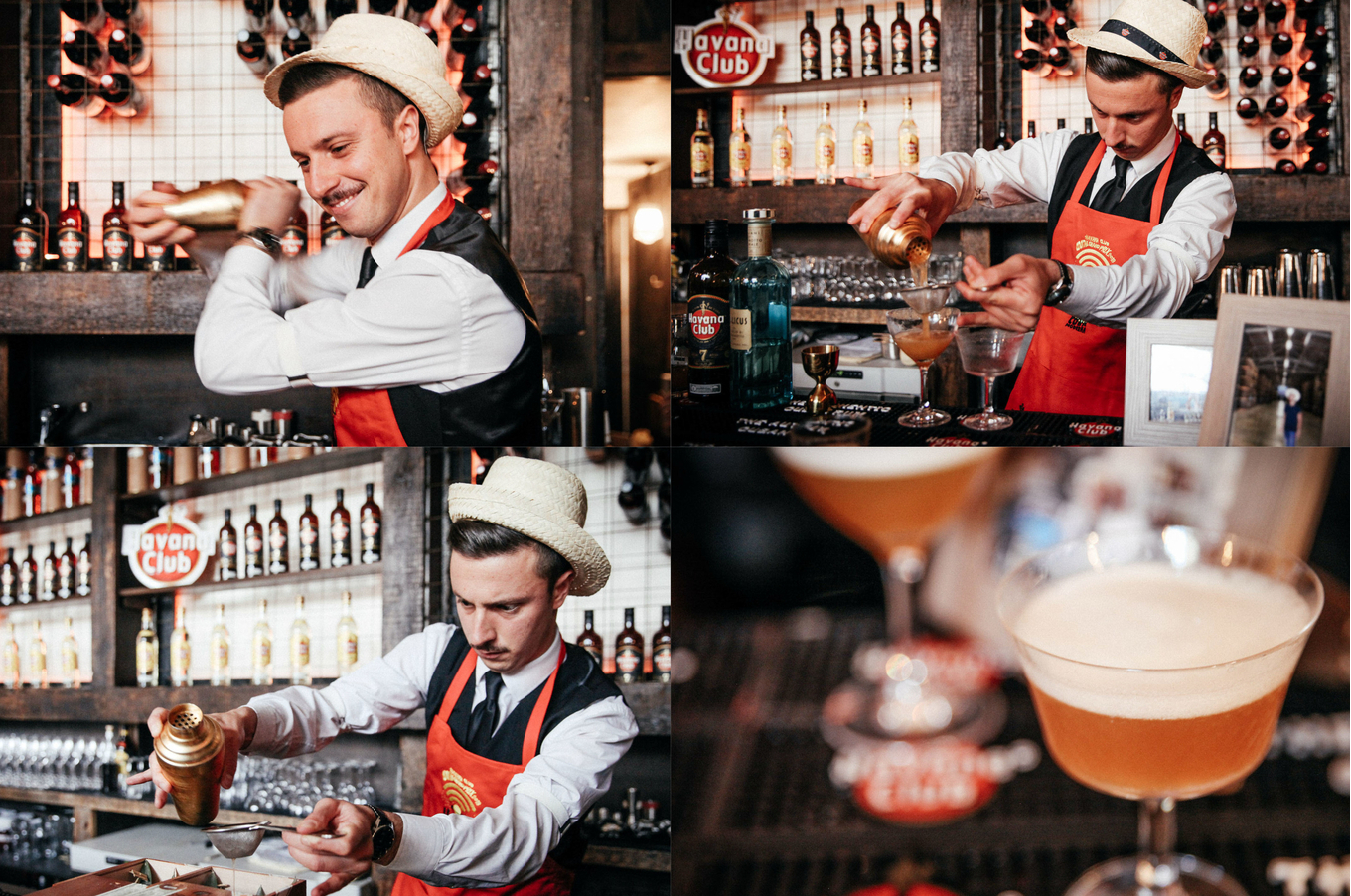 Agostino Schiavo
The Arts Club, London, England
Patria O Muerte
Glass: Coupe
Garnish: Bergamotto air made with soy lecithin
Method: Shake all ingredients with ice and fine strain into chilled glass.
    50 ml Havana Club Añejo 7 años
    50 ml Italicus rosolio di bergamotto
    20 ml Mango shrub
Difford's score: 67/85
Round 2 – Meet Me In Varadero
Hero ingredient: Banana
3 ways: Banana oleo saccharum, salted banana cordial, banana syrup
Method: Shake and strain
Garnish: Presented in a cigar smoked Cuban cigar box
Difford's score: 15/20
Giovanni Tavano
Sexy Fish, London, England
The Shield
Glass: Highball
Garnish: Bay leaf
Method: Throw all ingredients with ice and strain into ice-filled glass.
    50 ml Havana Club Selección de Maestros
    15 ml Fresh pineapple juice
    90 ml Homemade garapiña (pineapple skin fermented with milk whey)
    10 ml Fresh lime juice
    2 dash Oak smoke bitter
Difford's score: 73/85
Round 2 – Mint Garden
Hero ingredient: Mint
3 ways: Havana & mint stem infusion, mint sherbet, mint hydrosol
Method: Shake and strain into coupe
Garnish: Spray with strawberry hydrosol mist
Difford's score: 18/20
Federico Balzarin
The American Bar at The Savoy, London, England
The Founders Cocktail
Glass: Coupe
Garnish: Glazed tamarind
Method: Shake all ingredients with ice and into chilled glass.
    60 ml Havana Club Añejo 7 años
    20 ml Cocchi dopo teatro bitter vermouth
    30 ml Fresh lime juice
    15 ml Tamarind syrup (2:1)
    3 dash Wood bitters
Difford's score: 75/85
Round 2 – Plantain
Hero ingredient: Plantain chips
3 ways: Plantain chips, fermented plantain syrup and caramelised plantain tonic
Method: Stir and strain into ice-filled Collins glass.
Garnish: Plantain chips
Difford's score: 19/20
Davide Leanza
Punch Room at The London Edition Hotel, London, England
Ronero
Glass: Nick & Nora
Garnish: Dried lavender sprigs & lavender essence spray
Method: Throw all ingredients with ice and strain into chilled glass.
    60 ml Havana Selección de Maestros
    15 ml Pedro Ximenez sherry
    10 ml Lavender cordial
    5 ml Beefeater London dry gin
Difford's score: 75/85
Round 2 – Zuma
Hero ingredient: Lime
3 ways: Lime sherbet, homemade lime cordial and lime juice
Method: Shake and strain into tumbler (no ice).
Garnish: Lime twist
Difford's score: 19/20
Charlotte Barker
The Dark Horse, Bath, England
Oshun
Glass: Goblet
Garnish: Toasted coconut flesh
Method: Shake all ingredients with ice and fine strain into frozen glass.
    50 ml Havana Club Añejo 3 Años
    1 scoop Homemade coconut cream sorbet
    25 ml Fresh Cuban coffee espresso
    10 ml Velvet Falernum
    5 ml Amaro CioCiaro
Difford's score: 67/85
Round 2 – Orange Hour Glass
Hero ingredient: Orange
3 ways: Dehydrated orange salt, orange bitters made with Havana 7, orange oleo sherbet, burnt caramelised orange syrup
Method: Shake and strain into Nick & Nora glass.
Garnish: Orange zest twist
Difford's score: 15/20
Ralf Arisnord
Cloud 23 at Hilton Manchester, Manchester, England
Sabor de Cárdenas
Glass: Old-fashioned
Garnish: Orange zest twist & tortilla chips
Method: Spray glass with floral mixture. Shake other ingredients with ice and fine strain over block ice.
    1 spray Lavender syrup, orange flower water and rose water mixture
    35 ml Havana Club Añejo 3 Años
    20 ml Sauvignon blanc and cumquat infusion
    20 ml Fresh lime juice
    15 ml Creole shrubbs and orange bitters syrup
Difford's score: 69/85
Round 2 – Thai Basil Soda
Hero ingredient: Thai basil
3 ways: Sweet basil tea ice balls, Thai basil lemon, Thai basil syrup, Thai basil bitters
Method: Throw and strain over basil ice
Garnish: Thai basil leaves
Difford's score: 12/20
Connor Ashcroft
Filter and Fox, Liverpool, England
Aguacate
Glass: Dune ceramic Bowl & roasted avocado shell*
Garnish: Shake all ingredients with ice and fine strain into chilled glass.
Method:
    50 ml Havana Club Añejo 7 Años
    30 ml Avocado puree*
    10 ml Noilly prat
    10 ml Lime juice
*Avocado puree: 3 avocados, 2 pears (peeled and sliced), 2 Apples (peeled and sliced), 100ml agave, 100ml lemon juice. Cook of pear and apple in honey and lemon until soft as can be. Add avocados and blend until smooth. Add salt to taste.
*Roasted avocado shell: Blend avocado pit then roast for one hour till it turns pink/brown.
Difford's score: 62/85
Round 2 – Just in Thyme
Hero ingredient: Thai basil
3 ways: Thai basil cordial, Thai basil hydrosol soda and Thai basil garnish
Method: Build and stir in hi-ball glass. Top with soda
Garnish: Thai basil
Difford's score: 16/20