Johnnie Walker Black Label
Buy direct from
The Whisky Exchange
Bottle size: 70cl

Χώρα παραγωγής:

United Kingdom
Introduced in 1909, Johnnie Walker Black contains some 40 single malts including Talisker, Cardhu, Lagavulin and a high proportion of Islay malts. Originally called 'Extra Special Old Highland Whisky', the name was changed to 'Black Label' in 1909 due to customers ordering by the colour of the label
In 1820, John Walker, the son of an Ayrshire farmer, established the family grocer's business at the age of fifteen in Kilmarnock and began selling Scotch whisky. His son, Alexander, joined the business a year before his father died in 1857, and by the time his sons joined the business, it was no longer a grocers, but a firm of whisky merchants.

John Walker's grandsons patented the name Johnnie Walker in 1908 and launched a White Label, Special Red Label and Extra Special Black label whisky. The white was dropped, but the red and black in their easily recognisable square bottles with the 'striding dandy' became internationally successful blends.

Johnnie Walker was Sir Winston Churchill's favourite Scotch and his 1932 oil painting 'Bottlescape' features a bottle of Johnnie Walker Black Label.
Αξιολόγηση
Η γευσιγνωσία έγινε στις 29/03/2013
Όψη:
Clear, deep golden amber with burnished golden highlights.
Μύτη:
Elegantly rich and pleasantly smoky with butterscotch, crème caramel, vanilla and mandarin zest with oily nuttiness.
Στόμα:
Big robust flavour with light peat smoke and faint saltiness set against slight honeyed sweetness, vanilla fudge/toffee and dried fruit/fruitcake.
Επίγευση:
Long, lingering elegantly salty peat smoke and toasty malt with sultanas and sherry.
Συνολική αίσθηση:
Big, robust and sublime.
Buy direct from
The Whisky Exchange
Bottle size: 70cl

Product Information
Barcode UPC: 5000267024806
Bottle Size: 700 ml
Closure: Screw / Stelvin cap

Περισσότερα για το Johnnie Walker Black Label
Whisk(e)y - Scotch whisky (blended) cocktail recipes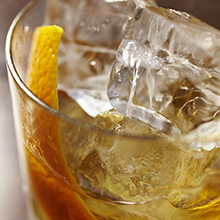 View 204 Whisk(e)y - Scotch whisky (blended) recipes on Difford's Guide