The Dead Rabbit menu volume 4
The Dead Rabbit menu volume 4
PRIDE AND HONOUR. THESE ARE WHAT MAKE A MAN

Musicians talk about the pressure of a second album. For The Dead Rabbit, that mounting tension and expectation manifests itself in the menus, as much as the bar, as a reflection of their hard work and dedication. Every menu is more highly anticipated than the last and to date they have always exceeded expectation. Volume 4 is no exception.
A discussion with Sean Muldoon, Jack McGarry and Jillian Vose of Dead Rabbit and Richard Ryan of Drinksology.
"I wake up every day and want to be better"
Sean Muldoon
Both Sean and Jack are infectiously motivated individuals, driven constantly by a desire to be the best. By their own judgement they will 'never be good enough', but, when they have someone to compete with their determination is never stronger. For almost three years that someone was The Artesian. So strong was their rivalry that the first words to appear in The Dead Rabbit menu volume 3 - 'when the rabbit escapes the hunter it's time to truly begin the hunt' - were aimed at Alex Kratena and Simone Caporale. 'It was basically us saying to them, "you beat us and now it's time for us to get serious".' And it got serious. The following year, to The Dead Rabbit's dismay, one of the bar industry's biggest powerhouses disbanded. Sean, left bereft of his greatest adversaries, was distraught. 'They inspired me to be better because they kept winning; being the best means getting beat, not taking it personally, coming back and being 10 times better.'
"Dedicated to all who have withstood hardship to fulfill a dream"
The Dead Rabbit menu volume 2
Hailing from Ardoyne in North Belfast, a Catholic district surrounded by Protestant neighbourhoods, Sean and Jack are no strangers to adversity and the success of The Dead Rabbit hasn't been without its challenges. There was a time, Sean recalls, when he and Jack almost threw in the towel. They were broke, away from home, working long hours in local venues to pay the rent, and climbing the walls in an overpopulated Manhattan apartment whilst the bar was being built when Sean received a letter. It was a tax rebate. He used it to pay bills and buy food, and if it weren't for that cheque, he says, Dead Rabbit might never have happened. He was ready to quit.
"We fucking won the fucker"
Sean Muldoon
It must have felt a far cry from four years earlier, when Sean collected three Tales of The Cocktail awards for his work at The Merchant, Belfast. Jack, aged 20, was too young to attend. In 2010, when the bar won the much sought after award for World's Best Cocktail Bar, it was - and still is - the only venue outside of New York and London to do so. Jack was manning the bar when Sean messaged him 'we fucking won the fucker!'
"Play to win"
The Dead Rabbit menu volume 4
It's not easy for an unknown bar in Ireland to reach global acclaim, and no one else has come close to doing so, but it's these challenges that Sean seems to thrive on most. Tell him he can't do something, and he'll do it tenfold. Tell him he can't achieve something, and get ready for war. Which is why, against all the odds and one of the deadliest hurricanes the USA has ever seen, Dead Rabbit opened its doors on what would have been John 'Old Smoke' Morrissey's 184th birthday, with a menu dedicated to his life as a 'Boxer, Politician, Dead Rabbit.'
'We are about challenging the status quo,' says Jack. 'I take great satisfaction in knowing we're part of a new wave of Irish-styled venues opening that offer world-class hospitality alongside a world-class product. Irish Bars, particularly in the last decade, have been deemed irrelevant and we're here to bring them into the 21st century.'
"A defiantly American tale with an Irish accent"
The Dead Rabbit menu volume 3
The bar, the bartender and the menu were all rewarded suitably, each picking up a Tales of The Cocktail Spirited Award for their efforts within opening year. Aged 24 (now of legal drinking age), Jack was able to join Sean on stage, celebrating by drinking Redbreast 12 from his crystal plate. He was, and still is, the youngest to ever win Best International Bartender. Two menus followed to make the notorious trilogy and the addition of Bar Manager Jillian Vose completed the team. Now they're running out of shelf space with a Tales tally (currently 7, not including their awards from The Merchant) equalled only by their former rivals at The Artesian, London. Jack explains that, although tantamount to the success of The Dead Rabbit, their ambitions and achievements can be alarmingly bitter sweet: 'We were on stage at Tales of The Cocktail accepting the award for World's Best Bar and I wasn't happy. I just always have that feeling like we're never good enough. Even if we're the best, we can be better.'
'As a kid I dreamed of being a movie director, just like Steven Spielberg, but I would have had to go to university. That's not me, I'm more of a creative type,' says Sean. It comes as little surprise then that The Dead Rabbit has become a globally-recognised brand. 'The thing that makes us is the branding, so we knew we had to keep that,' says Sean. The artwork, design and tone of voice have been kept consistent since opening, with changes (like the recent addition of Social Media Manager Michael Murray) made graciously and subtly. You might not have noticed the shift to a cheekier, more confrontational Rabbit, but it happened. 'It's important to evolve,' says Sean. 'I always strive to push the envelope, to make our customers and staff feel excited. We're moving away from the history and more into Irish Punk. It's a natural process, and Michael has that edginess.' Now with the introduction of the new menu it feels like we were being primed for something bigger, we just didn't know it before.
"A deal with the devil"
The Dead Rabbit menu volume 4
We were first introduced to the rabbit-man hybrid in 2013 through Dead Rabbit promotional material. The idea to reinvent him was discussed by Sean and the creative team in London last year. ' I told them I wanted to do a modern day superhero set in New York with yellow taxis and real street names, and they suggested the Rabbit character. It made perfect sense, but there were arguments. There are always arguments.' Fortunately, they made up, and in The Dead Rabbit menu volume 4 we meet John Morrissey reincarnated as a literal Dead Rabbit, with the head of a rabbit and the body of a boxer. Risen, vengeful, and trawling Manhattan to avenge a betrayal that took place within an Irish gang one year earlier.
Set 100 years since his death, we are led by a powerful narrative and guided by The Code through 1970s New York. It's this American Irish moral compass which Richard Ryan says is the 'glue to everything'. 'We use it to explore how 18th century ideals sit within a more modern context.' The menu sees the inclusion of eight industry stalwarts including Simon Ford, David Wondrich, Simone Caporale and Alex Kratena. 'It's important that the menu makes sense whether you know these people or not. The general public are our bread and butter and we need to be accessible to them, too.'
Accessibility has been a driving force behind the new menu, which is a departure from the previous hard-cover book format. 'Our menus keep The Dead Rabbit relevant, so we're constantly changing our content and offering a new story to keep people interested,' says Jack. While the designer, illustrator and copywriter have stayed constant, the new menu is a graphic novel instead, with a soft back, 60% fewer pages and a lightweight glossy finish. 'New Yorkers hate repetitiveness but they like consistency,' says Sean, 'so the design is the same but different: more accessible and less overwhelming.' When creating the menu, Richard wanted to ensure that it 'worked on two levels'. 'For the readers that want a quick fix, there is the immediate and striking visual content. Dig a little deeper and the narrative has so much more to say.' Jillian agrees: 'we've made it so that the customer doesn't have to think about it much unless they want to. Ordering a drink should be as simple as possible.'
Gone too are the 60-70 drinks. Reduced to a 'more navigable 30', they loosely develop throughout the menu with lighter drinks at the beginning and darker at the end. 'With a smaller list it's harder to make sure every style and category is covered,' says Jillian, 'one of my biggest goals when creating menus is to ensure that there's something for everybody, and then something for everybody again.' Jillian looks to her team to advise on which cocktails make the final cut: 'the floor staff know what customers want as they take the majority of orders'. 'My style of drinks are dry and bitter,' says Jillian, 'but if we had a whole menu like that it wouldn't be well rounded, so we look to our staff and customers to guide us. At the end of the day it's not about you, it's about them.'
'A menu becomes too one-dimensional if it's just me,' says Sean, 'like listening to a full Eminem album - too repetitive. Jillian has different thoughts, different ideas and a new perspective'. For only the second time, a drink has been carried over from the previous menu (the first being Banker's Punch, in volumes 2 and 3); the highly acclaimed and much lauded Psycho Killer, created by Jillian, received global press and was one of their most ordered drinks of 2015. 'We believe it's got the legs to be a contemporary classic,' says Jack. For 2016 he feels the Ring Leader and Point Blank could follow suit, whereas Jillian's money is on the Tinderbox and Gaddabout, 'a great sophisticated classic-style drink with adult flavours and a straight edge'. We agree, but contend that Sympathy for The Devil (created by Long Thai) is a drink which alone makes a trip across the pond worth the time and expense, and we propose that it might be celebrated with an annual bank holiday, or whatever they do in America.
"The hero is a fucking rabbit"
Sean Muldoon
The Dead Rabbit are no strangers to controversy. The release of their logo in 2012 prompted threats and hate mail from animal rights people on social media, and then in 2014 Alex and Simone chopped up a skinned Chinatown rabbit carcass on the bar top with a meat cleaver. So it might come as little surprise that Dead Rabbit menu volume 4 includes scenes of sex and violence, and comes with an explicit content warning. Is Sean worried? 'I know there are people out there who like to spread shit,' says Sean. 'You can't be offended by us telling you about a time in history; in New York there were hookers in Hells Kitchen, and the Dead Rabbits and Bowery Boys fought to the death. This stuff actually happened. And anyway, the hero in this story is a fucking rabbit. If you're offended by it, you need to catch a grip on yourself.'
Richard agrees, 'there have been violent and sexually explicit scenes from the outset in order to tell the real story of Morrissey's rise through crime. We've even tackled religious content. If people now choose to get offended then so be it.' There are whispers amongst some New York bartenders too. Asked specifically about reactions from the industry, on separate occasions and unbeknownst to each other Jack and Sean answered the same way: 'we are not doing this to offend anyone; it's the story we want to tell, and people need to stop taking this type of stuff too literally.' Sean elaborates: 'we are not doing this to provoke anyone. It's the story we want tell, and people need to stop taking this stuff too literally.' That ought to silence the critics.
"He has to be the rabbit that all men want to be and all women want to be with"
Sean Muldoon
A good menu happens when the stars align: a perfect marriage of ergonomics and aesthetics. Knowing when these two factors are in sync is key, an ability that Sean has honed to perfection, but sometimes he likes to bend the rules. 'It's like Alfred Hitchcock acting in his movies,' Sean says, 'throwing in a little game, a deliberate inconsistency, like when John Morrissey is wearing black boxing gloves but the text says it's a bare knuckle fight, I just like to play with people's minds.'
The original idea for The Dead Rabbit menu volume 4 to be set in modern day America was quickly scrapped. 'The first visuals revealed the illustrative content would date too quickly - imagine seeing the last generation iPhone,' says Richard, 'the 70s was an ultimately cooler and more dangerous time in NYC. And besides, if you've listened to the music at the Rabbit there is more than its fair share of 70s tunes.'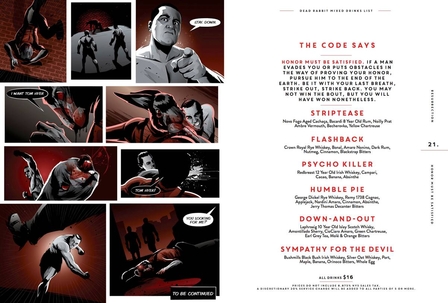 The final scene of The Dead Rabbit menu volume 4 sees The Rabbit gruesomely defeated by Alex and Simone. Why the decision to include them as the victors? 'If the rabbit is going to get beaten by anybody, the only people justified to do it - so far - is The Artesian. It wouldn't have been believable otherwise.' But with 5 volumes of the graphic novel left, this might not be the last we see of them. If you thought this menu was extreme, prepare to be offended. 'I will go as far as I can without being too offensive. I feel that there's an acceptable level of offensiveness.'
"The king is undead, long live the king"
The Dead Rabbit menu volume 4
Water Street was named for its close proximity to the East River, before landfill in the late 18th century extended ground a further 300m to Front Street. Formerly known as 'the most dangerous street on the continent', it was frequented by Irish gamblers, fighters and hustlers. John Morrissey was all three. Born into poverty in Tipperary in Ireland, he moved to America aged two, and as a teenager turned to crime to make money. Whilst working as a bouncer at a brothel, Morrissey taught himself how to read and write, and trained to become an acclaimed boxer. Winning most of the (then illegal) fights he entered, he retired as a Champion aged 28 at the insistence of his wife Susie Smith. Having made a fortune gambling and investing, he ran for congress and served two terms (1866-1867).
John 'Old Smoke' Morrissey died on 1st May 1871, a respected politician with an estate valued at more than $2 million. 20,000 mourners lined the street, the state closed all offices, and flags were flown at half-mast. His death is something the menus have not yet covered, instead leaving him very much alive in The Dead Rabbit menu volume 2, 'hungry for everything that's ahead', and resurrecting him for volume 4: 'the spirit made flesh'. For Sean, Morrissey's tamer, professional years are not something he intends to cover. 'It's boring. No one wants to read about politics in a menu.' Call the new menu what you will - sexist, inflammatory, ill-advised - but you sure as Hell's Kitchen can't call it boring.
"I swear, I could eat the world"
The Dead Rabbit menu volume 2
For the Dead Rabbit team 'wanting to be the best in the world is a way of life'. But isn't then the very idea of always being capable of doing better an oxymoron? If you always believe you can do better, then you'll never accept that you're at your best.
#irishwhiskeyforthewin
Jack McGarry
'I'm happier now with the journey,' says Jack. 'I struggle with depression and the struggle to feel happy is obviously a part of that, but I believe this pushes me and our team to be better, because I'm never content. I never feel like I or the team have made it. I'm learning to get better with that, but I will never change. Had you asked me a year or two ago, I would have said that success meant awards, but now it's about enrichment: providing platforms to enrich people's lives, with our bar or with helping people out. I used to be consumed by awards, but now my core principle is about making myself and other people happy, being better. I believe the rest takes care of itself.'
'For us, the reason behind everything has been to bring the Irish Pub into the modern day and revitalize Irish Whiskey usage in the cocktail industry. I believe that's our legacy at the minute, but as always things are subject to change.'
'Life is short, so give it your best shot. Don't half ass what you're doing and if you are, change what you do. Dance to the music inside of you and do what makes you sing. My mantra in life is to be better, be different, and be a good person while you're doing it.'
Triumphantly sour like pickles in brine
Dead Rabbit menu volume 4
For Sean, his own identity is so interlinked with The Dead Rabbit that its success is synonymous with his own. 'Ultimately that means keeping your staff motivated and bringing out the best in them, keeping regular guests interested and getting them to return, having the ability to attract new guests on an ongoing basis, and having a place that is profitable and that you can be proud of. Every day this is what we aim to achieve.'
'When you win an award the euphoria lasts a day or two, and then it goes. You're left with what's next. I want to leave a legacy, and I want it to be that I do something in my life to inspire other people, young bartenders, to want to be better... Maybe it's menus, maybe it's something else. You can always be better and you should always keep improving, because life is short. You've got to do everything you ever wanted to do. No regrets.'
Pro tanto quid retribuamus.