The Clumsies new cocktail menu
The Clumsies new cocktail menu
Words by Denny Kallivoka and Eleni Nikoloulia
The Clumsies in Athens, Greece is widely regarded as one of the world's best bars. It is also has a reputation as one of the world's most experimental bars, its in-house laboratory used to push the boundaries of bartending. Denny, one of our two Athen's based Editors, reports on their new cocktail menu based on S=mc3.
What is the link between the theory of relativity and a whisky and coke?
It was a Tuesday afternoon [in May 2016] when we sat around a table on Clumsies' top floor, in our beloved billiards room. A few hours before the debut of this great bar's new menu with the two creative forces behind it; Vasilis Kyritsis and Nikos Bakoulis, who were there alongside their team. A few lucky ones like me were getting a taste of a menu that I'm sure is the result of many nights of testing, research and brainstorming.
All great things are made to look simple and The Clumsies' new menu is great. The cocktails manage to both keep you totally in the moment but also allow your mind to travel at the speed of light: from the familiar embrace of a negroni to Nordic cuisine (an already complex aromatic negroni is given a level of freshness with the addition of rocket sprouts). They respect the past, re-imagine the classics and bring them up to date with modern techniques, trends and ingredients. They're also looking into the future by creating tomorrow's 'whisky and coke' and rediscovering something as classic as Blood & Sand.
Without any pomp but with a smile, which shows that you know you've done well, Nikos began the presentation. Vasilis and the rest of team prepared the drinks at the downstairs bar and when the temperature was right, proceeded to send the drinks up for the tasting. Another example of The Clumsies' excellent teamwork that lives by "all for one and one for all".
The inspiration for the menu comes from the theory of relativity. I spent quite a bit of time reading up on things in order to remind myself that it was basically Galileo and Newton who did the groundwork which led to the 1905 paper and Einstein coming up with the theory that explains how the universe works. It's fascinating how an on-the-surface simple theory can decipher anything from black holes, how Mercury spins on its axis, the colour of gold, electricity, all the way to GPS signals. It provided proof that nature's laws are universal.
In this case the theory changes to S=mc3 with the 'm' referring to menu and 'c' to Clumsies. This isn't the crucial point though but what does matter is how ingenious this menu is. It may seem very simple at first glance but you will discover its complexity if you delve a little deeper. El Draque may just be "just another Mojito", as described in the menu, or it could be a scientific experiment into how to open your taste buds to what is a very well thought out drink. 'The Shakers Boy' and 'Infinity' are acidic because yeast and fermentation also come into play. 'Unknown Pleasures' smells of coffee but doesn't have any coffee in it and 'Umami Clay', with its three different types of mushrooms, is a cocktail that is edible and in fact something that could have easily been made by Heston Blumenthal. 'Jenna Sain' is a visceral drink with tomato water that underlines its amazing complexity. The whisky-cola is an unbelievable concoction that transports the classic 'Greek' drink into another dimension.
The new menu might be bold but it isn't pretentious. It's interactive and fun, with a central idea running through it. It hasn't been devised to impress everyone but only those who want to spend a bit of time understanding it. It doesn't make too much of a fuss as it's clear that they haven't sacrificed anything at the altar of client volume. When you're not in the mood to read the menu most of the cocktails are titled in such a way that you can just pick something you like the sound of as the descriptions match the tastes perfectly.
On a personal note, I was truly floored by this menu. There were a couple of options, which weren't to my liking, but overall it was surprise after surprise. A wonderful adventure in flavours. One thing is for sure: this took a lot of work and creativity from a team which has already won the accolade of being 22nd in the list of the world's top 50 bars.
Speaking of relativity, nothing is relative when it comes to this bar. For me the 'S' in the menu's formula could also imply Singularity, the unique point where space and time become one and can instantly transfer you to any place in the universe.
The menu
The new annual Clumsies menu includes 17 cocktails. The drinks are split into three categories: Past, Present, Future, and like in previous menus, they include a Greek element either in their flavour profiles or in the seasonality of the ingredients.
Past
There are a number of classic recipes in this section delivered with a twist. As Nikos Bakoulis commented, "we've all read about the past but who can speak about it with any certainty?" The team goes back in time but uses a fresh outlook and has clearly undertaken a lot of research, so they can have foot in the present day and give a nod to the future.
Beginning with The Shaker Boys, a take on the classic Ramos Gin Fizz with premium London Dry Gin, pecan cream, cider and a fermented "elixir". It is not carbonated like the original version but transformed with the use of baker's yeast, which gets added to the drink in an open barrel and left there for 4-6 days to ferment and deliver an unforgettable acidity to the final result. Additional ingredients include agave syrup, calvados, various herbs, water and coconut oil. The drink is served with ice in a flute decorated with a brush stroke of Earl Grey tea with bergamot.
The #ClumsyNegroni, made with their own The Clumsies Old Tom Gin, a vermouth blend (dry, bianco and sweet, along with Manzanilla sherry), Campari (and Amer Picon), bee's wax and pepper. The vermouth blend is cooked in a sous vide for 4 hours at 50˚C along with rhubarb, apple geranium, bee's wax and pepper (long pepper and bourbon pepper), followed by a cold bath so no alcohol is lost. The drink is garnished with rocket sprouts and served in a low glass with big chunks of ice.
Next came El Draque, which is The Clumsies' take on the much loved Mojito. The recipe includes citrus oils, Rhum Agricole and white rum. The cocktail is cleverly served with a toothbrush and a mint, apple, baking soda and xylitol paste. The goal is to open up the taste buds in order to fully enjoy the freshness associated with this particular drink.
Sangre Y Arena, The Clumsies' twist on a Blood & Sand, is made with white tequila, mezcal and...Blood & Sand. The 'sand' is made from dehydrated orange flakes while the 'blood' is a concentrated pomegranate juice with Pedro Ximenez sherry and a little smoked whisky. The flakes and pomegranate are placed in a little plate on top of the glass while the cocktail itself is produced using two techniques: initially the tequila is mixed with all the ingredients and the mezcal is added via the throwing process at the end so that it's not diluted with the ice melting, thus retaining its intensity in the mouth and nose.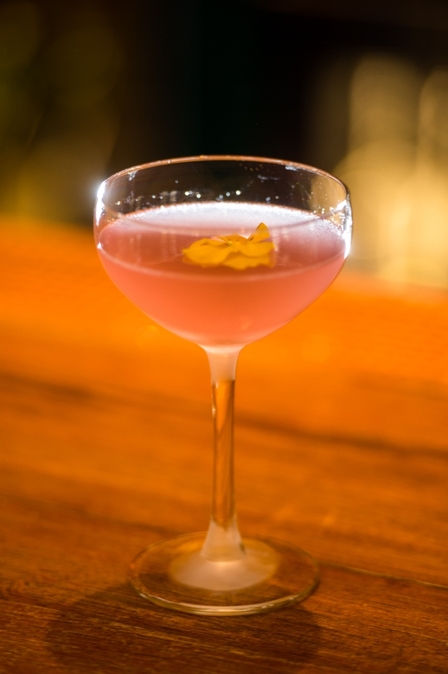 This category is rounded off with Catch Me If You Can, a different version of the classic Aviation cocktail, made with premium London dry gin, lemon juice and a blend of violet syrup, poppy and bergamot liqueurs.
Present
The opener is their trademark Seasonal Daiquiri, which this season is reminiscent of a Papa Doble and is made from a rum blend, citron and a little tangerine. The cocktail is still clear, just like in the previous menu, even though they're already planning its next reincarnation, which will include cherries.
Jenna Said is a great contemporary drink made with an "elixir of tomato water", passion fruit, olives and rosemary mixed with an olive oil infused vodka (fat washed). This savoury masterpiece is completed with a rim of honey, cereal and a jalapeno pepper dust.
The savoury trend continues with The Gatherer, which is a nod to foraging with its mix of three mushrooms (chanterelle, shitake and black truffle), vine leaf brine and rye whisky. It's served in a clay pot with an edible dehydrated vine leaf.
Tear Drop was up next, served in a highball glass with ice and a sour cherry preserve as garnish. Made with masticha, Masala tea infused Grand Marnier, ginger, citrus fruit and a yoghurt dust.
Do Not Disturb The Bees is aimed squarely at milk punch lovers. Made with London dry gin, honey and a type of cordial made from milk water, black truffle and an intensely aromatic camomile tea. It is served in a black glass with edible ash on one side.
For those who love a fruity long drink, they'd need look no further than Mon Amour: a pleasant break in the proceedings made with raspberries, strawberries, coconut cream, ginger and kaffir lime leaves.
Future
How does time affect an ingredient and what form would we like our favourite classic drinks to have in the future? Is there a life cycle for a cocktail? How would a drink be if served in space? The final menu category is here to provide you with the answers!
The category begins on an ironic note with a Whiskey & Cola, a drink which will always be a best seller. The whiskey part is made up of two single malts which are poured into a highball glass with ice and a homemade colour free cola.
Next we tried Space Odyssey, made with Guatemalan premium rum, a blend of two sherries (Pedro Ximenez and Amontillado), vanilla and black garlic. It's served in a martini glass, which shows up the edible gold that is part of the ingredient mix.
If we had to look at cocktails as part of our life cycle, we would have to dedicate a special chapter to Martinis. It seems that The Clumsies had the same idea and have included their Circle of Life; a special umami take on a Dry Martini. Made with grape vodka, Sauternes wine, a parmesan brine (parmesan infused vodka), and served with a drop of pear eau de vie and some grape seeds (for their tannins) which are placed on the customer's hand. The garnish is a grape pickle.
Unknown Pleasures is our cue to take some time off and appreciate how well this idea has been implemented. Speciality coffee is the big trend of the moment but the prediction is that international demand will soon outstrip supply so The Clumsies have decided to reproduce coffee in their own way. Carob is ground and roasted as if it were coffee beans and is then blended with cognac and a cooked blend of elderflower liqueur, apricot, cocoa and tonka beans as well as orange peel. As if the above wasn't enough, it is then served with a topping of tonic making this the most innovative low alc./vol. cocktail in Athens.
The mighty olive returns to centre stage through Infinity, a cocktail which this time includes coffee. Made from bourbon whiskey, hazelnut liqueur, espresso coffee (roasted in two stages so it doesn't lose its moisture), olive brine and an inactive yeast, which will leave you with a unique bread sensation in your mouth.
Just when you think 'future' was over, The Clumsies introduce Above & Beyond Punch as the central focus of their menu. Based on a classic recipe, it's made with Guatemalan rum, mezcal, smoked whisky, pineapple oils and a condensed stout with a hint of chocolate. Served in a round glass with a cherry smoke on the back, which emerges when the customer lifts it up. The cocktail will be served from a special refrigerated unit, which will soon take pride of place at the bar.