Salvatore Calabrese
Words by Theodora Sutcliffe
Age: 67
Originally from: Maiori, Italy
Profession: Bartender
At: London
Both 2015 and 2016 are landmark years for Salvatore Calabrese, the "Maestro" who's one of the world's most high-profile bartenders, with his name on venues in London, Los Angeles, Las Vegas and – soon – Hong Kong. He turned 60 in July 2015. And in June 2016 he'll celebrate the 50th anniversary of his first bartending job.
And, yes, you read that right. "I was a bit wild as a child," Salvatore recalls. "So my dad found me a job in the bar of the Hotel Reginna in Maiori, where I'm from. My day used to start at 5:30 in the morning. I'd go to the hotel restaurant, slice bread for over 100 people - it had to be a specific thickness, which is where I learned to be precise. By 7am I was in the hotel bar."
Salvatore aged 12 in 1967 in Maiori, Italy
Salvatore still cites Signor Raffaello, the bartender at the four-star resort hotel, as an inspiration. "He was the Humphrey Bogart of bartenders for me," he says. "Like Humphrey Bogart in the film Casablanca, he knew exactly what everyone needed for their dream to happen. He used to charm the socks off all the girls, he'd wear the most impeccable cream jacket, and he was Mr Charm."
The generosity of spirit that led Raffaello to teach an 11-year-old who could barely see over the bar the fine art of reading a guest didn't stop him smacking Salvatore around the head whenever he did something wrong. "Even now, when I make a Negroni, I do two things: I duck and I pray, just in case Signor Raffaello's behind me," he laughs.
Salvatore's father passed away a year later, and what had been a summer job to keep him out of trouble became critical. "We all joined in to support our mother," Salvatore explains simply. He worked in bars for four months of the year until he turned 15, when he moved into restaurants.
Growing up on the Mediterranean, amid the towering cliffs and ancient harbours of the Amalfi Coast, Salvatore dreamed of being the captain of a ship. Yet the fatherless, angry teenager spent much of his free time fighting. One encounter left him almost blind in one eye, ending his dream of life at sea.
"I was left with my second choice, hospitality," Salvatore recalls. "I threw myself into it and by age 21 I was the youngest maitre d' on the whole Amalfi Coast."
It was around this time that Salvatore met the woman who is now his wife, Sue. "She came on holiday with a friend to the Amalfi Coast, and I started the relationship - you could call it a holiday romance," Salvatore recalls.
During the winter, he'd travel to Switzerland to learn the formal Swiss way of doing things; during the summer he'd work on the Amalfi Coast; and, increasingly, he'd winter in London to see more of Sue. "In 1980, I decided not to go back to the Amalfi Coast," he says. "I started work at an Italian restaurant in London, but I wanted to go back to hotels."
It was Sue who found the advert in the Evening Standard: Dukes Hotel, the classic and very English hotel in St. James's, was looking for staff for Dukes Bar. "On 3rd December 1982 I went for an interview there, and I brought my CV, and the guy who interviewed me said, 'We're not looking for maitre d's, we're looking for bartenders,'" Salvatore recalls. "I said, 'I made my very first Americano at the age of 11, my very first Negroni at the age of 12,' and he said, 'Why don't you do it part-time while we're looking for someone full-time?'"
Salvatore's tenure lasted less than three weeks. "On 21 December, the bar manager called me into the office, and said, 'Thank you very much for your help. We've found the bartender we're looking for, so goodbye.'"
It wasn't the happiest Christmas. Salvatore had a mortgage to pay, while Sue was pregnant with their first son – Gerardo (Gerry), who now owns and operates East London's Hoxton Pony and Wringer and Mangle.
Salvatore with his sons Jonathan (left) and Gerardo (right)
"You need a bit of luck in life," Salvatore recalls. "It was a very cold winter, and one of the customers at Dukes asked the bartender to make a warm drink. Being Christmas, the bartender decided to make a flaming toddy, and he set both the bar and the customer on fire. His career went up in smoke. Then Giuliano Morandin left Dukes to go to the Dorchester and I took his position."
Salvatore behind the bar at The Dukes Hotel in 1984
Salvatore is keen to point out that it was he who hired Gilberto Preti, the man most associated with the Dukes Martini, and for years the acknowledged don of the martini in London, in 1987 or 1988. (The Guardian dates Gilberto's tenure to 1983.) As to the story that it was Gilberto who created the Vesper for Bond author Ian Fleming?
"I've never understood that," says Salvatore. Ian Fleming, although a regular at Dukes, died in 1964. "Gilberto was only about five years older than me, so if he created the Vesper for Ian Fleming he'd have to have been eleven!"
According to Salvatore, the Dukes Martini – quite possibly the ancestor of the Naked Martini – began with the legendary travel writer Stanton Delaplane, the man who popularised the Irish Coffee in the US. "In 1985, he stayed at Dukes. I thought he was a 60-year-old man in an 80-year-old body, but actually he was 80," Salvatore recalls.
"The first time he came was in the afternoon. He said, 'May I have a very, very dry and very, very cold martini.' I'd pick up the mixing glass, and put the ice in the mixing glass, but making it very cold diluted the drink," Salvatore says. When he stirred the martini for a long time, Delaplane complained the drink was insufficiently dry; when he stirred it briefly, Delaplane complained it was insufficiently cold.
Faced with an apparently impossible customer, Salvatore persisted. "On the fourth day, which was Friday, I saw a customer in a restaurant eating fish and chips. He was very particular about how much malt vinegar he was putting on his chips: he put one single drop of vinegar on each chip."
This was a lightbulb moment. He picked up the dash bottle, washed it, and filled it with vermouth. He put a bottle of gin and two glasses in the freezer, and, the next day, Delaplane duly returned and requested his "very, very dry and very, very cold martini". Salvatore poured frozen gin into the frozen glass, laid vermouth on top, and added a twist of lemon.
"A few hours later he came down to the bar and he brought me a fax," Salvatore recalls. "He said, 'Just to let you know, I'm a journalist for the San Francisco Chronicle and the LA Times, I truly enjoyed your martini and I think it's the best in the world.'" Word spread. The prize-winning American journalist Herb Caen and the English novelist and soak Kingsley Amis wrote in praise of the Dukes Martini. Dukes', and Salvatore's, reputation grew.
Salvatore loved his job, and his clientele, yet there was a fundamental problem. In the 1980s, Dukes Bar comprised just six small tables. His basic was low, and he made a percentage on the bar's income: but that was only a few hundred pounds a week. "I thought, 'How can I make more money? I can't make it with quantity, so I need to make it with quality.'"
His idea? Liquid history: the perfect fit for a historic-feeling hotel in a historic part of London. "You can see history, you can touch history – but you can't taste it," he recalls. "I wanted to sell history that you could taste."
Both the F&B manager and the GM told him he was crazy. So he went over their heads to the owner. "I started to search," he recalls. "What could I sell by the glass? It couldn't be wine, because wine would oxidise, so it had to be spirits."
Dukes Bar featured a portrait of the Duke of Wellington, the British military hero who helped defeat Napoleon at the Battle of Waterloo in 1815. Inspired, Salvatore tracked down a bottle of Hine 1815. "I sold it for about £250 a shot, which was a lot of money," he recalls. (It's the equivalent of around £700 today.) "I think I sold that first bottle in a week. Eventually I took that bar up from £500 to £10,000 per week."
Salvatore used all his considerable sales skills to communicate the history behind his very, very expensive bottles. "Lots of very wealthy businessmen who want to impress want an experience you can only do once in your lifetime," he says. "I used to bring spirits to their table."
Americans got the bottle of 1865, the year the Civil War ended, the year Lincoln was shot. "I'd stroke the bottle. If there were three or four of them, I'd bring in the history of phylloxera, and I'd ask everyone, from the host to the guest, to smell and taste the same glass before they decided which one they liked," Salvatore recalls. "Some major deals happened in my bar."
The clientele at Dukes spanned the gamut from businessmen to rock stars – Mick Jagger and Ronnie Wood enjoyed an 1805 cognac, while Sean Connery popped in for martinis – and even royalty. (Salvatore's very English manager sent him to finishing school for tuition in regal manners after a baron recruited him to make drinks at a party for the Queen.)
In 1994, Salvatore succumbed to headhunters and left Dukes for the Library Bar at The Lanesborough, where he created the Breakfast Martini, one of his drinks, along with the Spicy Fifty, that he believes will stand the test of time. The wood-paneled space provided, he felt, a larger theatre for his art, and he believes he helped instigate both the use of unconventional ingredients like balsamic and London's classic cocktail boom. (His first book, Classic Cocktails, has sold over a million copies.)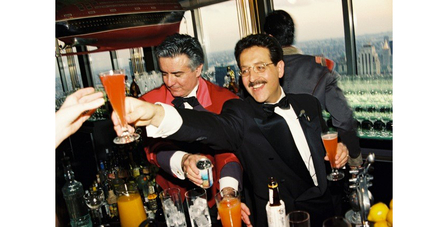 Salvatore behind the bar at The Rainbow Rooms NYC with Dale DeGroff for the launch of his first book Classic Cocktails in 1997
A decade later, he was in a position to open his own place: Salvatore at FIFTY. Fifty, a joint venture between Planet Hollywood's Robert Earl and gaming experts London Clubs International, was a members' club and highrollers' casino set in a glorious St. James's townhouse. And, from the interior and the drinks to the back bar set-up, Salvatore at FIFTY was an exceptionally slick space.
In front of the Bar at Salvatore at Fifty 2004
Yet a vicious combo of a few big highroller wins – Sports Direct's Mike Ashley netted £1.3 million on roulette in 15 minutes - and the 2008 financial crash saw the parent venue shuttered: Salvatore, devastated, was forced to close his bar as well.
"That bar was a goldmine. It really, truly was a goldmine," Salvatore recalls. "My last day's takings were £29,000 off 110 square metres. I had quantity and quality."
The Playboy Club, Salvatore's next career step, might sound at first blush like a step-down, yet, when London Clubs (now Caesar UK) approached him, he was happy to join the franchise. "In the 1960s and 1970s Playboy was not what people think of," Salvatore explains. "When I took the bus to work, I'd see the Playboy Club, and they'd have immaculate cars, Aston Martins, they'd be impeccably dressed. Sean Connery used to go there, Muhammad Ali, Frank Sinatra, Princess Margaret...."
Salvatore at Playboy
Salvatore at Playboy takes Salvatore's liquid history obsession to the next level, with what's probably the best selection of vintage spirits in the world. His cocktail list includes the world's oldest Negroni, a Gin Cocktail made using a genever from the year Jerry Thomas first published the recipe, a White Lady with period spirits, and more.
He's proud to have created a drink that briefly held the Guinness World Record for most expensive cocktail with ingredients including a 1788 cognac.
Making the worlds most expensive and oldest cocktail Salvatore's Legacy in 2012
And Salvatore is finally expanding out of Europe. In 2013, he consulted on Mixology 101 in Los Angeles; when we talk he's fresh back from his Vegas venture, Bound by Salvatore at the Cromwell; a Hong Kong rooftop venue is currently slated to open in March.
Yet, Italian through and through, he's never happier than when returning home to Maiori. Last summer, he presided, alongside longterm friend Peter Dorelli, over the Maestro Cocktail Challenge, his very own cocktail competition. And on the Amalfi Coast he gets to play out his childhood dream. "I never made it to be a captain," he says. "But I have my own boat, and I have the license to drive it."
Maestro Cocktail Challenge at Maiori, Salvatore's home town on Italy's Amalfi Coast
View 12 of Salvatore's best-known cocktails here