Scotch Eggs - the ultimate bar snack
Scotch Eggs - the ultimate bar snack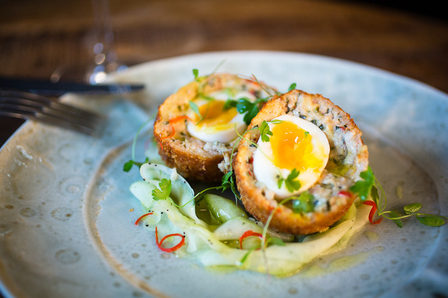 Behold, the supermarket Scotch Egg: lunch box staple for the unimaginative, prerequisite snack at funeral buffets and culinary ammunition during schoolroom food fights. A layer of dust, an alarming hue of orange, covers the outside of this golf ball-sized orb. Beneath lies a layer of fetid meat of questionable origin, and then the inner sanctum: an egg with a yolk as grey as a dull Autumn sky.
In terms of a product that could illustrate the worst aspects of British cuisine of old, as impenetrable to foreigners as Spotted Dick, Bubble & Squeak and Toad in the Hole, you'd be hard-pressed to find equal to the mass produced, petrol station-friendly Scotch Egg.
But while this Neanderthal remains on shelves across the country - a national shame - there is a silver lining. Like the culinary equivalent of the Bionic Man, the Scotch Egg has been deconstructed, then rebuilt, better than before. Cut open such a globe in 2013 and you'll find it has been reimagined using the finest fresh eggs, whose golden yellow cores ooze luxuriously across a lovingly reared, rare breed sausage meat mantel before contrasting with the artisanally baked breadcrumbs that make up its fine crust.
Fun fact: the Scotch Egg is not Scottish. It was conceived by London supermarket to the rich Fortnum & Masons as a travelling snack for those headed up north by stagecoach.
Today, the Scotch Egg stands, reborn, objectifying the best of modern British culinary inventiveness and as arguably the finest bar snack known to man. Our readers' recommendations:
City and East
"Our Old Bengal Scotch Egg is one of the most popular bar snacks, which we vary from season to season," says chef Barry McMillan from Old Bengal Bar in the City of London. "At the moment I'm using smoked Gloucester Old Spot pork belly for the meat - the smokiness contrasts nicely with the richness of the yolk. Rather than normal breadcrumbs I use Japanese panko breadcrumbs for a crisper crunch." He also makes fish-based Scotch Eggs for neighbouring restaurant Fish Market, including a Spicy Salmon and Shrimp Scotch Egg made with Loch Duart salmon and brown shrimps.
Also in the City, The Sign of the Don used a bottle of Sandeman vintage port to create a port jelly that accompanies a Duck Scotch Egg. "They are best served warm with runny yolks," says James Walker, executive chef. "The duck eggs are placed in boiling water for six-and-a-half minutes, and then plunged into icy water. They are then encased with a forcemeat of minced duck, sausage meat, onions and spices, passed through bread crumbs, deep fried then baked." Nearby, at The Jugged Hare in Barbican, you'll find a venison-based Scotch Egg.
West
Across town, panko breadcrumbs, marked out by their large flake texture - resulting in a crisper, crunchy texture - are also used by Head Chef Matt Reuther at the Princess Victoria in Shepherds Bush. Here, these bad boys are made with Cotswold Legbar Eggs, sausage meat made with Tamworth pork from Paddock Farm in Warwickshire, chopped tarragon and grain mustard. The Thatched House in Hammersmith's Major Scotch Egg pairs Cotswold Legbar egg wrapped in pork mince and Panko breadcrumbs.
Central
The Running Horse, Mayfair, an ancient pub now owned by James Chase of the vodka dynasty, is proud of its handmade, twice-coated, panko-covered Scotch Eggs - "great with brown sauce," says head chef Andrew Justic - while more exotic-inspired versions include Whyte & Brown's Bangkok Scotch Egg (minced chicken with lemon grass, fish sauce, coriander, chilli, ginger and lime leaf), or the Wild Mushroom Risotto Scotch Egg, with truffle oil, aged Parmesan and served on a bed of curly kale. There's an Indian take at Cinnamon Soho, where executive chef Vivek Singh has conceived the Bangla Scotch Egg, where a spiced vegetable casing replaces pork.
South
The Windsor Castle, Kensington boasts a haggis, sausagemeat and thyme-flavoured Scotch Egg.
Further afield
We've also been recommended Heston Blumenthal's Scotch Egg at the Hind's Head in Bray, Berkshire. It tells us: "We only use the best quality sausage meat and the freshest quail eggs. The eggs are cooked for a precise time to ensure they remain runny and the meat is seasoned with the same measured amounts of seasoning for every batch, they are double coated with panko breadcrumbs and cooked for an exact time and temperature using both a fryer and an oven". We're also informed The Tippling House in Aberdeen makes a fantastic smoked haddock Scotch Egg, again encased in panko breadcrumbs.
Now, all that's left is to pass the brown sauce and pour us a pint.