Story

Girolamo Luxardo SpA

Status:

Operational

Established:

1821

Visitor Policy:

Not generally accessible

Tel:

+39 (0)49 99 34 811

Website: Girolamo Luxardo SpA Address:

Via Romana 42, Torreglia, Padova, 35038
Story
Originally from Genova, Girolamo Luxardo moved with his family to the town of Zara in 1817 as consular representative of the Kingdom of Sardinia. Zara, a port city on the Dalmatian coast which is now part of Croatia was then was under Austrian sovereignty after the fall of Venetian republic in 1797.
Dalmatia was the only habitat of the Marasca cherry until well into the 20th century. This bitter tasting cherry is ideal for liqueur production and for centuries the farmers around Zara produced a macerated 'rosolio maraschino' from the cherry for which the town was famous. Luxardo's wife, Maria Canevari, was interested in this liqueur, and began making it at home. So regarded was her product that in 1821 her husband, Girolamo, founded a distillery in Zara to mass-produce it.
Girolamo became the largest liqueur producer in the region and he exported his brand of maraschino liqueur to markets worldwide. The carrier doves, which he used for sending messages, became a mark of the company and still feature on bottles today. When Girolamo died (aged 81) in 1865, his son, Nicolo, took over the business.
In 1913 the 3rd generation Michelangelo Luxardo built a new distillery, one of the largest in the entire Austro-Hungarian Empire. Then, at the end of the First World War, Zara was incorporated into the Kingdom of Italy as 85% of its population were Italians.
Michelangelo Luxardo's distillery
The company prospered until the Second World War when after repeated Anglo-American bombing raids during 1943-44, the city and the distillery was almost completely destroyed. The German troops withdrew and followed the occupation by Tito's communist partisans. The majority of the surviving Italian population fled into exile but many were killed by the partisans. Sadly, the unlucky ones included Pietro Luxardo as well as Nicolo II and his wife who were drowned in the Adriatic by Tito's forces.
Zara flattened by Anglo-American bombing
Giorgio, the only surviving fourth generation brother, with the help of Nicolo III (the young fifth generation) temporarily re-founded the business in Venice before Giorgio found the perfect location in Torreglia, Padova.
The Euganean Hills provide an ideal climate for growing Marasca cherries, so it is here in 1947, they planted the first orchard. Today that orchard boasts 20,000 cherry trees and is where the still family-owned and run business still continues to operate and prosper.
Our video interview above with Franco Luxardo, Giorgio's son and the only surviving member of the 5th generation, provides a truly fascinating first-hand insight into the Luxardo family history. Still today Franco plays an active role in the business, now supported by the next generations.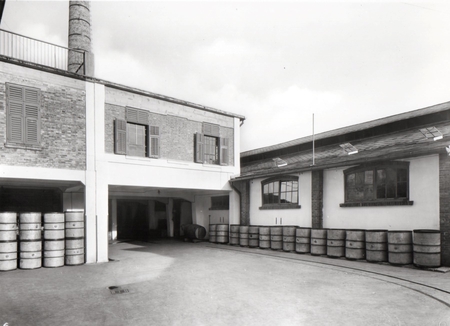 Girolamo Luxardo SpA
Status:
Operational
Established:
1821
Visitor Policy:
Not generally accessible
Tel:
+39 (0)49 99 34 811
Website:
Girolamo Luxardo SpA
Address:
Via Romana 42, Torreglia, Padova, 35038