Story

Never Never Distilling Co.

Status:

Operational

Visitor Policy:

Visitors welcome throughout the year

Tel:

+61 8 8125 5565

Website: Never Never Distilling Co. Address:

56 Field Street, McLaren Vale, SA, 5171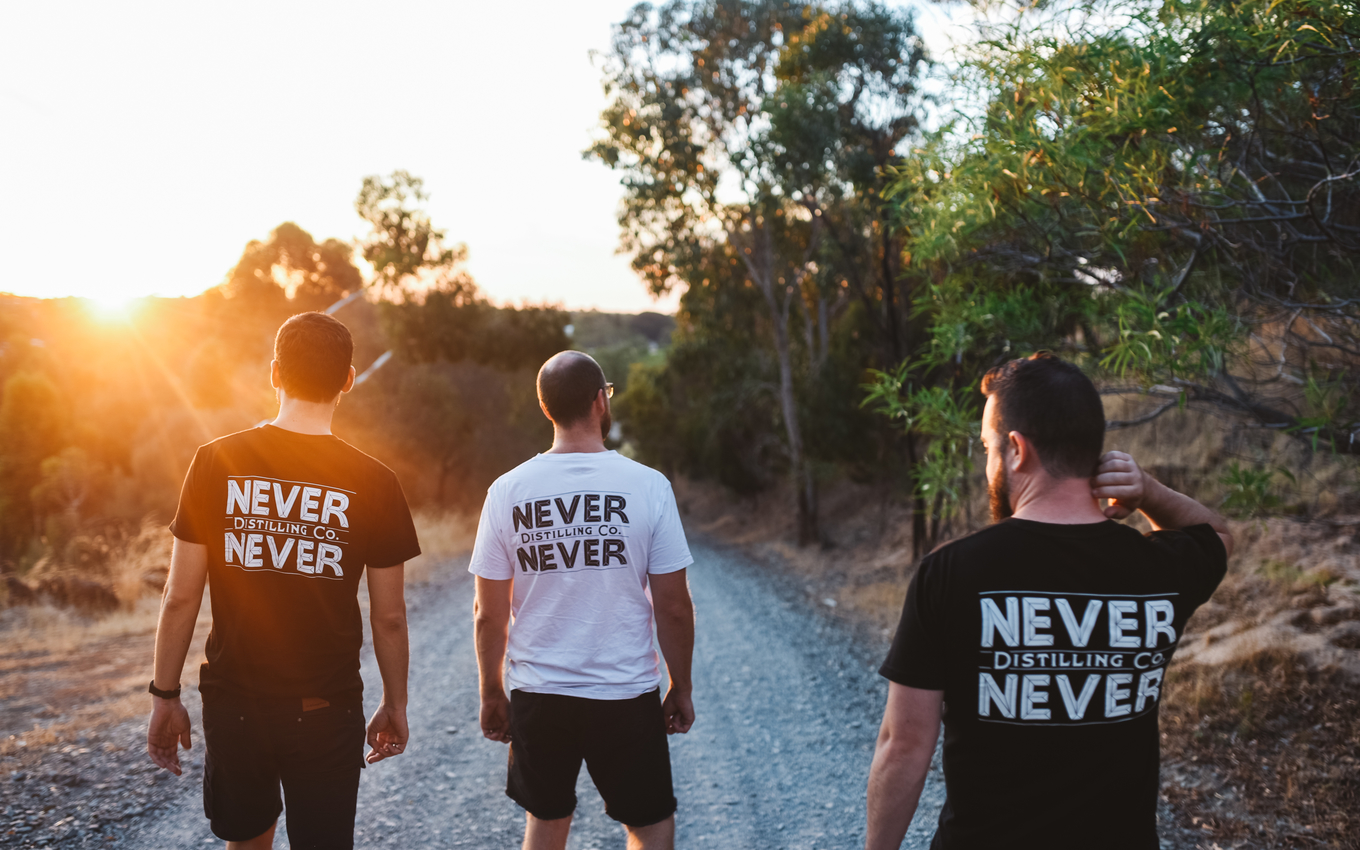 The story behind Never Never Distilling
Now an iconic Aussie gin, loved for its boldness and personality, Never Never Distilling was founded in a 16sqm garage by three mates – Tim Boast, George Georgiadis and Sean Baxter. Despite this rather cramped start, the brand is named after, and inspired by, the vast Australian expanse of the outback that stretches beyond the horizon – the Never Never.
What does it mean to be inspired by a distant horizon? It might seem a little poetic but for the Never Never team, this is all about their journey into the unknown, leaving established careers to start a distillery with the ambition to leave a global mark on the gin category. Having picked up World's Best Classic Gin at the World Gin Awards in 2019, and with a shiny new distillery (slightly larger than the first and with a view that matches the skyline on the bottle) that ambition has arguably been realised.
They say journey into the unknown, but don't be fooled, Tim, George and Sean didn't stumble into the world of distilling by some happy accident and strike gold. Rather, Never Never Distilling was founded with purpose, passion and knowledge – as any small business that succeeds must be, especially in the crowded marketplace of the modern gin scene.
Over a pint in a pub, the three friends decided they had what it took, and pooled their money together to invest in a 300L pot and column hybrid still which they named Wendy. As you've heard, her first home was in a cramped garage, in the back of a brewery on the outskirts of Adelaide.
Starting with their Triple Juniper Gin, Never Never Distilling was launched in August 2017 after an extensive trialling period with various botanicals, distillation runs, blending and late nights of R&D. If you're curious, it was the 33rd recipe that ended up at the flagship gin of the distillery. Sean, Tim and George always knew they were going to make a classic London Dry from the get-go. Not only is it the best-selling gin category the world over, but it was a style Sean knew from his bartending days was invaluable in the world of drinks – slipping into G&Ts as naturally as classic cocktails.
From the outset the team has been focused on delivering gin with more flavour, adjusting their distillation methodologies and botanical concentrations to create bold and fragrant styles. It is this that has given them a global following and has made them a popular choice within Australia's best bars and restaurants.
The Southern Strength Gin was also part of the range since day one, albeit initially under the Dark Series range, which is how Never Never group its limited releases. It's a space to play and imagine, 'where we push the boundaries of flavour... bringing our experimental musings into the light of day,' the team say. Southern Strength Gin was the first Dark Series to be promoted to the core range and it was this gin with its unique savoury palate and overproof abv that won World's Best Classic Gin in 2019. In the same year, they launched the Juniper Freak Gin, Australia's only gin which celebrates the annual European juniper harvest and this both promises and delivers an intensely juniper-forward profile. It's won Australia's Best Navy Strength in back to back years and has already developed a cult following all around the world among those who celebrate juniper in all its forms. Their most recent Dark Series product, their new Oyster Shell Gin has quickly become their most popular new release, topping even Ginache for its immediate popularity.
Initially found in a handful of Adelaide's indie bottle shops and bars (Hains&Co have the honour of buying the very first case of Triple Juniper Gin and then became the first venue to put it in the rail), there's barely a decent bar in Australia who wouldn't have a bottle or two of Never Never gin sitting on the back bar. Triple Juniper and Southern Strength have also gone on to collect a multitude of awards, with the standout being double gold at the prestigious San Francisco Worlds Spirits Awards (and Best in Class for their Triple Juniper Export Strength, the first time any Australian brand had done so).
In 2020, Never Never Distilling outgrew the garage and opened its new distillery and distillery door in McLaren Vale. Having spent three years brand-building there was a slew of thirsty fans eagerly anticipating the chance to drink Never Never in their shiny new digs. It's become a home for the brand, their production facility, a place to tour, to taste and to enjoy gin – be it in great cocktails or a classic G&T.
The Whos-Who of The Never Never
Tim Boast is Never Never's Head Distiller. Tim suspects his obsession with distilling and brewing is hereditary – as a descendant of the Gilbey family of distillers in Scotland, he was tinkering with stills and fermenters in his back garden long before he had a full-scale distillery to play with. Five years after leaving an established career in finance Tim was named Global Distiller of The Year in 2019 and 2021.
George Georgiadis is the Managing Director of Never Never Distilling. While his background is finance – someone's got to make sure it all stacks up – George was always a science whizz and he even travelled the world researching the skill of flavour production (including courses in brewing and distilling). Adelaide is his hometown and it was always where George envisaged he would set up his own brand one day.
Sean Baxter came from a hospitality background being a career bartender and keen cook (a Masterchef contestant, in fact!). He is well acquainted with the output end of the flavour making process as well as having the marketing and brand management know-how which comes from working as a National Brand Ambassador for Diageo.
Kate Rowlands is found at the home of Never Never Distilling as its Venue General Manager. A known and loved face in the Adelaide hospo scene, Kate spent three years at Electra House Hotel as their training + development and restaurant manager, and was most recently at ORSO as their business development manager. Kate brings Never Never's hospitality to life at the distillery, with her passion for mentoring staff, supporting local producers and her obsession with trying to figure out how we can make hospitality a more sustainable industry.
Shay Chamberlain is Never Never's National Brand Ambassador, and easily one of the most recognisable names in the Australian scene for the past few years. She's worked behind some of the best bars in the UK and here in Sydney and Melbourne, including managing Black Pearl and Bulletin Place. Shay brings an absolute wealth of experience, knowledge and creativity to the Never Never brand.
"To where 'neath glorious the clustered stars
The dreamy plains expand -
My home lies wide a thousand miles
In the Never-Never Land."
The Never-Never Country | Henry Lawson | 1901
(Excerpt)
Never Never Distilling Co.
Status:
Operational
Visitor Policy:
Visitors welcome throughout the year
Tel:
+61 8 8125 5565
Website:
Never Never Distilling Co.
Address:
56 Field Street, McLaren Vale, SA, 5171