Cradled between the mountains and ocean, bristling with Pacific Northwest beauty, gleaming glass high-rises and blessed with a mild (but admittedly rainy) climate, there's no doubt that when it comes to Canadian cities, Vancouver bagged all the looks.
An hour north of the US border but isolated out on the west coast and somewhat strangled by its antiquated alcohol laws, a brutal hangover from Prohibition days, Vancouver remains one of the most pricey places in North America to drink. Why? Businesses have to pay the same as consumers for booze at the government-run liquor stores. Cash and Carry never made it out here.
There is a decided lack of dive bars or pubs in the city as it's almost impossible to get an alcohol-primary liquor licence, so instead you'll find a delicious array of restaurants with surprisingly innovative cocktail lists as food-primary licenses are easier to come by. In part this creative spirit is due to bars and restaurants having (in theory) to stick to what's available on the government list, which has created a Mad Scientist-meets MacGyver approach to tinctures, infusions and all things home-made.
Change is slowly coming to British Columbia's (BC) liquor board, in 2014 Happy Hour finally became legal so at last the city can enjoy $5 cocktails. But there's plenty to raise a glass to, bartenders across the city are pleasingly passionate about spirit education and sure, depending on the exchange rate, your bill may cause you to wince a little, but across the board great service usually takes the sting away.
Recommended Bars:
Lobby Lounge at the Pacific Rim Hotel
In a casually dressed city the Pacific Rim oozes blinged-up glamour. 4.5/5
Pacific Rim Hotel, 1038 Canada Place, Vancouver, Canada
Hawksworth Bar
Vancouver's most acclaimed fine-dining restaurant also boasts the city's most elegant temple to the art of drinking. 5/5
Hawksworth Bar, 801 W Georgia St, Vancouver, Canada
West
A very 'Vancouver-ish' experience, West epitomises the city's love of casual fine-dining. 4.5/5
West, 2882 Granville St, Vancouver, Canada
L'Abattoir
What separates this from other equally hip hang-outs is the bar team's attention to detail and the drinks' consistency. 4.5/5
L'Abattoir, 217 Carrall St, Vancouver, Canada
The Diamond
Neatly solving the dilemma of where to go to start/end the evening in Gastown, The Diamond offers not just 1 but 2 bars within its exposed brick walls. 4.5/5
The Diamond, 6 Powell St, Vancouver, Canada
El Caminos
A little away from the hubbub of downtown this unpretentious neighbourhood bar serves up boozy pan-Latin American classic cocktails. 3.5/5
El Caminos, 3250 Main St, Vancouver, Canada
Keefer Bar
A popular apothecary-inspired cocktail bar in Chinatown, the Keefer specialises in original 'prescriptions'. 4.5/5
Keefer Bar, 135 Keefer Street, Vancouver, Canada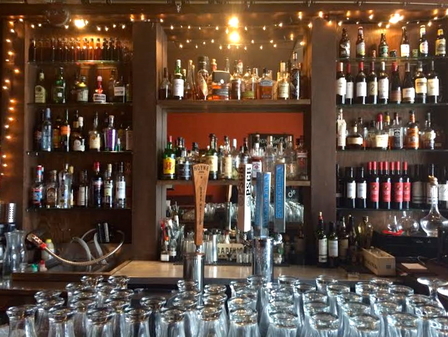 Buckstop
A pint-sized 32 seater barbecue joint serving original cocktail creations. 3.5/5
Buckstop, 833 Denman Street, Vancouver, Canada
Uva Wine and Cocktail Bar
Creative cocktails include signature shakes and a seasonal list of new creations. 4/5
Uva Wine and Cocktail Bar, 900 Seymour St, Vancouver, Canada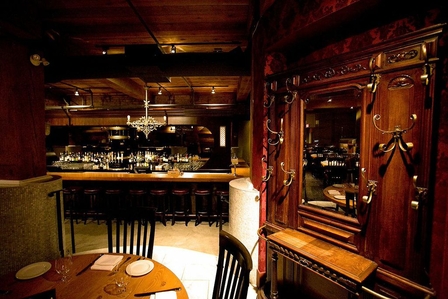 Pourhouse
One of the few places in the city which feels more like an London pub than a Vancouver restaurant-bar the Pourhouse offers a pitch-perfect drinking experience. 4.5/5
Pourhouse, 162 Water St, Vancouver, Canada
The Alibi Room
The Alibi Room packs in fans of rare brews into its impressively large space with a back bar piled reassuringly high with whiskey and awards. 4/5
The Alibi Room, 157 Alexander St, Vancouver, Canada
The Shameful Tiki Room
Make the journey from the downtown core to Main Street to be transported to a totally tropical place. 3.5/5
The Shameful Tiki Room, 4362 Main St, Vancouver, Canada