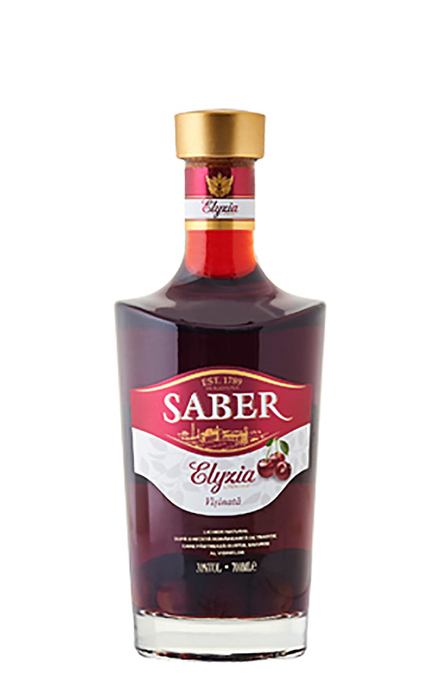 Product of:

Romania

Saber Elyzia liqueurs were created in 1789 in Bucovina, northeast Romania and are distinguished by the whole fruit visible, infusing in the liqueur within the bottle.
Review and Tasting
Sampled on 31/10/2020
Appearance:
Clear, deep cherry red with cherries in the bottle.
Aroma:
Marzipan, fresh cherries, cherry jam and Bakewell tart.
Taste:
Rich cherry fruit with fresh cherry, cherry jam and bitter almond with balancing peppery spirituous spice and light citric acidity.
Aftertaste:
Cherry tart, cherry jam and cracked black pepper.
Overall:
Intensely cherry flavoured, rich and yet balanced.
Difford's Guide Certification

Product Information
Barcode UPC: 5942122000160
Bottle Size: 700 ml
Closure: Agglomerated cork stopper

More about Saber Elyzia Sour Cherry
Cherry brandy & cherry (cerise) liqueurs
Cherry 'brandy' is traditionally the largest category of cherry liqueurs. A confusing term as most of these liqueurs are actually made by macerating cherries