Italicus Art of Aperitivo Challenge 2019
Words by Paloma Alos
Photography by Coctel TV
The global final of the second Italicus Art of Apertivo challenge touched down in Spain on 4 November 2019.
Hosted by the fabulous Italicus ambassador duo Luca Missaglia and Haley Forest at Paradiso, Barcelona, 12 finalists from countries around the world came together to showcase their Italicus apertivo cocktail.
Inspired by a form of art or an artist, the cocktails and the stories behind them were a product of each bartender's passion...from street art to perfumery to flamenco.
The judging panel, made up of Giuseppe Gallo, Founder of Italicus, Giacomo Giannotti, owner of Paradiso and myself from Difford's Guide, had the difficult task of selecting just one worthy winner and two runners-up. After some excellent cocktails were showcased by the finalists our decision was unanimous and we were delighted to announce Celia Bugallo from Kwãnt, London as the 2019 Italicus Bar Artist of the Year. Her cocktail, The Three of Us, is a simple, elegant drink including Italicus, a blend of oloroso sherry and sake, rosemary and grapefruit tonic, enhanced with a hint of coffee aroma. It was this, combined with her uplifting presentation inspired by an iconic female flamenco dancer which impressed all. Not least because Celia used to be a flamenco dancer herself.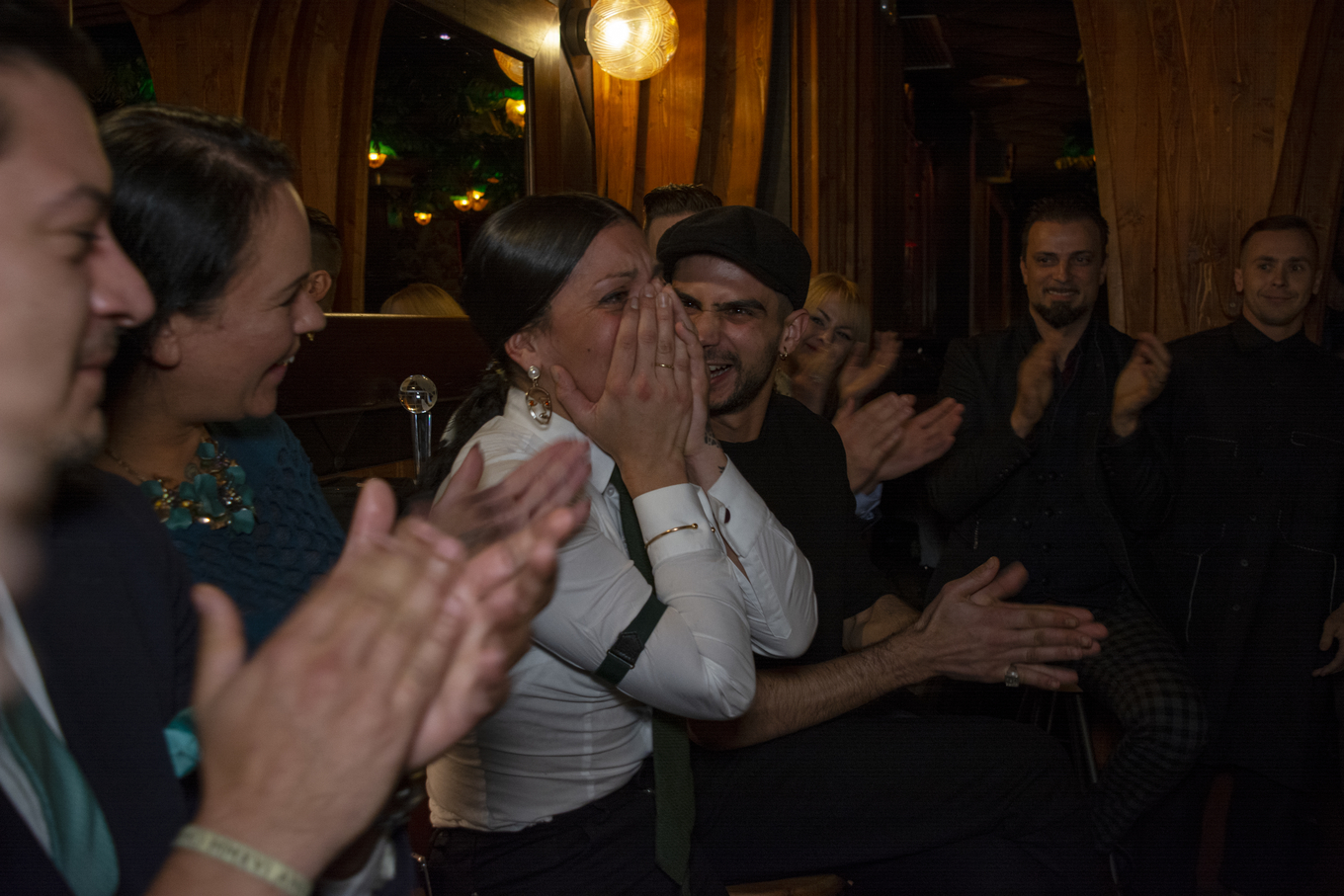 Celia wins a trip to New York City for a unique experience behind the bar at Nomad, one of the world's top bars.
Second place was awarded to Dario Doimo from Mr Coco, Las Vegas, USA for his beautiful apertivo presentation, including his imaginative crisp / chip bowl made from an Italicus bottle.
Third place went to Melissa Coutant from Cafe Moderne, Paris, France. Not only was her cocktail extremely tasty but her knowledge of the brand stood out.
Congratulations to all 12 finalists. The judges very much enjoyed all your drinks and presentations. Gracias to the team at Paradiso for their hospitality.
Below all finalists and their drinks.
Celia Bugallo - Winner
Kwãnt
London, UK
The Three of Us
45ml Italicus - Rosolio di Bergamotto
25ml oloroso sherry
15ml coffee infused sake
60ml rosemary and grapefruit tonic
Dario Doimo - 2nd place runner-up
Mr Coco
Las Vegas, USA
Pink Mist
45ml Italicus - Rosolio di Bergamotto
30ml Galliano Aperitivo
15ml Alessio Bianco
15ml Lustau Los Arcos Sherry
2 dashes Scrappy Black Lemon Bitters
Melissa Coutant - 3rd place runner-up
Cafe Moderne
Paris, France
Acqua Angelica
40ml Italicus - Rosolio di Bergamotto
20ml modified verjus
20ml house vespetro
25ml gin
10ml mezcal
6 drops saline solution
In order of presentation...
Carmine Di Marino
Svanen Cocktail Bar
Oslo, Norway
Modi'
40ml Italicus - Rosolio di Bergamotto
20ml plum liqueur
10ml champagne acid
Top with brut champagne
Lucas Kelm
Amo, Venice, Italy
Sketch
40ml Italicus - Rosolio di Bergamotto
40ml Art bitter
50ml white wine
1 dash bergamotto essence
Giuseppe Lilliu
Fejoa
Amsterdam, Netherlands
Atlas
45ml Italicus - Rosolio di Bergamotto
20ml Luxardo Maraschino liqueur
90ml Fever Tree Indian Tonis
2.5ml coffee powder
Artem Talalay
Sakhalin Restaurant
Moscow, Russia
Modern Game
40ml Italicus - Rosolio di Bergamotto
120ml CO2 Sauvignon Blanc cordial
5ml gentian liqueur
Peggy Knuth
Ritz Carlton, Fragrances Bar
Berlin, Germany
Essentia Ros Ollis
40ml Italicus - Rosolio di Bergamotto
10ml Freimeister Rosemary Geist
15ml Aqua di Parma syrup
20ml Lemon juice
40ml Butterfly pea sparkling jasmine tea
Constantinos Kazelis
Lost & Found
Cyprus
Cosimo
40ml Italicus - Rosolio di Bergamotto
25ml dry red wine
3 dash hazelnut liqueur
15ml tomato water cordial
Top with soda
3 drops basil oil
Silvia Dorninger
Creps al Born
Barcelona, Spain
Wanderlust
40ml Italicus - Rosolio di Bergamotto
15ml gin
15ml acid solution
15ml olive brine
20ml fino sherry
Dominik Csuti
Black Swan
Budapest, Hungary
Echo
40ml Italicus - Rosolio di Bergamotto
10ml Tio Pepe sherry
20ml hopped coconut water
10ml lime juice
2 dashes cucumber salt solution
Walker Wong
Blue Bar, Four Seasons
Hong Kong, China
Halo-Halo
40ml Italicus - Rosolio di Bergamotto
10ml lychee mango shrub
60ml prosecco
4 drops olive brine
25ml soda