About
Monkey Shoulder Ultimate Bartender Championship
It's back, and it's bigger and better than ever for 2023! The Monkey Shoulder Ultimate Bartender Championship is unlike any conventional bartending competition you've seen before.
Bartenders from across the UK wanting to take part will be put through their paces on 'the Skills that Pay the Bills' and will have the opportunity to prove they are the Ultimate Bartender Champion through a series of fun, energetic and challenging bartending tasks. In a competition which is less about the cocktail and more about the bartender, four heats will take place across the UK in Cardiff, Leeds, London and Glasgow starting on August 1st 2023.
If competitors show enough skill, knowledge and creativity they could earn themselves a spot in the final challenge which will be held in Edinburgh's Dragonfly cocktail bar on September 20th. The top two competitors from each heat will be invited to the final challenge and once the eight finalists have battled it out, the Ultimate Bartender will be crowned.
This prestigious title (and bragging rights) will be awarded alongside an all expenses paid trip to Tales of the Cocktail 2024 and a guest shift at the ultimate Monkey Shoulder party in New Orleans. The competition is open to all bartenders no matter how long you've been working in the industry, so you don't need to be a long time pro.
Read on to find out more and then visit the Monkey Shoulder Ultimate Bartender Championship website to register.
Good luck to all!
A taster of the Heats
So what do the challenges involve? There are five rounds, each testing a single skill, with up to 10 points available per round. This will be followed by the final round in Edinburgh for the semi-finals and the grand final.
Challenge One - Quiz
Five rounds that will increase in difficulty and consist of ten multiple-choice questions per round.
Round 1: Knowledge
Round 2: History
Round 3:Trending & Topical
Round 4:Classic Drinks
Round 5: Hardcore
Competitors will be given two minutes to answer each question and every correct answer will be awarded with 0.2 points.


Challenge Two - Pouring
Accurately pour five drinks using only water. Each pour will need to be done separately and each drink will consist of up to six pours. The respective ml from each recipe is poured into a shaker and then the total quantity of liquid will be poured into tins on digital scales. Basic jiggers will be available, but competitors may bring their own, or alternatively free pouring is allowed if anyone is feeling particularly confident.


Challenge Three - Nosing
Ten mystery products will be presented to the competitors in identical opaque cups. With three minutes on the clock, the task is to identify each alcohol using only their sense of smell. There is a point available for each correct answer and a bonus point per cup will be awarded if the ingredients in each spirit can be named.


Challenge Four - Table Service
Eight coasters on a table, each with a picture of a Monkey Shoulder Brand Ambassador and what they would like to drink. The challenge is to take the order of the table and then competitors must then return to the bar and collect the drinks- avoiding obstacles on the way! The judge will check all the drinks and then the table must be cleared. There are just three minutes to complete the task.


Challenge Five - The Perfect Serve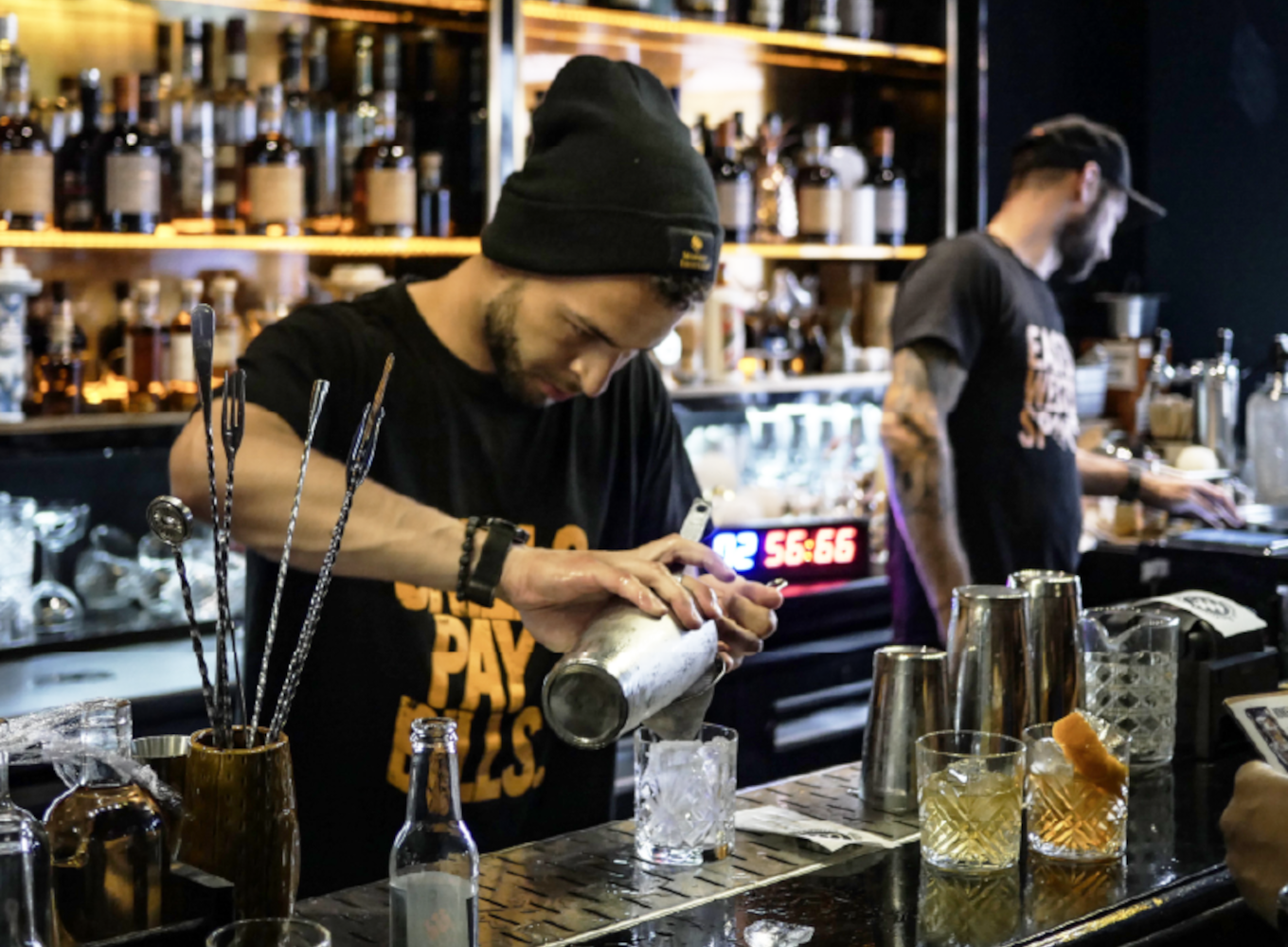 Make one Monkey Shoulder Fresh Daquiri cocktail as quickly and accurately as possible. The cocktail must be of a servable standard for a paying customer and each competitor's time will be stopped when they have served their drink on the bar counter, with a napkin and put their hands up.


For the bartenders who achieve the highest points in their heats the final is the ultimate test before the winner is crowned. Consisting of a Round Building challenge this is sure to identify the deserving Ultimate Bartender Champion and winner of a trip to New Orleans!