Mastering the French Martini with Chau Tran
Mastering the French Martini with Chau Tran
Words by Jane Ryan & Chau Tran
Photography by Trent van der Jagt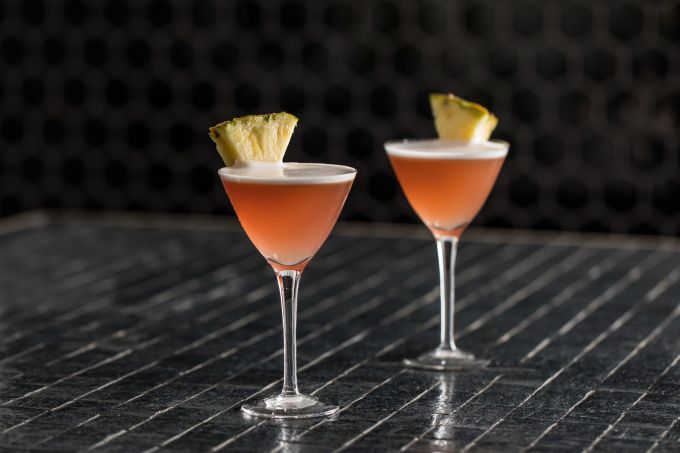 Co-owner of Sydney's beloved Burrow Bar and newly opened restaurant Cash Only Diner, Chau Tran is also a formidable bartender who has worked everything from fast-serviced club nights to pubs and intimate cocktail bars. She's a wonderfully creative bartender, but there's no one who nails the classics like the icon that is the French Martini better than Chau. Listen up, because this is going to take your French Martinis from good to unbelievably great.
The French Martini emerged in the late 1980s in New York, landing on the menu at the renownded Balthazar in SoHo in 1996. It has also spread to London where our own Simon Difford tried one in 1997 and wrote in his editors letter the following month "My favourite Martini on the moment has to be the French Martini, a drink that looks set to be the hit cocktail of 1998." He wasn't wrong.
You can read our history of the French Martini and see our favourite riffs and twists, but before you do that let's brush up on how to make the very best version of this now classic cocktail. In this we're talking the classic trio – Chambord, pineapple and vodka.
1. FRESH PINEAPPLE JUICE (OR ADD CITRUS)

Chau Tran making drinks at Burrow Bar
"French Martinis are delicious. I love it. It's just three ingredients, pineapple juice, Chambord and vodka. But the biggest thing where you can go wrong is the pineapple juice. Fresh pineapple juice is always going to be best. If you do use pre-packaged juice then I would definitely recommend adding acidity just to dry it out a bit and give a bit more that pop – put a little bit of fresh lime or fresh lemon juice into it. Not a lot mind, just a little squeeze," says Chau.
If you're wondering why bartenders are always banging on about fresh juice, the French Martini is a great drink to explain this. Pineapple juice is wonderfully acidic, so this simple three ingredient drink can balance itself, with the juice standing up to Chambord's rounded black raspberry fruit and the alcohol cutting through these two heavy textures.
Packaged juice loses some of this bright tartness and isn't as able to hold the structure of the drink, making for sweeter but also flatter cocktails. It's a big difference and easy to spot in this drink.
"I love pineapple juice in drinks because once you shake it, it gets really frothy and it gets really velvety and it has an amazing texture," says Chau.
2. ADD PLENTY OF ICE TO YOUR SHAKE

"At home people can make the huge mistake of not putting enough ice when they're shaking their drink, so it doesn't get cold enough and it over dilutes when you use too little ice," says Chau. "It melts and gets really watery before it gets cold enough so you can end up with a watery and too warm cocktail. When making drinks at home I always tell people make sure you have ice and how much ice you think you need, double it.
"You need to fill your shaker – or your Tupperware container or protein shaker – with as much ice to make sure it chills as fast as it can and doesn't dilute too quickly."
As for what type of ice, your best choice is always going to be from silicon moulds that will make bigger, sturdier chunks to shake with.
3. GLASSWARE: STEMMED IS BEST
"You're at home, so this is truly going to be whatever you feel comfortable with to enjoy your French Martini. However, if you have a coupe that's going to work great - I always tell people, a shaken cocktail served in a stem glass is going to be better because you're not going to warm that drink with your hands while you're drinking it – that's the most important thing. If you have martini glass or wine glass, that works too," says Chau.
4. CHANGE UP YOUR RATIOS

Both Chau and us here at Difford's Guide like to go heavy on the vodka - as Chau says "it makes it an adult drink" as opposed to going heavy on the juice. However this is super personal, so the key to nailing your perfect French Martini is to try a few different versions out. Think of it like a fun science experiment at home, invite a few friends around and get shaking.
Some popular ratios include:
3:1:3: 45ml vodka + 15ml Chambord + 45ml pineapple juice
3:2:1: 45ml pineapple juice + 30ml vodka + 15ml Chambord
1:1:2: 30ml vodka + 30ml Chambord + 60ml pineapple juice
And lastly here's our preferred recipe which follows a 4:1:3:
FRENCH MARTINI
How to make: SHAKE all ingredients with ice and fine strain into chilled glass.
60ml vodka
15ml Chambord liqueur
45ml Pineapple juice (fresh pressed)
5. IF IN DOUBT, ORDER ONE AT BURROW BAR
If you need to taste a professional French Martini to see what the standard is before trying your hand at home, we can definitely recommend the Burrow Bar one.
"We pride ourselves on classics, we always have a classic section on the menu. When we do new menu development the bar staff put forward one of their own kind of creations, they get a hat draw which works as a way for us to push the bartender and then they submit one to two classic cocktails. We then sit around with the classic cocktails, and everyone approaches it with the same questions; what do you think like the spec should be? Where is this recipe from? And then we go through and make each of the iterations and find out what is going to be the Burrow Bar serve – so we pride ourselves on the classics that make it make across the because it goes through a long process. Our French Martini is no exception," says Chau.