Abraham Lincoln was shot on this day
Abraham Lincoln was shot on this day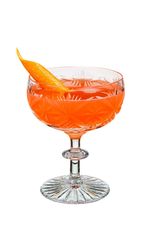 So we are drinking a...
This day in 1865, an actor named John Wilkes Booth shot Abraham Lincoln as he attended the theatre.
Aged only 26, Booth was already a stage star - Walt Whitman praised his acting style. He was also passionately in favour of slavery and passionately against Lincoln, who was wrapping up his successful war against the Southern states. Even though his life was cut short, Lincoln saved the United States from a permanent split. He brought an end to slavery, though civil rights would have some way to go.
A statue of Abraham Lincoln is one of the seven items of 'special significance' that traditionally sat amongst the curated clutter that adorned TGI Friday restaurants in their heyday. Each represented a value imparted to the bar staff:
Plaque of Abraham Lincoln – represented 'integrity'
Antique wooden propeller – represented the 'driving force of the bar'
Giant Mars Bar – represented 'enjoyment'
Circus elephant balancing on a ball – represented the 'balance' of cocktails
Oversized pair of spectacles – represented 'recognition'
Rowing scull boat containing a bottle of champagne – represented the value of 'teamwork, leadership, and celebrating success'
Propeller above or near the bar – represented the 'driving force' of the bar and what propels the business.
Let's remember this outstanding president with a President from Harry Craddock's The Savoy Cocktail Book. And, if you've not seen Lincoln yet you should watch Daniel Day-Lewis in Oscar-winning form.
We're also remembering the day a volcano grounded planes
This day in 2010, the Eyjafjallajökull volcano erupted in Iceland, presenting spelling challenges for journalists around the globe and more flight disruption in Europe than any time since the Second World War.
The volcano had been smouldering for months. But on 14 April 2010, it blazed into life, sending out a plume that rose as high as 30,000 feet, or 9 kilometres into the sky, filling the air with roughly 250 million cubic metres of ash and debris. Endangered planes saw London's Heathrow Airport shut down and holidaymakers stranded in foreign climes or, worse still, stuck at home. It took some unfortunate people (or fortunate in some cases) literally weeks to get back to work and family.
More recent events that have grounded planes and impacted so much more put the Eyjafjallajökull volcano disruption into perspective. We're remembering flights that ran to schedule and delivered us to enjoyable holidays with a Aviation, a classic gin cocktail that will virtually give you wings.
It's also the anniversary of the Sydney Hailstorm
This day in 1999, one of the most expensive natural disasters in Australian history struck unsuspecting Sydneysiders. And, no, it wasn't a bushfire. Or a flood. Or a drought. But a hailstorm.
And not just any hailstorm. The storm dumped around 500,000 tonnes of hailstones on Sydney, most of them more than 2cm across and at least one of them a massive 9cm. They hit Sydney like rocks falling from the sky, some at speeds of up to 200kph. The hail damaged around 70,000 vehicles, put holes in 24,000 houses, and caused over AU$2billion of damages - though surprisingly few people were hurt.
We're toasting ice, a substance that requires respect, with one of our own creations, the creatively spelled Ice 'T' Knee.