45 bartenders cycled from Florence to arrive three days later, in time for lunchtime aperitivos, at the Roma Bar Show.
---
When bartenders from different bars, cities and countries come together there is palpable bartender camaraderie. Thanks to Martini Racing Ciclismo, I was privileged to witness this and be embraced by the 'we're all in this together' and 'we can do this' attitude over the 301 km (187 miles) ride from the picturesque city of Florence to the bustling historic capital of Rome.
Bartender bonding and self-discovery
If you are a bartender and reading this page, then hopefully you're already aware of Martini Racing Ciclismo and have registered to be part of the growing community. If not, perhaps because you found the "racing" element of the name off-putting, then please reconsider. The program aims to improve bartenders' work-life balance by organising and promoting social rides, encouraging bartenders to train together and to give each other moral support via the Martini Racing Ciclismo community on the Strava app. Your 'training' could simply be your ride to work.
There are Martini Racing Ciclismo events and meetings for bartenders in countries around the world throughout the year, but once a year, the most engaged bartenders who've put in the miles and logged their performance on Strava (including while using static bikes in the gym) are invited to participate in the annual La Classica ride.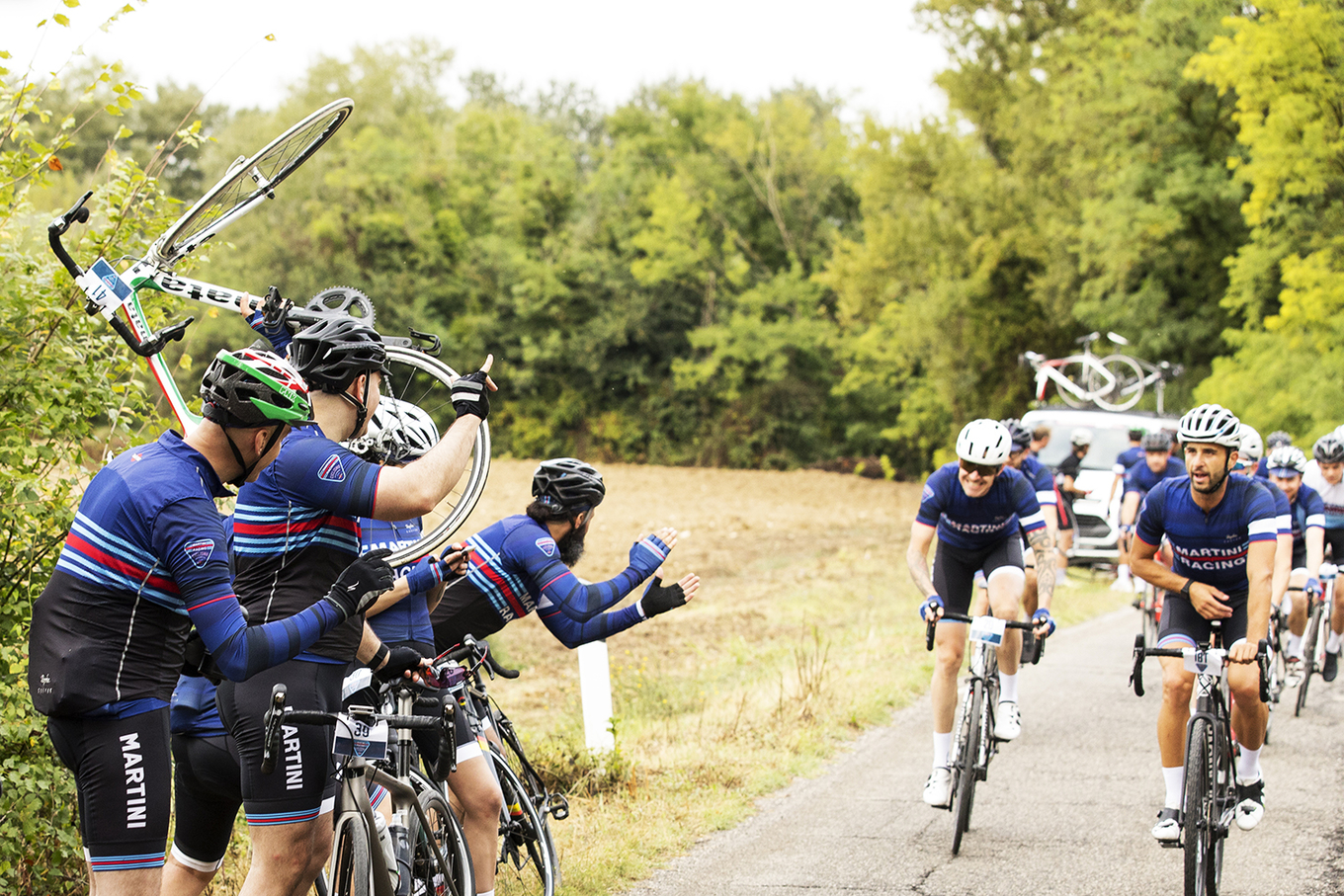 I was so lucky
I was expecting to spend three days being driven in the "media car" following the riders to report on La Classica for this page so had flights and rooms booked. However, a last-minute place to fill after a dropout due to travel issues led to my being persuaded to ride the spare bike.
I took quite some persuading as the last time I rode a drop-handle bar bike and cycled longer than a few miles to a meeting was back in 1989 when my then employer entered me in a London to Brighton food industry race. That race completed, I flogged my bike, not replacing until over a decade later with a cheap town bike to ride in London. For the past 30 years that's pretty much all my cycling has entailed. So, with the promise that I could give up at any time and continue in that comfy media car, something I was sure I'd need to do within the first 30 minutes, I became a MAMIL (middle-aged man in Lycra).
Me with hair taken in 1989 and me 30 years later in that Florence carpark
The challenge
This year's La Classica comprised a 301 km (187 mile) ride from Florence to Rome over two-and-a-half days (route below), culminating at the Roma Bar Show. So, with this daunting prospect ahead and the participants briefing document promising a route to "challenge even the fittest cyclist," I found myself stood in a Florence hotel carpark dressed in a skin hugging Lycra outfit for my bike fitting. A carbon fibre bike with scarily thin wheels and gear levers that took a few laps of the carpark to figure out. And not just any Lycra but the full Rapha Custom Martini Racing kit, the same kit that the pros wear - only they've bodies worthy of figure-hugging.
Left-right, Simon Wirenfeldt Wittrup, local cyclist, Marc Plumridge and yours truly Simon Difford
Bright and early next morning we set off, a group of 50 riders through the centre of Florence in full Martini Racing regalia. Even so early in the ride, bartender comradeship was evident – like a bunch of football supporters in team colours impassioned for the match ahead. Photo calls over, including one with an unsuspecting local cyclist, we headed off, split into four groups according to ability – bloody quick, led by former professional cyclist Daniele Ratto, through to bloody slow – my "Fiero" group. We may have been slower up the hills, but we were hitting 70 km/h (43mph) down the mountainous hills.
Carried by group will to succeed
Thanks to group camaraderie and support, as well as inspirational tunes blasting from speakers carried by Dean Callan and Eddie Rudzinskas, playing The Dam Busters theme through to pop-classics propelled us through quaint villages, over brutal hills and even through torrential rain. I surprised myself, to the degree that on the third and last day I found myself comfortably riding with the next group, actually enjoying the faster pace. To my own amazement, I completed the full 301 kilometres and was worryingly unselfconscious of being Lycra-clad proudly resplendent in Martini Racing stripes while walking through the Roma Bar Show to enjoy a well-deserved Negroni with my fellow riders in Martini's Caffè Torino Bar.
I spent 18 hours sat on this. I'll never complain about uncomfortable bar stools again.
I wouldn't have dared to start La Classica without gentle persuasion by my friends at Martini (thanks Roberta and Marc) and the encouragement of the bartenders on the ride - some of which I've known for years and others I now know so well that I feel like I've known them for years. If I can complete La Classica, then so can you. But for the chance, you'll need to register with Martini Racing Ciclismo and start logging your rides on Strava. You'll then also see me logging mine as I want a place on La Classica 2020.
My Fellow 2019 La Classica Riders
Alessio Chiarello from Bacardi-Martini, Spain
Alexander Woolley from Hawksmoor in London, UK
Alfonso Luis García Sánchez from Alexander in Granada, Spain
Algirdas Mulevicius from Tata, Hotel Sanders in Copenhagen, Denmark
Andrew Keir from Bruach Bar, Dundee, UK
Ann Lea H Fidlers from Harta in Antwerp, Belgium
Anna McLoughlin from USA
Antonello Arzedi from Scout in Sydney, Australia
Aquiles Abu-Kasami Casiraghi Raphaela from Ayla in Rotterdam, Netherlands
Bernard Albert Perrier from Mur Coffee & Cycling in Huy, Belgium
Bjorn Louis C. Meersman from Casello in Bavern, Belgium
Brian Means from Pacific Cocktail Haven in San Francisco, USA
Carl Wiman from Himkok in Oslo, Norway
Chelsea Catherine from Black Pearl in Melbourne, Australia
Claudia Neumann from The Ned, London, UK
Davide Zanardo from Bacardi-Martini, Spain
Dean Callan from The Dean Callan Show, UK
Duncan Sparks from Bacardi-Martini, Switzerland
Eddie Rudzinskas from UK
Eric de Wagenaere from Alice in Ghent, Belgium
Fabian Legari from Spain
Francis Stansky from Pacific Cocktail Haven, USA
Frank Symons from Belgium
Geoffrey Jean-Michel D Stampaert from Les Nuits in Antwerp, Belgium
Giuseppe Baldi from The Banker's Bar, Madarin Oriental Hotel in Barcelona, Spain
Isabelle Goudket from HMI in Antwerp, Belgium
Ivan Alejandro Villegas Lopez Fanjul from Davies & Brook, Claridge's in London, UK
Johan Helsen from Café Welkom in Noorderwijk, Belgium
Julio Della Torre from Café Madrid, Spain
Justin Ross Lee from USA
Laura Aspey from Petit Cafe Du Coin in Liverpool, UK
Lorenzo Manzo from Annabel's in London, UK
Marc Plumridge from Bacardi-Martini, UK
Mattia Pastori from NonSolo Cocktails in Milan, Italy
Merlin Griffiths from TV celeb and Maltsters Country Inn, UK
Michael Smoley from The Nomad in New York, USA
Nick Hovind from Ruby in Copenhagen, Denmark
Nicole Sykes from Lyaness in London, UK
Niels Christian van Wouwe from Netherlands
Pietro Collina from Davies & Brook, Claridge's in London, UK
Remy Savage from Artesian in London, UK
Roberta Mariani from Bacardi-Martini, UK
Roman Sabodalov from Swift in London, UK
Ruby Wilson from USA
Simon Wirenfeldt Wittrup from Lidkoeb in Copenhagen, Denmark
Thomas Bassam from Sports Pro & Guardian, UK
Thomas Hudson from Foodwell in Manchester, UK
Timothy Etherington-Judge from Healthy Hospo, Netherlands
Werner Saelens from Belgium
Day one

Day two

Day three

My thanks to the 2019 La Classica Support Team
Alberto Tocchella (Guide)
Clive Marshall (The man who told us all what to do and made it happen)
Daniel Tassetti (Guide)
Daniele Ratto (Lead Guide)
Fausto Camossi (Guide)
Giorgio Casalini (Guide)
Jes Lee (Social media)
Jesse Yates (Guide)
Luca Carbone (Driver)
Marco Barilli (Logistics)
Matt Miller (Mechanic / Driver) [Many thanks for the glasses]
Michelle Ruddenklau (PR Manager and gentle persuader)
Milena Guizzetti (Massage / Food stations)
Roberto Pless (Guide)
Selene Colombi (Guide)
Stefano Panizzo (Production / Driver)
Valentina Castellani (Massage / Food stations)