Lagavulin 16yo Islay single malt whisky
Buy direct from
The Whisky Exchange
Bottle size: 70cl

Χώρα παραγωγής:

United Kingdom
Pronounced 'lagga-Voo-lin', after the Gaelic Laggan Mhouillin, meaning 'the mill in the valley', this 16 year old single malt is the Islay representative in Diageo's 'Classic Malts' series. It is revered for its peaty but smooth character.
Αξιολόγηση
Η γευσιγνωσία έγινε στις 17/09/2013
Όψη:
Clear, deep old gold amber.
Μύτη:
Earthy raisons and linseed oil rubbed leather with delicate Lapsang Souchong peat smoke, iodine and seaweed. A splash of water bolsters the smoky dried fruit.
Στόμα:
Surprisingly gentle giant with salty, smoky peat, dried fruit and fruitcake. With water: creamy barley-malt laced with peat, sea salt, smoked orchard fruit and vanilla.
Επίγευση:
Peaty black pepper, vegetal peat, medicinal smoke and sea saltiness.
Buy direct from
The Whisky Exchange
Bottle size: 70cl

Product Information
Barcode UPC: 5 000281 005409 >
Bottle Size: 700 ml
Closure: Natural cork stopper

Περισσότερα για το Lagavulin 16yo Islay single malt whisky
Οι περιοχές του Σκοτσέζικου ουίσκι
Τα Single Malt ουίσκι κατηγοριοποιούνται ανάλογα με την περιοχή στην οποία παράγονται,
Whisky - Islay single malt Scotch whisky cocktail recipes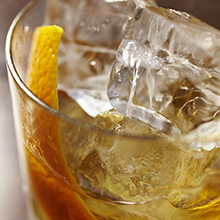 View 68 Whisky - Islay single malt Scotch whisky recipes on Difford's Guide