Caisteal Chamuis Heavily Peated Blended Malt
Choose your preferred shop:
Παλαίωση: No age statement
Χώρα παραγωγής:

United Kingdom

Made by the owners of Torabhaig distillery on the Isle of Skye, Caisteal Chamuis is a heavily peated blended malt scotch whisky that offers complex layers of smokiness.
Initially aged in refill and first-fill American oak hogshead casks before an ageing period in a combination of new American oak 250-litre barrels with fresh oloroso sherry wine-seasoned European oak heads, and refill hogsheads. After blending, the final finishing period is in smaller 200-litre first fill ex-bourbon barrels.
Αξιολόγηση
Η γευσιγνωσία έγινε στις 22/12/2022
Όψη:
Clear, pale golden amber.
Μύτη:
Smoking embers, earthy peat, seaweed, soy sauce, lemon and vanilla.
Στόμα:
Chewy smoke and generous maltiness with sweet vanilla, butterscotch, a touch of tar and lemon zesty oak.
Επίγευση:
Long and smoky. Pleasing toasty oak dominates the smoke towards the end.
Συνολική αίσθηση:
A generous alcohol strength and heavy peating should help make this an assertive whisky, but thanks to clever ageing Caisteal Chamuis is a relatively gentle and sweet giant.
Choose your preferred shop:
Difford's Guide Certification

Product Information
Size (ml): 700

Wood maturation
Type of wood used for additional maturation 'finishing': American Ex. Bourbon

Περισσότερα για το Caisteal Chamuis Heavily Peated Blended Malt
Οι περιοχές του Σκοτσέζικου ουίσκι
Τα Single Malt ουίσκι κατηγοριοποιούνται ανάλογα με την περιοχή στην οποία παράγονται,
Whisky - Peated Scotch whisky cocktail recipes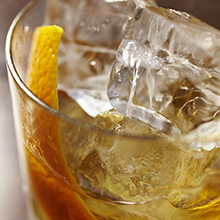 View 74 Whisky - Peated Scotch whisky recipes on Difford's Guide