New Orleans city & bar guide
New Orleans city & bar guide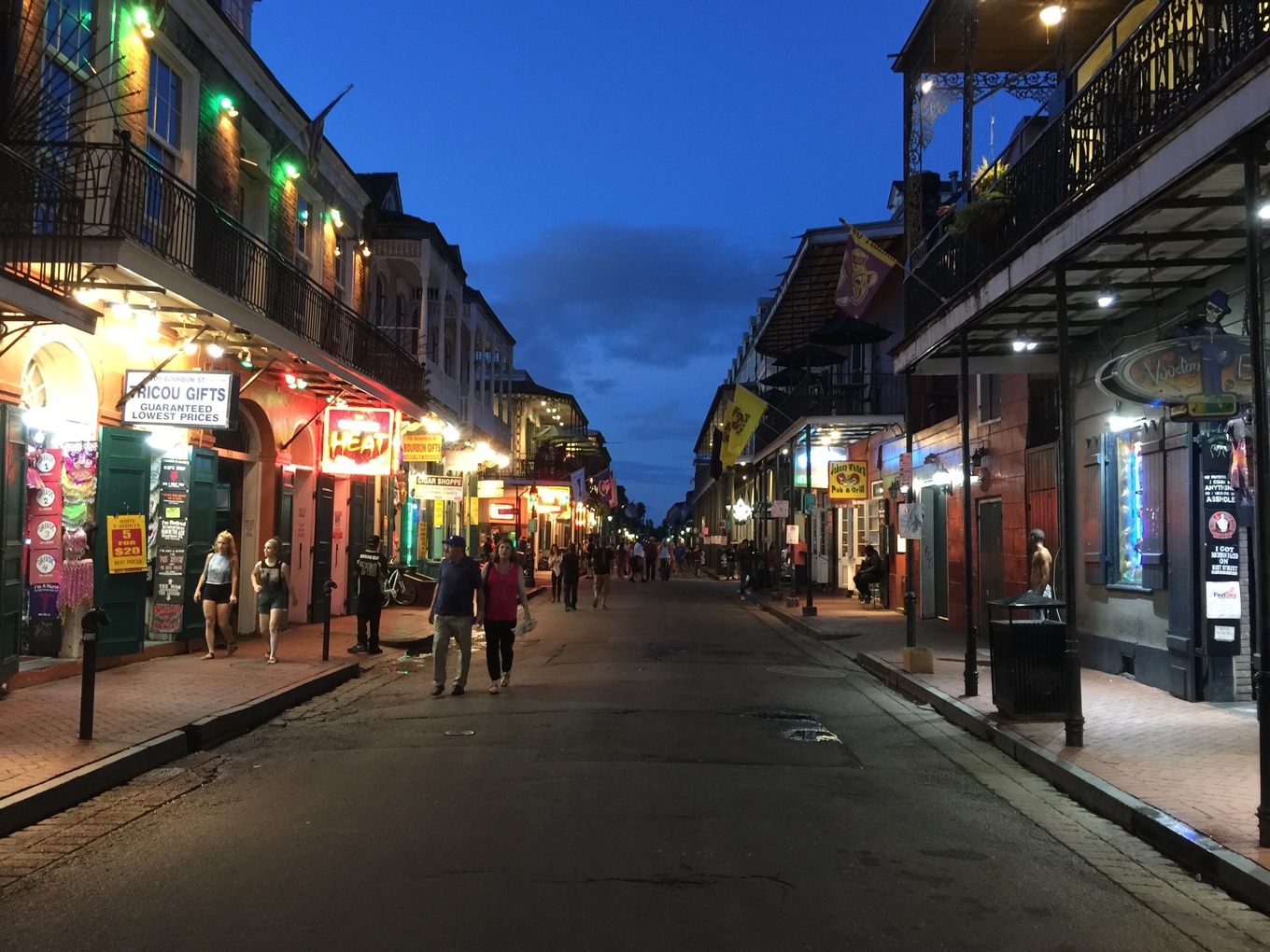 New Orleans has a cocktail heritage dating back to 1793 when John B. Schiller created the Sazerac, followed by Henry C. Ramos who came up with the Ramos Gin Fizz here in 1888. Looking at the lurid cocktails offered along today's Bourbon Street it's hard to believe, but Nola's bartenders continue in the tradition of Schiller and Ramos with the city's top bars ranking among the world's best.
So what bars should you hit? Well, before I come to that I should tell you a little about drinking in the Big Easy and its liberal laws; at least compared to the rest of the States. Bars and clubs are permitted to open around the clock and New Orleans is one of a few American cities where alcohol can legally be consumed on the street, albeit from a plastic container (don't rush your drink - just ask for a "take out" to put it in). Sorry, kids, but like the rest of the US, the legal drinking age is 21 and while the police here are surprisingly tolerant, break a glass or bottle in the street and you are likely to be whisked off to a cell.
As far as most tourists are concerned, nightlife in New Orleans centres around the French Quarter, particularly Bourbon Street. This is debauched at the best of times with bar after bar offering live jazz and blues bands, cheap beer and lurid cocktails. Others offer strip shows and more!
New Orleans claims jazz as its own creation and as you walk through the city music is all around, pouring out of the bars and from the instruments of the numerous street buskers. Frenchmen Street and the surrounding area is a mecca for locals and music loving tourists and here you'll find 'd.b.a.' and a number of little bars noted for the musicians they attract.
Canal Street divides the French Quarter from the Central Business District and the quickly developing Warehouse District, where many new upscale restaurants and bars have opened. However, in our experience many of the best bars lie well away from the touristy French Quarter, a cab ride away in the residential Garden District, Midtown and Uptown areas.
As usual we have sought out and reviewed the bars we think will appeal to the most discerning of drinkers, but this historic city also boasts plenty of vintage bars and we've included those we enjoyed. Some you'll want to visit from a purely sightseeing perspective, some for the jazz and others because, although their drinks are basic and the décor in need of refurbishment, they have atmosphere and character. To quote Dale DeGroff, "they are bars of substance."
Recommended New Orleans cocktail bars
Arnaud's French 75 Bar
With its altar-like bar, a mosaic floor and veritable rainforest of polished dark wood, Arnaud's French 75 is high-end and sophisticated - a world away from Bourbon Street, despite actually lying a mere hundred yards or so away. Classic drinks, including the eponymous champagne cocktail are delivered with distinctly old-school service by Chris Hannah and his team resplendent in white jackets and black bow ties 4.5/5
813 Bienville Street (nr Bourbon St), French Quarter
Cane & Table
A Tiki Bar without the kitsch or indeed the Tiki, Cane & Table describes itself as being "Proto Tiki", being "primarily influenced by the centuries of trade between the islands and nations that traded rum, sugar, spices, and culture with the rest of the world." Drinks such as the Pisco Punch "from before the dawn of Tiki" are selected due to their "reflecting the spirit of Tiki." The other half of the menu features C&T's signature creations such as the Boss Colada with generous use of Bittermen's Baska Snäps. 4/5
1113 Decatur Street (btwn Gov. Nicholls St & Ursulines Ave), French Quarter
Carousel Piano Bar & Lounge
The Carousel Piano Bar opened in 1949 and is so named because the circular 25-seat island bar rotates, transporting barflies one revolution every 15 minutes as it turns on 2,000 steel rollers powered by a one-quarter horsepower motor. It resembles a vintage fairground ride. A visit to NOLA is not complete without visiting the hospitable Marvin Allan and enjoying a Vieux Carré cocktail whilst spinning around this whimsical bar. 4.5/5
Hotel Monteleone, 214 Royal Street, French Quarter
Cure
If a relaxed yet swanky cocktail lounge is your thing then this bar which opened in March 2009 is hands down the best cocktail bar in New Orleans. Housed in a former firehouse, Cure lies in a residential Uptown neighbourhood some 15-20 minutes from the French Quarter by taxi but is well worth the trip. 5/5
4905 Freret Street, Freret
Jeff Berry's Latitude 29
Jeff 'Beachbum' Berry is perhaps the best-known man in the world of Tiki so when he and his wife Annene moved to New Orleans and then announced they were to open this Tiki bar in the Bienville House Hotel, it was much anticipated. Latitude 29 lives up to expectations with brilliantly executed and presented rum and fruit-led cocktails. 5+/5
321 N. Peters Street (or through the Bienville House Hotel), French Quarter
Jewel Of The South
A revival of one of New Orleans' most famous bars, this is slatted to open late 2018 with bartenders Chris Hannah and Nick Detrich behind the stick. The original Jewel Of The South was owned by Joseph Santini and is said to have been the first to serve gumbo and the birthplace of the Brandy Crusta.
1026 St. Louis Street, French Quarter
Kingfish
Kingfish sits in the heart of the French Quarter but offers a bar experience that's a cut above most other bars in the neighbourhood - it's also a good spot to eat. Be sure to try the Saint Peter's cocktail.
4/5
337 Chartres Street, French Quarter
Revel Cafe & Bar
The home of legendary bartender Chris McMillian, who after decades working in other people's bars opened this local spot with wife Laura in September 2015. Be sure to come here to experience Chris' cocktails, the family's hospitality and very tasty food. Revel is well away from the tourist area, but is well worth the cab ride. 4.5/5
133 North Carrollton Avenue, Mid-City
Bar Tonique
To quote Tonique's website, this fabulous little place on the distant northwest edge of the French Quarter, is "a neighbourhood bar with hand-crafted cocktails, fine wine, eclectic beer... and no pretence." Tonique lies well off the beaten tourist trail on a nondescript stretch of Rampart Street opposite the entrance arch of Louis Armstrong Park. 4/5
820 North Rampart Street, French Quarter
Victory
Named after its affable owner Daniel Victory, this off-the-beaten track cocktail bar lies ten minutes' walk from the Quarter and is a good stopping off point if en route to the Superdome. The menu includes 'New Orleans Classics' such as Sazerac, Ramos Gin Fizz, French 75 and Hurricane but be sure to try at least one of their signature creations. And don't miss the popcorn with truffle oil and jalapeño spice. 4/5
339 Baronne Street, Central Business District
Recommended music bars
Apple Barrel
609 Frenchman Street
D.B.A.
618 Frenchman Street (btwn Royal & Chartes Sts)
The Funky Pirate
727 Bourbon St, New Orleans, LA 70116
Fritzels European Jazz Pub
733 Bourbon Street (btwn Orleans & St. Ann Sts), French Quarter
Irvin Mayfield's Jazz Playhouse
Royal Sonesta Hotel, 300 Bourbon Street, French Quarter
Of historic interest
Lafitte's Blacksmith Shop
941 Bourbon Street (corner St Phillip St), French Quarter
Napoleon House
500 Chartres Street (corner St Louis St), French Quarter
Old Absinthe House
240 Bourbon Street (corner Bienville St), French Quarter
Pat O'Briens Bar
718 St Peter Street, French Quarter
Sazerac Bar
Fairmont Hotel, 123 Baronne Street (btwn Common & Canal Sts), Business District
Tujague's
'Two-jacks' is the second oldest restaurant in New Orleans and houses an equally venerable 'stand up' saloon bar. Come here and soak up history, the atmosphere and a milky-minty Grasshopper. If your lucky your bartender will be the fabulous Paul Gustings. (Look for a gentlemen that looks a bit like Colonel Sanders). 4/5
823 Decatur Street (corner Madison St)
Dive bars & beer bars
The Alibi
Dingy, dive-y, dark and loud. The Alibi attracts tourists, local strippers and plenty of after shift bartenders. Open 24 hours a day, every day, this is perhaps NOLA's most infamous late night spot. Alibi carries a reasonable range of bottled beers and serves food such as barbecue shrimp po-boy and burgers available into the early hours. 3/5
811 Iberville Street, French Quarter
Bulldog Pub 3/5
Set off the tourist track among the shops of the attractive uptown Garden District. The Bulldog serves the local community well with some 50 beers on tap and more than 100 bottled brews. As well as local gems such as Abita Andygator you'll find Belgian ales and American microbrews. 3.5/5
3236 Magazine Street (btwn Toledano & Pleasant)
Cooter Browns Tavern
Cooter Browns is a good, honest, unsophisticated sports bar and all the better for it. The locally brewed Abita Andygator is one of some 45 different beers on tap with the wall of glass fronted refrigerators additionally loaded with upwards of 400 brands of domestic and imported bottled brews. 3.5/5
509 South Carrollton Avenue, Riverbend
Erin Rose
This small Irish bar just off Bourbon Street is one of the Crescent City's most famous/infamous. As you'd expect from an Irish bar there's Guinness and Harp on tap as well as the obligatory Irish Coffees. However, it is the Frozen Irish coffees for which this characterful 'Irish Beauty' is noted. 3.5/5
811 Conti Street, French Quarter
The Black Penny
With the development of North Rampart and street car extension comes this new beer bar from Ed Díaz, owner of nearby Bar Tonique, and former Erin Rose manager Bert West. The Penny Black offers a relaxed retreat with a choice of more than 70 canned craft beers just three blocks from Bourbon Street. 4/5
700 N Rampart, French Quarter
Wine bars
Bacchanal Wine
600 Poland Avenue, Bywater
Delachaise
The street runs right past the door of Delachaise, appropriately the building that this wine and beer bar occupies is little bigger and resembles the shape of a railway carriage. Delachaise has a reputation for its well-priced wine list which offers over 40 wines by the glass, there are also 30 plus bottles beers to choose from and dishes such as frogs legs and Shrimp Clemenceau. 4/5
3442 Saint Charles, Garden District
Square Root & Root2
1800 Magazine Street, Lower Garden District, New Orleans.
New Orleans city guide
Idling round a bend in the Mississippi river, New Orleans has a worldwide reputation for jazz, partying and cocktails, not to mention its louche heritage of hookers, playboys, plantations and good-time girls.
Sadly, since Hurricane Katrina (29-Aug-05) New Orleans has also been infamous for death and destruction, but mercifully the French Quarter and other historic areas escaped the worst of the winds and floods and New Orleans has recovered its previous America's party city status.
Even outside the hurricane season, the weather in New Orleans is tough: summers are hot, muggy and thunderous, and winters are wet in the extreme. But the Big Easy has a lot to offer. From architecture, antique stores, Cajun cuisine and jazz clubs to riverboats, street cars and cocktail bars, its tree-lined avenues host a uniquely mixed and vibrant culture.
A word about the Po-Boys. These aren't what you fear they might be but actually a type of sandwich. Originally known as 'Poor Boys', they were served to railroad workers as a cheap, filling meal and comprise a third of a French loaf split open and stuffed with your choice of meat or seafood. 'Dressed' Po-Boys come with shredded lettuce, tomato, mayonnaise and hot sauce. Also try Shrimp and Grits - shrimp served with the traditional Southern sloppy mix of ground hominy grain. My personal favourite local delicacy is gumbo, a spicy meat or shellfish stew based on a strong stock flavoured with the vegetable 'holy trinity' of celery, bell peppers and onion. Gumbo takes its name from the African plant 'okingumbo' which we know as okra and traditionally this is also a key ingredient.
Tourism in New Orleans spikes during the three biggest festivals - Carnival, Jazz Fest and Tales of the Cocktail. Carnival begins in early February and peaks in the fortnight before Mardi Gras proper - the famous 'Fat Tuesday' (Shrove Tuesday), when marching bands, floats and exhibitionists celebrate the beginning of Lent. Jazz Fest, the international Jazz Festival, runs for ten days during the last week of April and the first week of May.
Tales of the Cocktail is an annual event held in mid-July to celebrate New Orleans' impressive cocktail heritage and indeed pretty much all things cocktail and booze related. As it may sound, there's a fair bit of drinking involved but this is an event for booze geeks with the majority of the events being educational seminars rather than parties.