Charlie Chaplin's birthday
Charlie Chaplin's birthday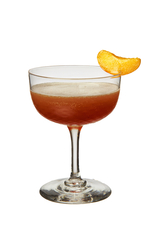 So we are drinking a...
One of film's first superstars, who made his name as the bowler-hatted, cane-wielding Tramp of the silent era, Charles Spencer Chaplin, Jr, was born in London this day in 1889.
He would overcome a brutal childhood, including abandonment, mental illness and stints in a workhouse, to become a star, producer, political activist and father of no fewer than 11 children.
Barkeeps at New York City's iconic Waldorf-Astoria created the Charlie Chaplin Cocktail in his honour sometime before 1920, when Chaplin was at the height of his silent-movie fame. Fruity yet bittersweet, it's a splendid tribute to a complex talent. Why not enjoy it with a copy of his masterwork, the 1940 political satire The Great Dictator?
It's also the day The Rolling Stones Released their First Album
On this day in 1964, Decca Records released an eponymously named debut album by a then-obscure British band, The Rolling Stones.
Amazingly, in 2021, 57 years on, three of the band that released the original album were still playing together at sell-out gigs, bad backs, insulting autobiographies and all. It was mid-tour that legendary drummer, Charlie Watts died at the age of 80.
Over the years, the Stones have sold more than a quarter of a billion albums, played live around the world, and in September 2020, became the first band to top the chart across six different decades.
The greatest Rock and Roll band of all time is well worth celebrating, perhaps with Jumpin' Jack Flash.
This is also the day LSD was discovered
On this day in 1943, a Swiss chemist named Albert Hofmann came over a little bit funny in his lab. Feeling restless and dizzy, he decided to go home and lie down, and proceeded to spend the next two hours tripping.
For, yes, Doctor Hofmann had inadvertently discovered Lysergic Acid Diethylamide (LSD), a product he would go on to synthesise, experiment with and evangelise. Hofmann's discovery helped shape the revolution of the 1960s, not to mention the CIA's infamous mind control experiments, although he disapproved of LSD's recreational use.
In retirement, Hofmann served on the Nobel Prize Committee among other scientific bodies, established a foundation devoted to consciousness research, and lived to the ripe old age of 102. Doctor Hofmann, we salute you, and we're toasting you with a Strawberry on Acid.
Today's also World Haemophilia Day
Today is World Haemophilia Day, a chance for the global bleeding disorders community to raise awareness and help people around the world get help for bleeding disorders.
Around 1 in 5,000 boys are born with haemophilia, an inherited condition that means that blood takes a long time to clot. The results lead to agonising joint pain and sometimes to fatal brain bleeds. Treatment, at least in the wealthy West, has moved on a long way since the days when haemophilia was known as the royal disease. Queen Victoria was a carrier.
In a particularly unfair blow, between the late 1970s and the mid-1980s, as many as half of the people with haemophilia in the US were infected with HIV by unsafe blood products. The World Federation of Haemophilia recommends wearing red to mark today. We'll be marking it with a Bloody Maria.