Anniversary of El Alamein
Anniversary of El Alamein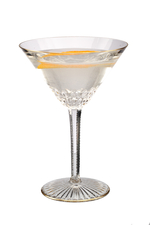 So we are drinking a...
Hemingway geeks will, of course, be aware that the great man liked his Martinis like he liked most drinks - strong on booze. But on the anniversary of the battle of El Alamein, there has never been a better time to discover the Montgomery, Hemingway's preferred style.
Its proportions of 15:1 take their name for the famously cautious British general who commanded British forces in Egypt, and in theory would not attack unless he outnumbered the enemy by 15:1. On this day, Montgomery's army engaged German forces at El Alamein, not far from Egypt's Mediterranean coast. The ratio? 2:1. And the triumph marked a turning point in World War II.
We think Hemingway, if not the famously dour Monty, would have appreciated the orange bitters in this Montgomery Dry Martini - enjoy! He may have preferred a Montgomery Slugger.
Boris Pasternak won and refused the Nobel Prize
Boris Pasternak spent his literary career walking a fine line with the Soviet authorities and published Doctor Zhivago at great personal risk. When on this day in 1958 the Nobel Committee awarded him the Nobel Prize for Literature, he was informed by the Soviet authorities that if he went to Stockholm to receive his medal, he would be refused re-entry to the Soviet Union.
Pasternak felt obliged to telegraph the Nobel Committee, "In view of the meaning given the award by the society in which I live, I must renounce this undeserved distinction." As a defender of freedom, Pasternak found it one of the toughest decisions of his life and he was later criticised for it by Aleksandr Solzhenitsyn. Today we are remembering Boris Pasternak and his great novel with a Zhivago cocktail.
The Smurfs' Birthday
The Smurfs - those little, blue, squeaky creatures still beloved of young children - made their debut on this day, way, way back in 1958.
So we're marking the occasion with one of the only palatable drinks named for a cartoon character (and, no, the Tom and Jerry does not count), Dick Bradsell's Snood Murdekin. It isn't blue. And it's not named for a Smurf. But it is named for a Moomin, a sad one, and the best friend of Moomintroll. Snood Murdekin? Not quite. The critter this very moreish beverage takes its name from was known originally as Snusmumriken, and later shortened to Snufkin.
We don't recommend you try to spell either the drink or its inspiration. But we do recommend you try it. As crowd-pleasers go, the Snood Murdekin, like the Smurfs, still has a great deal going for it.
Ludwig Leichhardt's birthday
It's one of Australia's greatest mysteries. Whatever did happen to Ludwig Leichhardt? Born in Germany on this day in 1813, Leichhardt was an explorer, who covered great swathes of uncharted Australia, and one of the best all-round scientists of his time.
On one expedition, in 1844, he travelled 3,000 miles overland, arriving on the other side of the continent long after he had been given up for dead. In 1848, he set out from Queensland, with the aim of crossing Australia from east to west, a journey that would take two to three years. His expedition was last seen on 3 April 1848. Five Europeans, two aboriginal guides, and (more bizarrely) all the equipment they were carrying simply vanished: more than 175 years on, folk are still looking for Leichhardt.
In honour of Leichhardt, and explorers everywhere, we are toasting him with a Dry Martini, served to our preferred formulation, 5:1.